SOCIAL WORKERS, this is urgent. Your profession needs you.  
As our #InvestinSocialWork campaign continues to gain momentum at the Capitol, we are facing continued, if not increased, opposition to halt our efforts to end the licensure exemption that allows seven state agencies to hire unlicensed employees to perform mental health services – including diagnosis and treatment of (serious) mental illness – and to request a substantial state investment into the social work profession.
To that end, we want to address some concerns that have been raised over the 14 years we have been advocating for an end to the exemption:
Myth: NASW-NYS wants to restrict access to care. 


False. What we are looking to restrict is the number of diagnoses and treatments provided by unlicensed mental health providers.
Myth: NASW-NYS wants to delay care (inadvertently deny care). 




False.

At the core of the Social Work Investment Initiative is improving the quality of mental health care for all New Yorkers by ensuring access to a licensed mental health provider. While the exemption is in place, agencies cannot guarantee that individuals will receive services from a person licensed to provide certain services, such as diagnosis.

Therefore, if you access services through one of the exempt agencies, you *may* see a licensed provider or you may see someone with no more than a high school diploma with some on-the-job training. 

NASW-NYS is seeking to put the equity back in NY's mental health system. If we want to talk about delay to care, let's talk about the delay in fully implementing the 2002 social work licensing law. In 2002, The NYS Legislature declared licensure would help ensure quality care for New Yorkers, and yet the exemption extended to state agencies flies in the face of that intent. To date, the state has had 14 years to come into compliance.
Myth: NASW-NYS is seeking an exclusive authorization of only one of the many licensed mental health professions.


False.

The licensure exemption impacts ALL mental health professionals licensed in New York State. 
Myth: Other licensed professionals and family peer specialists are available and are well-trained and have experience.




We recognize the importance of other licensed professionals and family peer specialists in the continuum of care and there are many tasks they are qualified to do. B

ut let's remember that NYS has some of the most stringent licensing requirements and professional standards for social work in the country: a two-year master's degree education, 2000 supervised hours of diagnosis and treatment in the field, and a nationwide standardized test – all of which cannot be substituted by "on the job training". 

Licensure signifies the provider has gone through statutorily designated education, experience, and examination in the diagnosis and treatment of mental illness (increasing the likelihood of an accurate diagnosis). No matter the quality controls, unlicensed individuals cannot accurately diagnose and develop an accurate treatment plan for serious mental illness.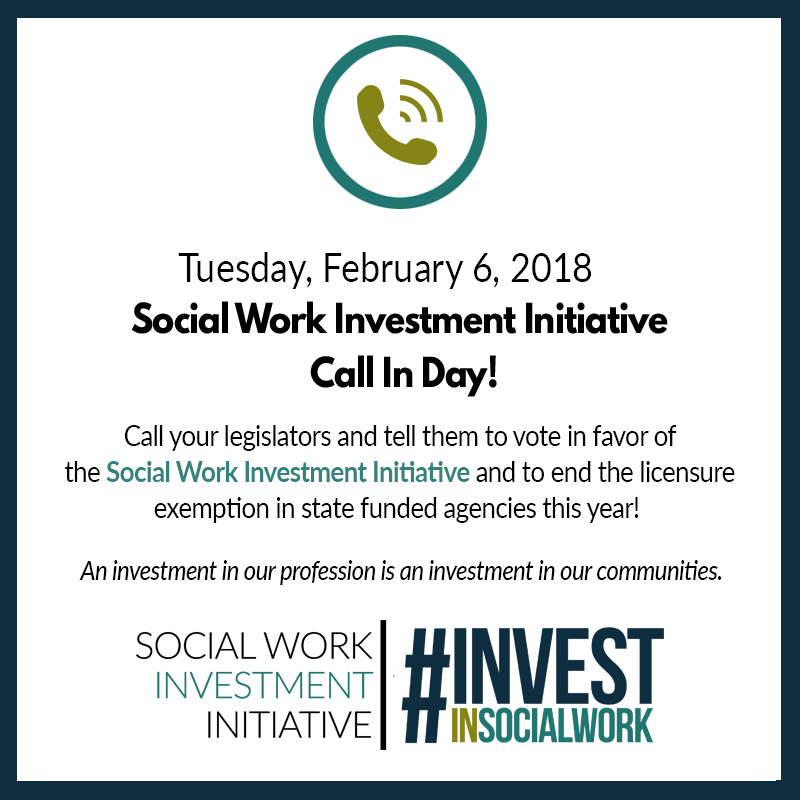 Here's what you can do: Join us on Tuesday, February 6 for our next Social Work Investment Initiative Call-In Day and share the following call-in information widely! 
What are we asking? 
We are asking New York State legislators to end the licensure exemption that allows seven state agencies to hire non-licensed providers and vote in favor of the Social Work Investment Initiative.
Where can I find more information about the Call-In Day? 
What other information can you provide me? 
Currently, agencies have until July 1, 2018, to come into compliance with the 2002 social work licensing laws. Our job is to ensure the exemption ends this year and no more extensions are given to the state agencies.
Visit www.naswnys.org/invest for more information and resources to assist you with your advocacy.
We also encourage you to take time to read the Social Work Investment Initiative Advocacy Toolkit (free to download!) for resources and information on how you can take charge of advocating for your profession. The toolkit provides samples of writing a letter to the editor, building awareness through your social media platforms, or writing a piece on the licensure exemption, like the one Marcia Schwartzman Levy, NASW-NYS member, wrote: A Minute with… Marcia Schwartzman Levy.

Call your legislator anytime!

 We may have designated call-in days, but that does not mean you cannot pick up the phone today and call your legislator's office.
This exemption renders the professional standards moot – rendering YOUR license moot. But together, we can stop this from happening. Let's get the state to end the exemption and #InvestinSocialWork.
---
In December 2017, NASW-NYS launched the #InvestinSocialWork campaign, a public awareness and advocacy campaign that seeks to end the licensure exemption and implement the Social Work Investment Initiative. We are counting on our members to join in our advocacy efforts. For more information about our campaign, visit www.naswnys.org/invest