Voting Information For Social Workers
Voting is valuable and necessary for impactful changes in our communities!  As social workers, we should be educated on the political positions of candidates at the federal, state and local levels.  The decisions politicians make at every level impact our profession and the communities we serve.  Let's commit to exercising our right to vote and assisting our clients to have access to the polls in November!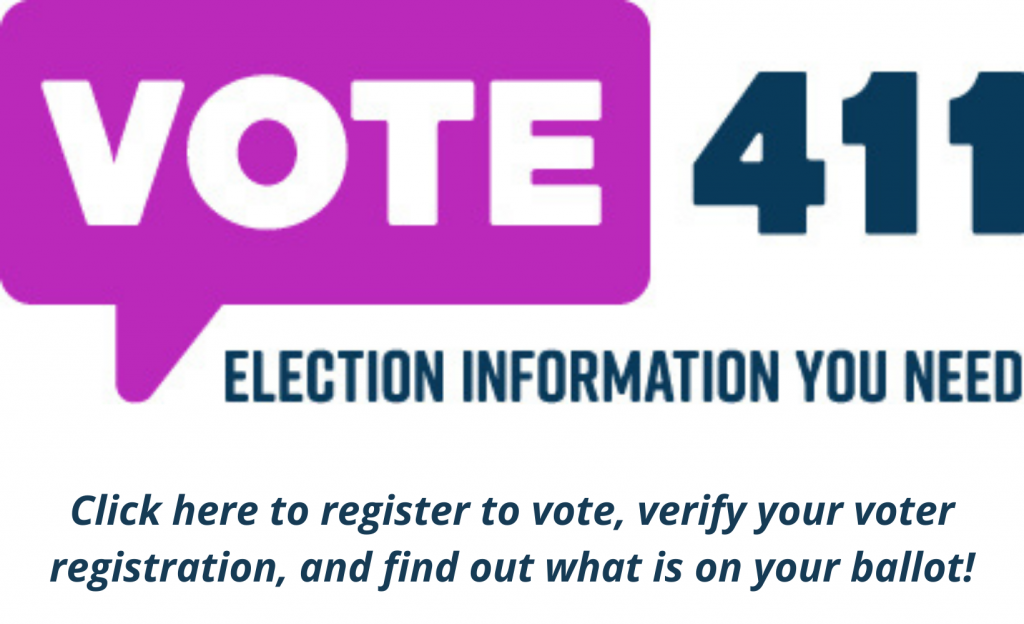 Social Work & Voting
---

Jessica J. Mitchel, LMSW, MA and Alexandra Saint Laurent, MSW discuss vote suppression and how social workers can engage their clients and communities to advocate for themselves.
---
Resources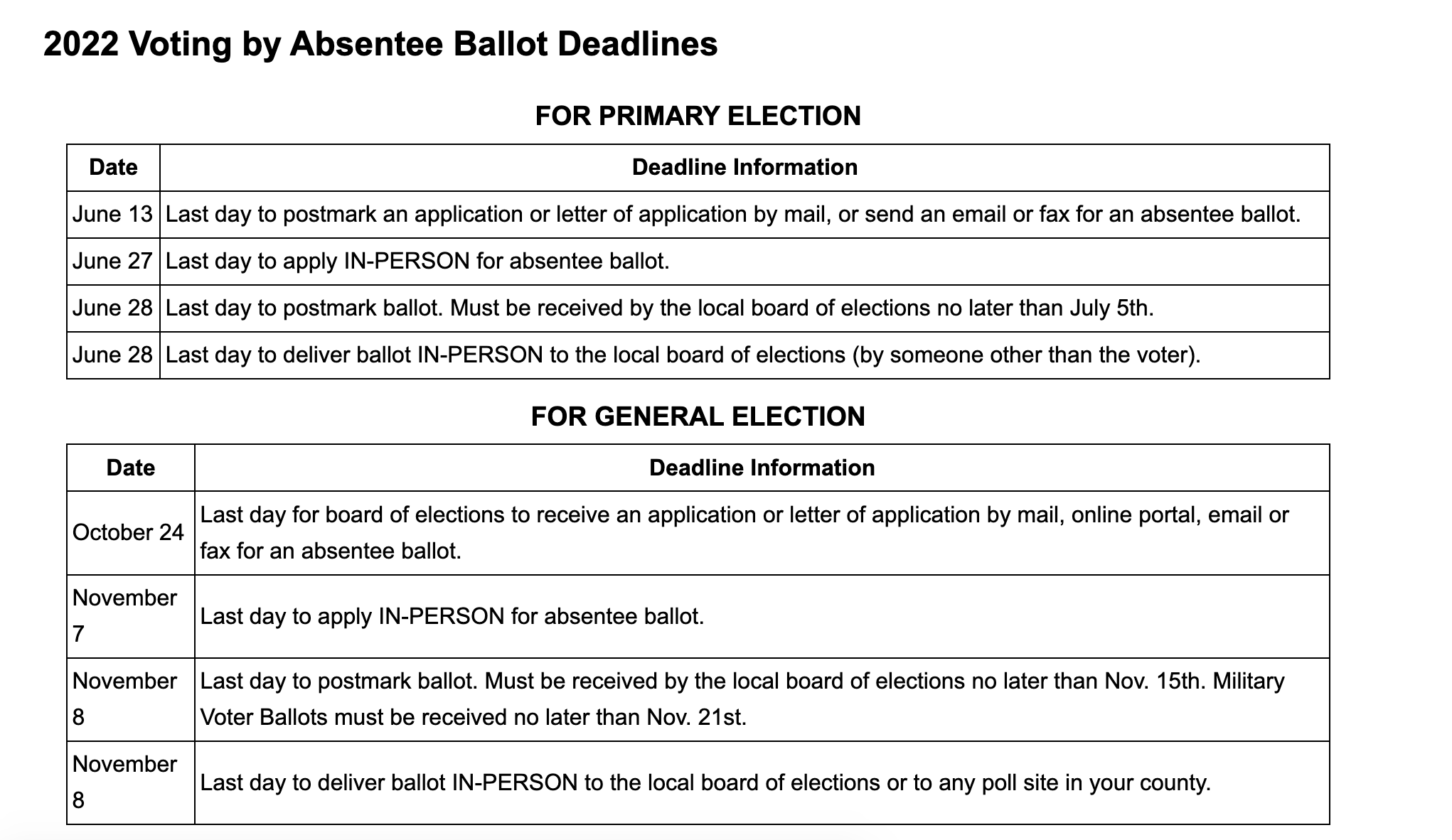 Cast your ballot early and at the polls starting Saturday, June 18 for the primary and Saturday, Oct. 29 for the general election.
General voting information:
Qualifications to Register to Vote
be a United States citizen;

be 18 years old (you may pre-register at 16 or 17 but cannot vote until you are 18);

resident of this state and the county, city or village for at least 30 days before the election;

not be in prison or on parole for a felony conviction (unless parolee pardoned or restored rights of citizenship);

not be adjudged mentally incompetent by a court;

not claim the right to vote elsewhere
How and Where to Register to Vote (Deadlines)
Absentee Ballot Registration Information
Qualifications to Vote by Absentee Ballot (Deadlines)
Absent from your county or, if a resident of New York City absent from the five boroughs, on Election Day.

Unable to appear at the polls due to temporary or permanent illness or disability (temporary illness includes being unable to appear due to risk of contracting or spreading a communicable disease like COVID-19).

Unable to appear because you are the primary care giver of one or more individuals who are ill or physically disabled.

A resident or patient of a Veterans Health Administration Hospital.

Detained in jail awaiting Grand Jury action or confined in prison after conviction for an offense other than a felony.
How to Apply for an Absentee Ballot (Deadlines)
You may apply for an absentee ballot in any of the following ways:
If you cannot pick up your ballot, or will not be able to receive it through the mail, you have the right to designate someone to pick it up for you. Only that person designated on your application may pick up and deliver your ballot.

If you are permanently ill or disabled, you have the right to receive an Absentee Ballot for each subsequent election without further application. Simply file an application with your county board of elections indicating permanent illness or physical disability. You will then automatically receive an absentee ballot for every election until your registration is canceled. If you cannot affirm that you are visually impaired or otherwise disabled you must request a regular absentee ballot using the regular application or portal linked above.
If you are visually impaired or otherwise have a disability such that your disability requires you to use a special accessible absentee ballot that can be read by a screen reader, you have two accessible options to request such a ballot on this page, either using the Accessible Electronic Ballot Application or Application Portal linked below:


Electronic Accessible Absentee Ballot Application Portal >

Accessible Absentee Ballot Application with Instructions ( 95.6KB) > 
When is it due?
You must apply online, postmark, email or fax a completed application or letter request for the General Election Absentee ballot no later than 15 days (October 24, 2020) before the election. You may apply in-person up to the day before the election (November 7, 2020). You may file an application at any time before the deadlines, but ballots will be mailed out beginning on or about September 18, 2020. (PLEASE BE AWARE THAT DESPITE THE ABOVE DEADLINES THE POST OFFICE HAS ADVISED THAT THEY CANNOT GUARANTEE TIMELY DELIVERY OF BALLOTS APPLIED FOR LESS THAN 15 DAYS BEFORE AN ELECTION.)
How to Cast an Absentee Ballot
Once your receive the ballot, mark the ballot according to your choices for each office following the instructions on the ballot

Once you have completed marking your ballot fold it up and place it in the Security Envelope. (This envelope will have a place for your signature.)

Sign and date the outside of the Security Envelope.

Seal the Security Envelope.

Place the Security Envelope in the Return Envelope. (This envelope will have the return address of your county Board of Elections on the outside and should have a logo that reads, "Official Election Mail")

Seal the Return Envelope. 

You may return the ballot in any of the following ways:

Put it in the mail ensuring it receives a postmark no later than November 8th.

Bringing it to the County Board of Elections Office no later than November 8th by 9pm.

Bringing it to an early voting poll site between October 29th and November 6th

Bringing it to a poll site on November 8th by 9pm.
Mail Time Considerations When Returning an Absentee Ballot
When mailing your completed ballot, the USPS recommends that voters allow enough time for ballots to be returned to the Board, which is generally seven days ahead of the general election. Voters who mail in their ballots on Election Day must be aware of the posted collection times on collection boxes and at the Postal Service's retail facilities, and that ballots entered after the last posted collection time will not be postmarked until the following business day.
You Can Still Vote in Person if You Request an Absentee Ballot
Even if you request or cast and return an absentee ballot, you may still go to the polls and vote in person. The Election Law recognizes that plans change. The Board of Elections is required to check the poll book before canvassing any absentee ballot. If the voter comes to the poll site, on Election Day or during early voting and votes in person, the absentee ballot is set aside and not counted.
Here is a chart of the absentee voting deadlines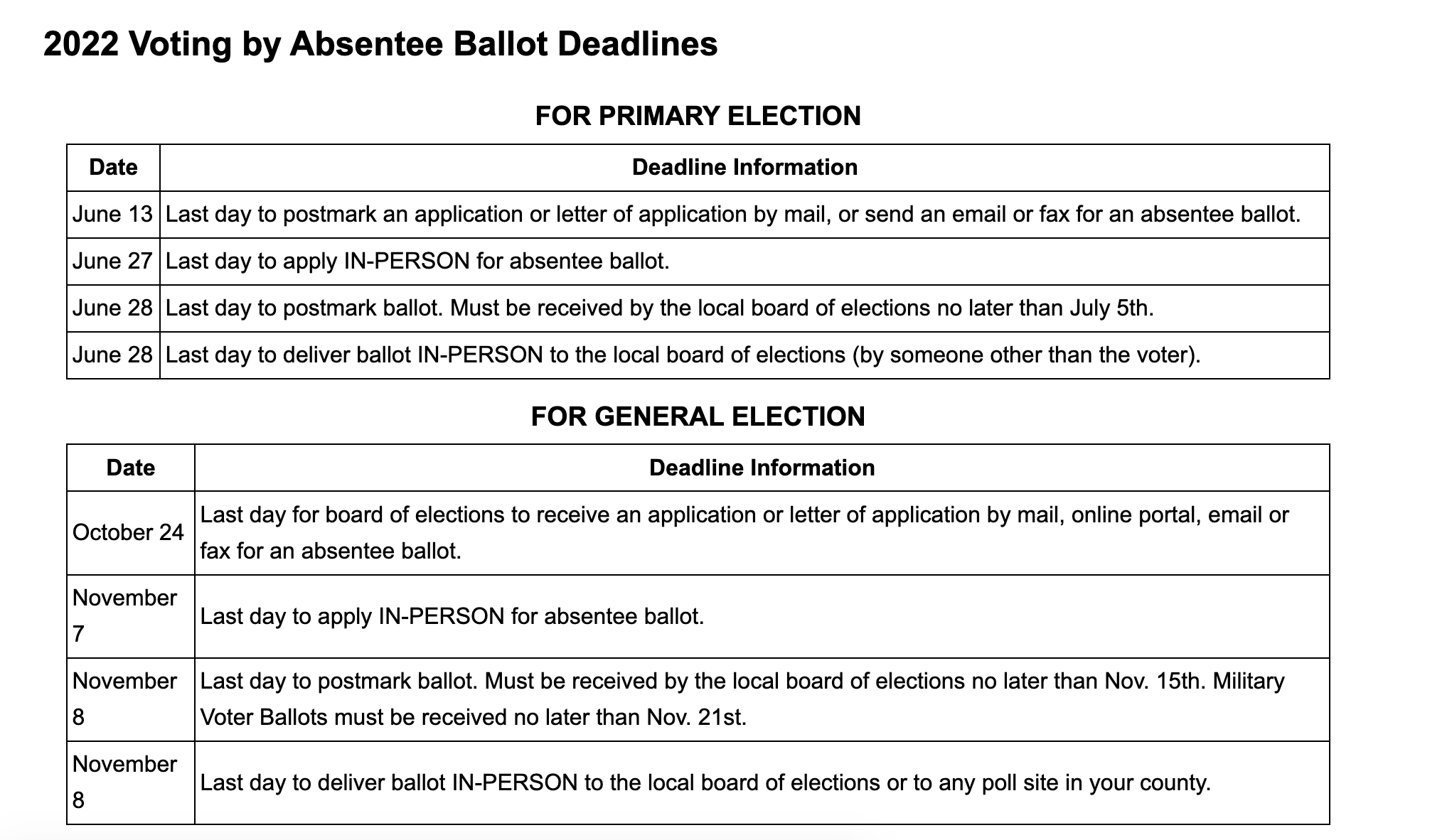 Voter Registration For Specific Populations
Accessibility for Persons with Disabilities
Under federal and state law, persons with disabilities are entitled to assistance with voter registration, accessible polling sites, and assistance with casting their ballot.  If you have a disability and believe you have been denied your right to assistance while voting or registering to vote, please contact the Civil Rights Bureau of the New York State Attorney General's Office at (212) 416-8250 or Civil.Rights@ag.ny.gov.
Americans with Disabilities Act (ADA)
The Americans with Disabilities Act requires that "reasonable modifications to rules, policies, and practices" be made so as to prevent disability-based discrimination.  In practical terms, this means polling sites must, among many other requirements, have doorways that are wide enough, ramps placed at entrances and sufficient numbers of marked handicapped parking spaces.  Click here for a checklist on what is necessary to ensure that your polling place is adequately accessible.
New York State Board of Elections provides an absentee ballot form that is accessible to voters with special needs.
Click this to register for absentee voting:
The Impact of a Felony Conviction on the Right to Vote
A person with a felony conviction is entitled to register and vote once he/she/they has been discharged from parole.
A person convicted of a felony in the State of New York may register or vote at any election if:
he/she/they has been pardoned or restored to the rights of citizenship by the governor, or
his/her/their maximum sentence of imprisonment has expired, or
he/she/they has been discharged from parole.
A person convicted of a felony in a federal court may register or vote at any election if:
he/she/they has been pardoned or restored to the rights of citizenship by the president of the United States, or
his/her/their maximum sentence of imprisonment has expired, or
he/she/they has been discharged from parole.
A person who has been convicted in another state for a crime or offense which would constitute a felony in New York, may register or vote at any election if:
he/she/they has been pardoned or restored to the rights of citizenship by the governor or other appropriate authority of such other state, or
his/her/their maximum sentence has expired, or
he/she/they has been discharged from parole.
If you are serving parole and would like to check the status of your right to vote, you can also search for yourself on the New York State Department of Corrections and Community Supervision's Parolee Lookup website and look for the Voting Restoration Pardon indicator. Note that only those whose parole status shows as 'Active' are eligible for restoration pardons; if your parole has been discharged, or your maximum sentence has expired, your right to vote has already been restored. When you register to vote, your local Board of Elections will use the same Parolee Lookup website to verify your eligibility. Factors that will be considered as part of your review include whether you are at liberty and whether you are maintaining required contact with your parole officer.
More information can be found at the official New York State clemency website, under the Voting Restorations Pardon Tab
Military and Overseas Citizens
Under the federal Uniformed and Overseas Citizens Absentee Voting Act (UOCAVA), men and women in the military, and civilian citizens living overseas, are entitled to register and vote by absentee ballot and, additionally, may receive and submit their completed forms by mail, fax, or email.
There are specific forms for Active Duty:
Federal Write-in Absentee Ballot (FWAB)- https://www.fvap.gov/uploads/FVAP/Forms/fwab2013.pdf
Federal Post Card Application  (FPCA)- https://www.fvap.gov/uploads/FVAP/Forms/fpca2013.pdf
Click here for applicable deadline dates and more information:
Voting While Trans 
Transgender people are sometimes unable to update their IDs to reflect their identity for a number of reasons. This is not illegal. As long as the relevant voter data (usually the name and address) matches one of the acceptable forms of ID, the voter has the right to vote. Poll workers should not be distracted by gender presentation when evaluating a voter's identity and eligibility to vote.
Here is other information that might be useful to you:
■ Gender discrepancies on ID are not a valid reason to deny a regular ballot. Transgender voters may have ID that indicates a different gender than is perceived. They may not have had the opportunity to update their ID yet, or may not be able to do so in your state. This does not mean their ID is invalid or fraudulent for voting.
■ Different clothing, makeup or hairstyle on an ID photo is not a valid reason to deny a regular ballot. Voters may look different today than on their photo ID for many reasons. The photo on an ID may show a different gender presentation. As long as you can identify the voter from their picture, the ID is valid for voting.
■ A voter's transgender status and medical history is private. Asking personal questions is offensive, inappropriate, and not relevant to their right to vote.
■ Transgender voters are not doing anything wrong or trying to deceive you—they are just being themselves. Transgender people have the right to vote just like everyone else, and it is the poll workers responsibility to ensure they are able to do so without hassle. If confusion about this person's right to vote persists, please speak to an election supervisor or election judge in your area to resolve any remaining questions
-Check to see what, if any, ID is required when you vote in your state by going to 866ourvote.org/state, and then get the appropriate form of ID if needed.
- ID is not required in NYS except under specific circumstances; ID was not provided when registering or a first time voter in a federal election.
-If no one is around, call the National Election Protection Hotline at 866-OUR-VOTE (866-687-8683) for help.
NASW-NYS Pace Endorsements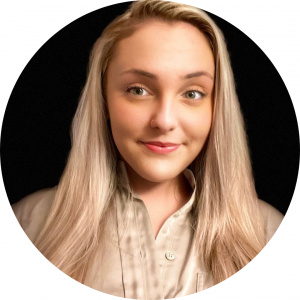 NYS Senator Anna Kaplan, District 7
Website: https://annafornysenate.com/ 
Facebook & Instagram & Twitter: @AnnaKaplanForLI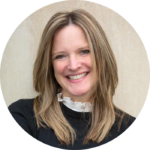 NYS Assembly Candidate Sarah Clark, District 136
Website: https://sarahclarkforassembly.com/
Facebook: @sarahclarkny
Instagram & Twitter: @sarahhartclark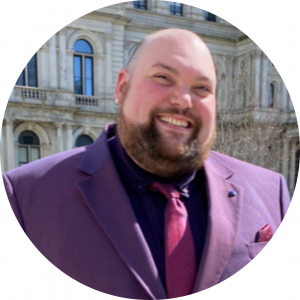 Matthew S. Mackey (Xe/Xem/Xis), Assembly Candidate District 101
Website: www.matthewforchange.com
Twitter: @CarbieThe
Tiktok: @CarbieWantaciao
NASW-NY supports voter engagement work through Voting is Social Work! 
Why is voting social work?
According to the National Social Work Voter Mobilization campaign, social justice is a core principle of social work practice and calls for ensuring meaningful participation in decision making for all people. Voting is Social Work is a nonprofit nonpartisan organization that provides social work students and practitioners with the knowledge and tools to raise awareness about voting and to increase voting registration and participation.
How to get involved: 
REGISTER and "pledge to participate" at

www.votingissocialwork.org

. 
LEARN from their live webinars and resources! To access online resources, click

here

. 
JOIN their Facebook Group, the National Social Worker Voter Mobilization Group for ideas and frequent updates on Voting is Social Work activities.
Want to Volunteer as a New York Poll Worker?
Become a Pollworker
The right to vote is one of our nation's oldest and most important entitlements, and with this right comes responsibility. Free and open elections are the basis on which this country was formed and you can make a difference by becoming a poll worker to help protect those freedoms.
Because of COVID-19, New York is experiencing a critical shortage of poll workers. Historically, 55 percent of all New York's poll workers are over the age of 60, making them especially vulnerable to the pandemic. This has resulted in a significant need for poll workers who are willing and able to assist with the administration of in-person voting during all elections.
When are you needed?
For the primary during Early Voting, June 18th to June 26th, and Primary Day, June 28th.
For the general election during Early Voting, October 29th to November 6th, and Election Day, November 8th.
What tasks will you perform as a poll worker?
Prepare the polling place for voting
Set up the voting equipment
Sign-in and process voters
Enforce social distancing
Demonstrate voting procedures to the voters
Sanitize voting equipment
Close the polling place
Canvass and report the results
Assist voter if requested
You are eligible to serve as a poll worker if you:
Are a New York State registered voter. If you are 17 years old, you may be eligible if your school district participates in a program under Education Law Section 3207-a. Interpreters do not need to be registered voters. You will be assigned within the county where you live. If you live in New York City, you will be assigned within the five boroughs.
Will you be paid?
Yes, Poll Workers get paid for training and each day they work.
The Board of Elections is committed to fulfilling its responsibility to the citizens of New York State by providing fair and accurate elections. This responsibility and the credit associated with it must be shared with the many dedicated workers that help make elections successful. You can get involved and become a proud participant in a process that is the foundation of democracy in our country. Come work with us.
Applying is simple and easy:
If you live in NYC, please complete the NYC Election Day Worker Form
.
If you live outside NYC, please complete the Outside NYC Election Day Worker Form.