Revolutionize the Profession: Town Hall 21
Authentic Change: Performative Activism versus Genuine Allyship, and the "illusion of inclusion"
When:  June 29, 2022, 06:00 PM in Eastern Time (US and Canada)
Register in advance for this meeting.
What is Revolutionize Social Work?
Revolutionize Social Work (RSW) is a movement of social workers from around the world committed to naming and dismantling racism and white supremacy that is perpetrated and perpetuated by social work.
Who can be a part of Revolutionize Social Work?
Any person committed to creating a most racially just society and social work profession. There is no membership necessary. It is imperative that our anti-racist work is led by the community that has been oppressed and marginalized by white supremacy and racism. Social workers with white privilege are invited to practice allyship through listening and learning in our town halls, contributing to our Action Groups, and  spreading the word about this initiative.
Who leads Revolutionize Social Work?
The NASW-NYS Revolutionize Leadership Team is leading the journey to transform social work by identifying the ways in which racism is perpetuated in our profession to hold these systems of power accountable.
Revolutionize Social Work is an initiative of the NYS Chapter of NASW that works to:
(1) Acknowledge the history and current ways that white supremacy and racism exist in social work practice;
(2) Create goals to achieve a racially just profession;
(3) Develop and implement action plans to achieve these goals and hold systems of power accountable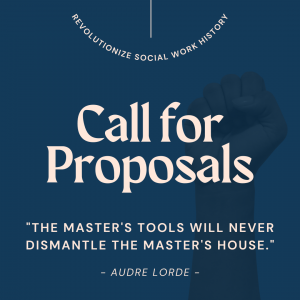 Call for Proposals: CE Presenters and Presentations on the Intersection of Historically Racialized Communities and Social Work
The NASW-NYS Revolutionize Social Work initiative initially started as a movement to create transformational antiracist change in social work. The Revolutionize Social Work town hall events successfully connected BIPOC social workers across the world who created the Revolutionize Healing peer support project to join with peers, process the impact of daily racism, and cultivate power through caring for themselves and their community.
Through both initiatives, the importance of honoring, learning, and uplifting the history of BIPOC people and social workers has been as consistent request. Creating a platform for social workers to provide this education will help to set a more stable foundation to revolutionize social work. Those who hold history have power, and it is crucial that we uplift the history of BIPOC social workers as we continue our journey to revolutionize social work. This history series will start in 2022, and our goal is to cultivate a robust curriculum on revolutionary social work history accessible to social workers, students, and schools.
Who can present?
Any presenter educating about a community, must be from that community.
Examples:
A presentation about the Cherokee community and experience must be presented by a Cherokee individual
A presentation about the Queer, Black, Trans Woman community and experience must be presented by a Queer, Black, Trans Woman
Topics open for proposals:
Indigenous/Native American History, Black History, Latinx History, African American History, Asian History, Asian American History, Kurdish History, Pacific Islander History, Native Hawaiian History, QTPOC History, Hmong History, Mexican History, BIPOC Women's History, Assyrians History, Punjabi History, BIPOC Immigrants, Refugees, and Migrants History, BIPOC Persons with Serious and Persistent Mental Illness History, Egyptian History, BIPOC LGBTQ+ History, Caribbean American History, BIPOC Disability Community History, Uyghurs History, Bengali History, Māori History, the history of any other racialized group not listed
To become a presenter, go to: https://naswnys.org/present/
Complete the program proposal and submit with your resume to info.naswnys@soicalworkers.org. All presenters will be paid.
Questions? Email us at info.naswnys@socialworkers.org.