All NASW-NYS programming is approved for NYSED social work, LMFT and LMHC CE credit and are applicable to the renewal of your NYS license.
All must attend the entire event for which they registered for. No partial credits will be given.
NASW-NYS members are guaranteed to receive ALL 36 CEs they need to renew their license within the 3 year renewal period free with membership through our monthly free Anti-Racist webinar series. Online live credits have always counted just the same as in person programs, and that means you can receive ALL your credits for FREE with NASW-NYS!
Members, look for the two below icons to identify your free member programs.
NASW-NYS members receive a 50% discount on all other programming.
December 1 – Live Webinar - 9:00AM - 4:30PM
Soothing and Grounding Tools for Dissociation in Children and Teens
NASW-NYS Members: $65 | Other Chapter Member: $97.50 | Non-Members: $130
NYSED Approved for 6.5 CE Credits
Click here for Program Information & Registration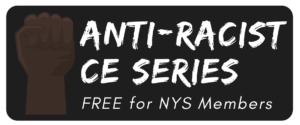 December 14 – Live Webinar - 12:00PM - 3:00PM
Black Male Grief Reactions to Traumatic Losses: Increasing Understanding, Healing and Services among Black Men Utilizing an Anti-Racist Approach
NASW-NYS Members: FREE | Other Chapter Member: $47.50 | Non-Members: $60
NYSED Approved for 3.0 CE Credits
Click here for Program Information & Registration
December 2 – Live Webinar - 12:00PM - 1:00PM
Person Centered Care Practices in Addiction Treatment
NASW-NYS Members: $10 | Other Chapter Member: $15.00 | Non-Members: $20
NYSED Approved for 1.0 CE Credits
Click here for Program Information & Registration
December 17 – Live Webinar - 6:00PM - 7:30PM
Parents'/ Caregivers' Perspectives to Child Disability Diagnosis: Blame, Guilt & Shame
NASW-NYS Members: $15 | Other Chapter Member: $22.50 | Non-Members: $30
NYSED Approved for 1.5 CE Credits
Click here for Program Information & Registration
January 22 – Live Webinar - 9:00AM - 12:00PM
Health Issues as a Doorway for Healing Trauma Through EMDR Therapy: Changing Our Destiny
NASW-NYS Members: $30 | Other Chapter Member: $45.00 | Non-Members: $60
NYSED Approved for 3.0 CE Credits
Click here for Program Information & Registration
January 12 – Live Webinar - 5:00PM - 8:00PM
Exploring the Role of Disability in Social Work Education and Practice
NASW-NYS Members: $30 | Other Chapter Member: $45.00 | Non-Members: $60
NYSED Approved for 3.0 CE Credits
Click here for Program Information & Registration
January 25 & February 1 – Live Webinar - 6:00PM - 8:00PM
History of Voter Suppression and Engaging Clients & Students in Voting
NASW-NYS Members: $40 | Other Chapter Member: $60.00 | Non-Members: $80
NYSED Approved for 4.0 CE Credits
Click here for Program Information & Registration
February 5 – Live Webinar - 1:00PM - 4:00PM
Practice Skills for Working with LGBTQ Youth, Part I
NASW-NYS Members: $30 | Other Chapter Member: $45.00 | Non-Members: $60
NYSED Approved for 3.0 CE Credits
Click here for Program Information & Registration
February 12 – Live Webinar - 1:00PM - 4:00PM
Practice Skills for Working with LGBTQ Youth, Part II
NASW-NYS Members: $30 | Other Chapter Member: $45.00 | Non-Members: $60
NYSED Approved for 3.0 CE Credits
Click here for Program Information & Registration
March 20 – Live Webinar - 9:00AM - 1:00PM
Trauma Informed Practice and Supervision
NASW-NYS Members: $40 | Other Chapter Member: $60.00 | Non-Members: $80
Marist Staff, Faculty, Field: FREE!
NYSED Approved for 4.0 CE Credits
Click here for Program Information & Registration