NASW-NYS members are guaranteed to receive ALL 36 CEs they need to renew their license within the 3 year renewal period free with membership through our monthly free Anti-Racist webinar series. Online live credits count the same as in person programs, and that means you can receive ALL your credits for FREE with NASW-NYS!
All must attend the entire event for which they registered for. No partial credits will be given.
You will receive a confirmation email with the webinar join link after you complete your registration to the email address you registered with. Please be sure to check your spam, junk and promotion folder for this as well.
Refund Policy:
All refund requests must be submitted in writing to NSandul.naswnys@socialworkers.org no later than two business days prior to the workshop date. If you do not attend, you will be considered a 'no-show'. Refund e-mails must include the subject line "Refund Request" as well as the attendee's name, workshop date and title in the body of the e-mail. If a refund is requested later than two business days prior to the workshop date, NASW-NYS has the right to refuse the request.
• All refunds are subject to a fee of 20% for administrative processing fees.
• Refund requests typically take 5 business days processing time.
• In the case of a no-show or partial participation, no refund will be granted
• We do not issue credits or apply refunds towards a future course. You can only receive a refund.
• You will not be able to receive a recording of the presentation for credit.
You will receive a full refund in the case that NASW-NYS cancels the event.
September 30th – Live, Hybrid (In-Person and Online) Webinar - 9:00a - 12:00p ET
When Clients Want to Vent: The Cooperation Principle and Solution-Focused Brief Therapy
NASW-NYS Members: $30 | Other Chapter Member (ex, NASW-NYC, NASW-NJ, etc): $60 | Non-Members: $75 | Registration with no CEs: FREE
NYSED Approved for 3.0 CE Credits
Click here for Program Information & Registration
Note - Registration for online attendance is full and closed. Registration for in-person attendance remains open.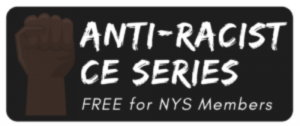 October 11th – Live Webinar - 5:00p-7:00p ET
It's Not You, It's Me: Reframing Our Understanding of Diversity, Equity, and Inclusion NASW-NYS Members: FREE | Other Chapter Member (ex, NASW-NYC, NASW-NJ, etc): $40 | Non-Members: $50
NYSED Approved for 2.0 CE Credits
Click here for Program Information & Registration
October 12th-14th, 2023 – Live Webinar - 9:00am-3:30pm ET (Thursday & Friday); 9:00am-1:00pm ET (Saturday)
Solution-Focused Brief Therapy Training Level 1
NASW-NYS Members: $160 | Other Chapter Member (ex, NASW-NYC, NASW-NJ, etc): $320 | Non-Members: $400
NYSED Approved for 16.0 CE Credits
Click here for Program Information & Registration
October 18th – Live Webinar - 10:00a-1:00p ET
Maintaining Appropriate Professional Boundaries: Exploring Ethical Obligations of Mental Health Professionals
NASW-NYS Members: $30 | Other Chapter Member (ex, NASW-NYC, NASW-NJ, etc): $60 | Non-Members: $75
NYSED Approved for 3.0 CE Credits
This workshop meets NYSED requirements for mental health professionals to recieve 3 hours of training on maintaining appropriate professional boundaries (effective April 2023)
Click here for Program Information & Registration
November 3rd – Live Webinar - 9:00a-12:00p ET
Identifying and Addressing Child Sexual Abuse
NASW-NYS Members: $30 | Other Chapter Member (ex, NASW-NYC, NASW-NJ, etc): $60 | Non-Members: $75
NYSED Approved for 3.0 CE Credits
Click here for Program Information & Registration
November 4th – Live Webinar - 9:00a-12:00p ET
Trauma-Informed Expressive Arts Therapy: Integrating Expressive Strategies in Clinical Practices
NASW-NYS Members: $30 | Other Chapter Member (ex, NASW-NYC, NASW-NJ, etc): $60 | Non-Members: $75
NYSED Approved for 3.0 CE Credits
Click here for Program Information & Registration
November 8th – Live Webinar - 10:00a-1:00p ET
Protecting Children & Supporting Families: The Ethical Realities of Reporting Suspected Child Maltreatment (Advanced Mandated Reporting)
NASW-NYS Members: $30 | Other Chapter Member (ex, NASW-NYC, NASW-NJ, etc): $60 | Non-Members: $75
NYSED Approved for 3.0 CE Credits
Click here for Program Information & Registration
November 9th – Live Webinar - 9:00a-12:00p ET
Intimate Partner Violence: Impact, Interventions, and Responses
NASW-NYS Members: $30 | Other Chapter Member (ex, NASW-NYC, NASW-NJ, etc): $60 | Non-Members: $75
NYSED Approved for 3.0 CE Credits
Click here for Program Information & Registration
November 14th – Live Webinar - 10:00a - 12:00p ET
Addressing Smoking, Vaping, and Over-the-Counter Cocktails in Schools
NASW-NYS Members: $20 | Other Chapter Member (ex, NASW-NYC, NASW-NJ, etc): $40 | Non-Members: $50
NYSED Approved for 2.0 CE Credits
Click here for Program Information & Registration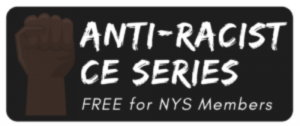 November 17th – Live Webinar - 9:30a-12:00p ET
Towards a Transformational Field Experience: Disrupting Whiteness in Field Instruction NASW-NYS Members: FREE | Other Chapter Member (ex, NASW-NYC, NASW-NJ, etc): $50 | Non-Members: $62.50
NYSED Approved for 2.5 CE Credits
Click here for Program Information & Registration
December 1st – Live Webinar - 9:00a-12:00p ET
Neurodiverse Couples Therapy
NASW-NYS Members: $30 | Other Chapter Member (ex, NASW-NYC, NASW-NJ, etc): $60 | Non-Members: $75
NYSED Approved for 3.0 CE Credits
Click here for Program Information & Registration
December 2nd – Live Webinar - 10:00a-1:00p ET
Beyond Treatment and Disease: A Holistic and Macro Approach to Supporting People with an Addiction
NASW-NYS Members: $30 | Other Chapter Member (ex, NASW-NYC, NASW-NJ, etc): $60 | Non-Members: $75
NYSED Approved for 3.0 CE Credits
Click here for Program Information & Registration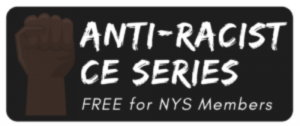 December 6th – Live Webinar - 11:00a-1:00p ET
Leading with Equity In Mind
NASW-NYS Members: FREE | Other Chapter Member (ex, NASW-NYC, NASW-NJ, etc): $40 | Non-Members: $50
NYSED Approved for 2.0 CE Credits
Click here for Program Information & Registration
December 12th – Live Webinar - 9:30a-12:00p ET
Critical Disability: Disability Justice and Applications to Social Work Practice NASW-NYS Members: $25 | Other Chapter Member (ex, NASW-NYC, NASW-NJ, etc): $50 | Non-Members: $62.5
NYSED Approved for 2.5 CE Credits
Click here for Program Information & Registration
December 13th – Live Webinar -  9:00a - 12:00p ET
Professional Boundaries and Risk Management Strategies
NASW-NYS Members: $30 | Other Chapter Member (ex, NASW-NYC, NASW-NJ, etc): $60 | Non-Members: $75
NYSED Approved for 3.0 CE Credits
This workshop meets NYSED requirements for mental health professionals to receive 3 hours of training on maintaining appropriate professional boundaries (effective April 2023)
Click here for Program Information & Registration
December 19th – Live Webinar - 12:00p-2:00p ET
Telehealth Rules and Best Practices
NASW-NYS Members: $20 | Other Chapter Member (ex, NASW-NYC, NASW-NJ, etc): $40 | Non-Members: $50
NYSED Approved for 2.0 CE Credits
Click here for Program Information & Registration
U P C O M I N G    W E B I N A R S
January 19th-20th, 2023 – Live Webinar - 9:00am-4:00pm ET both days
Solution-Focused Brief Therapy Level 2 Training
NASW-NYS Members: $120 | Other Chapter Member (ex, NASW-NYC, NASW-NJ, etc): $240 | Non-Members: $300
NYSED Approved for 12.0 CE Credits
Click here for Program Information & Registration