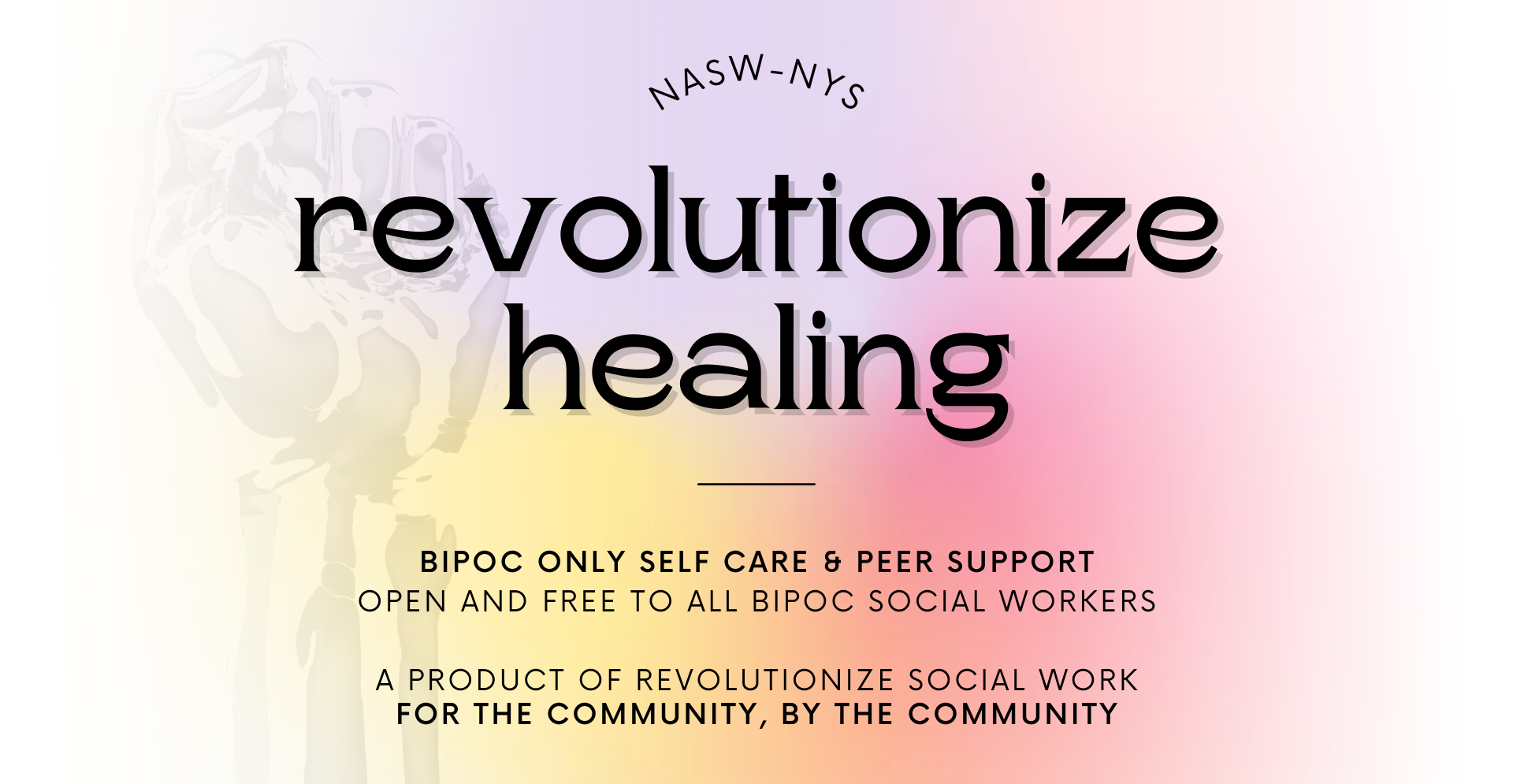 During NASW-NYS's monthly Revolutionize the Profession town halls social workers from across the world have connected to discuss racism in practice. These town halls have created a space for social workers to listen and engage with the experiences and concerns of Black, Indigenous, and other People of Color (BIPOC) social workers. The Revolution has highlighted the need for BIPOC social workers to have a safe space that promotes healing and community with the support of their peers. To this end, we are excited to announce our Revolution Peer Support Healing Group. This group will be only open to BIPOC social workers and will be a safe space to connect with peers and process the impact of racism. The Revolution Peer Support Healing Group will meet virtually, approximately one week after our monthly town halls.
⁠
How do you know if this group is for you? This is for social workers that experience racism because of the color of their skin on a regular basis.⁠ Revolutionize Healing is open to all social workers, no membership required. These events are free.
BIPOC Self Care and Peer Support Group
September 29 at 6:00pm EST
18th of every month – unless otherwise stated
6:00pm EST
(will not take place on a Friday/Saturday/Sunday)

Click Here to Register One or All Meetings

October 18, 2021
November 18, 2021
December 15, 2021
January 18, 2022
February 17, 2022
March 17, 2022
April 18, 2022
May 18, 2022
June 20, 2022
July 18, 2022
August 18, 2022
September 19, 2022
October 18, 2022
November 17, 2022
December 15, 2022
Free and open to all BIPOC Social Workers
AANHPI Peer Support Group
There is no August Meeting.
Next Meeting:
Wednesday, September 8 at 6:00pm EST
Click here to register
All meetings after this will take place the first Wednesday of the month at 6:00pm EST.
Click here to register
Free and open to all Asian American, Native Hawaiian, & Pacific Islander Social Workers