Chapter Chats initially emerged out of a need to socially connect social workers while practicing physical distancing. They have grown into an accessible and easy way for social workers to share resources, network, and engage with one other across the State and Nation. These are conversations hosted by social workers, for social workers. Open to all who would like to attend, and any NASW member is invited to host a topic or conversation!
Want to host or suggest a topic for a Chapter Chat? Shoot us an email at info.naswnys@socialworkers.org!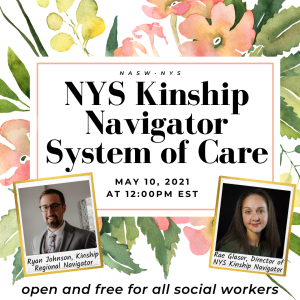 NYS Kinship Navigator System of Care 
Date: May 10, 2021
Time: 12:00pm EST
Are you, or someone you know, providing care for a grandchild or other young relative? Rae Glaser, the Director of NYS Kinship Navigator, and Ryan Johnson, MSW, the Associate Director are here to answer your questions! Don't miss out on this informative session, where you'll learn about The NYS Kinship Navigator System of Care – including programs, resources, and supports for those for caring full time for grandchildren, relatives, and fictive kin (family friends) in these challenging times.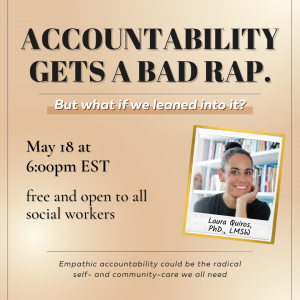 Accountability Gets a Bad Rap: But, what if we leaned into it?
Date: May 18, 2021
Time: 6:00pm EST
Accountability gets a bad rap and is seen as a punishing or a "calling out" rather than an act of radical love and generosity. If we saw accountability as a way to better ourselves and each other, would it come more naturally?  In this historic moment of complex trauma that we are all living through, self-care can be a radical practice. The use of the word 'radical' is intentional because the act and embodiment of caring extends beyond the individual into the community. Join NASW-NYS with Dr. Laura Quiros to discuss how to positively disrupt systems of oppression through practicing empathic accountability as an act of self- and community-care.
Financial Social Work
Hosted by: Diane Bessel Matteson, PhD, LMSW, CNM, Past NASW-NYS Board Member
Description: In our first Chapter Chat, we will be connecting with NASW-NYS Region 5 Representative, Dr. Diane Bessel Matteson. Diane R. Bessel, PhD, LMSW, CNM currently serves as Associate Professor and Master of Social Work (MSW) Program Director in the Social Work & Sociology Department at Daemen College. Prior to coming to Daemen, Bessel served as director of Creating Assets, Savings, and Hope (CASH) Buffalo, a coalition of over sixty organizations working to increase the financial stability of low-to-moderate income families in Buffalo and Erie County by increasing access to tax credits, refunds, and needed income supports; improving financial literacy, and providing opportunities for homeownership, education, or other types of asset building. Her research focuses on the use of collaborative problem-solving to address complex social problems including poverty, homelessness, and financial insecurity. Dr. Bessel will discuss financial instability in light of the COVID-19 pandemic and will share thoughts on the use of financial social work to help guide people through the crisis.
Click here to watch the recording!
Trauma Informed Care in COVID-19
Hosted by: Billye Jones, LCSW
The COVID-19 pandemic has been stressful, scary, disorienting, and has changed our way of life. For anyone experiencing trauma or anyone with a previous trauma history dealing with COVID-19 may be especially difficult. This Chapter Chat will explore the unique challenges of COVID-19 and the impact on someone dealing with trauma. In this Chapter Chat, we will look at how to assess for safety, practical interventions, and grounding techniques that can be helpful right now.
Click here to watch the recording!
Serving Refugee and Immigrant Populations in COVID-19
Hosted by: Dr. Randall Stetson. Randall Stetson Ph.D., LCSW-R, NASW-NYS Board Member
Description: In our third Chapter Chat, we connected with NASW-NYS Region 4 Representative, Dr. Randall Stetson. Randall Stetson Ph.D., LCSW-R, is a faculty member in the Department of Human Development at SUNY Oswego. Dr. Stetson is a Spanish speaking Licensed Clinical Social Worker in private practice with over 20 years of experience working with immigrants and refugees. His clinical social work practice has included work with families from Mexico, Guatemala, Honduras, El Salvador, Cuba, Dominican Republic, Iraq, Burma, Bosnia, and Russia. Dr. Stetson has worked with both documented and undocumented immigrants and has counseled numerous DACA youth. He has been married for 20 years to his lovely wife, who is herself a Cuban Refugee. Dr Stetson discussed some of the unique issues COVID-19 presents to both social work practitioners and the immigrant families they serve.
Click here to watch the recording!
The Social Work Student Experience in COVID-19
Hosted by: Afsha Malik, MSW, NASW-NYS Board Member and Noshin Hoque, BSW, NASW-NYS Board Member
Description: Student members Afsha Malik, and Noshin Hoque discussed how COVID-19 impacted the student social work experience, graduation, field education, and implementing a self-care plan.
Click here to watch the recording!
The Doctoral Student Experience in COVID-19
Hosted by: Kari Tabag, LCSW-R, PhD Candidate, Diversity Committee Member and Jessica. J. Mitchell, LMSW, MA, PACE Chair
Description: Featuring two PhD Candidates from NASW-NYS Leadership Committees, this Chapter Chat will addressed experiences and concerns of social work doctoral students during the Corona pandemic of 2020.
Click here to watch the recording!
COVID-19 and the School Social Worker
Hosted by: Michael Cappiello, LCSW-R, NASW-NYS President
Description: This Chapter Chat reviewed some best practices happening in Social Work during COVID-19 that use technology from the telephone to the internet to provide services and maintain community networks. Michael also discussed the impact of CCOVID-19 on his work as a school social worker.
Click here to watch the recording!
Child Welfare and COVID-19
Hosted by: Sharon Kollar, LMSW, NASW-NYS Board Member
Description: This Chapter Chat discussed how to support the child welfare workforce during this pandemic and beyond.
Click here to watch the recording!
Wellness: Cultivating a Deeper Understanding of Relaxation and Inner Peace
Hosted by: Evelyn Williams, MSW, NASW-NYS Policy Coordinator
Description: In these challenging times we have choice. We can choose to be anxious, worried and/or upset or we can access our capacity to be relaxed and peaceful. By practicing techniques designed to attain these states we can be of benefit to not only ourself but to our family, friends and colleagues. Tune in to hear Evelyn discuss the importance of self-care for social workers in COVID-19.
Click here to watch the recording!
Working With Veterans and Service Members in COVID-19
Hosted by: Alyssa Gibbons, LCSW-R, BCD, VMHTI Advisory Committee Member, OneTeam Listserv Moderator
Description: In this Chapter Chat we heard from US Navy Veteran Alyssa Gibbons about how social workers that are working with Veterans and service members have evolved their practice in response to COVID-19.
Click here to watch the recording!
Anti-Racism Social Work
Hosted by: Dawn Knight-Thomas, MSW and Samantha Fletcher, PhD, MSW, NASW-NYS Executive Director
Description: Social work is a profession that is grounded in social justice advocacy for the least advantaged, vulnerable, and oppressed populations. As a discipline, we need to stand in the forefront of change. As historic events are unfolding around us, now is the time for social workers to dig deep into our activist roots and create a paradigm shift in how we speak, act, and present ourselves, not simply as clinicians, but also as practitioners of social justice.
Click here to watch the recording!
COVID-19 and Medical Social Work
Hosted by: Kimberlee Garver, LCSW, Jennifer Kite, LCSW
Description: This Chapter Chat discussed the experiences of two medical social workers as they journeyed through the onset of COVID-19. Jennifer Kite will spoke about the in-patient perspective, and Kim Garver will present on the out-patient practice. This Chapter Chat aired in June, 2020.
Click here to watch the recording!
Connecting With and Serving New Clients in COVID-19
Hosted by: Silas W. Kelly, LMSW, E-Journalism Social Work Advocate, Past NASW-NYS Board Member
Description: In this Chapter Chat, Silas talked about his experience working with Veterans and their families, particularly as he was just getting to know them when the Covid-19 "NY Pause" went into effect. Silas spoke about the challenges of trying to learn and master a new job position while at the same time learning a new EHR/EMR system. Silas also detailed the challenge of getting our Veterans and ourselves acclimated to Tele-Health video sessions. ⁠Originally aired in August 2020.
Click here to watch the recording!
The Effect of COVID-19 and Private Practice Clinical Social Work
Hosted by: N. Lael Telfeyan, PhD, LCSW-R, Past NASW-NYS Board Member
Description: This Chapter Chat covered how private practice social work has changed during the COVID-19 pandemic.
Click here to watch the recording!
COVID-19 and Office Safety - Two Parts with Resource Guide!
Hosted by: Kalli Kontos, LCSW-R, CASAC, BCD
Description: As social workers we are trained to deal and work through patient crisis always with the best actions possible for the best outcome. COVID-19 has thrown the world into a crisis. As we pivot and move helping ourselves, and our patients stay afloat, the "new normal" begins to set in with continuous changes. Private Practice is no longer as we knew it. Technology, electronic forms, masks, etc, How do we conquer it all This chapter chat on office safety will review CDC, WHO, Federal and State guidelines for the development of new office protocols. Through this discussion of exchange of info, you will have the tools to develop personalized office protocols. Resources will be available to all those who attend. ⁠Originally aired in August 2020.
Click here to watch both recordings and download the resource guide!
Voting is Social Work
Hosted by: Alexandra Saint Laurent, MSW, and Jessica J. Mitchell, LMSW, MA, PACE Chair
Description: talk about voter suppression in the United States, and how social workers can engage their clients and communities to advocate for themselves through voting! Voting IS social work! ⁠Originally aired in September 2020.
Click here to watch the recording!
Why Be a Student Member of NASW?
Hosted by: Noshin Hoque, BSW and Evelyn Lopez Rodriguez
Description: You may have heard your professors talk about NASW, but why should you become a member as a student? Hear from two student Board Members, Evelyn Rodriguez Lopez (BSW Student Representative) and Noshin Hoque (MSW Student Representative) about why they became members, how students have a voice at the NYS Chapter, and what the student body of 2020-2021 can accomplish together this year. Learn how you can engage in local and statewide advocacy, how you can help create the NYS Chapter legislative Agenda, and how to contribute to the development and implementation of anti-racist programming & work groups through your membership. Noshin and Evelyn also talked about how you can get more out of your membership through networking, professional development, statewide leadership opportunities, and more! Originally aired in September 2020.
Click here to watch the recording!
Honoring Yourself Amidst the Chaos
Hosted by: Erica Daye, LMSW, and Samantha Fletcher, PhD, MSW, NASW-NYS Executive Director
Description: While we are in the middle of a worldwide pandemic, Black Lives Matter movement, battle over the Supreme Court, and contentious election, how are you taking care of yourself? We know that social workers not only care for clients, but often family, friends and community members as well. How are you recharging and relaxing during this time? This Chapter Chat offers a variety of self-care ideas and solicit ideas from participants as well. ⁠Originally aired in October 2020.
Click here to watch the recording!
What is Environmental Justice?
Hosted by: Ryan Kane, MSW Student, NASW-NYS Intern
What is Environmental Racism and how does it present itself in US society? How do we, as social workers define the environment, and how does that impact our clients, and ourselves? Join UAlbany MSW Student Ryan Kane on November 19th at 12pm to discuss how social workers define environmental justice and approach the challenges of environmental racism.
Click here to watch the recording!
Positive Disruption of Social Work Practice and Leadership from a Trauma Informed DEI lens
Hosted by: Laura Quiros, PhD, LMSW
Incorporating Diversity and Inclusion in Trauma-Informed Social Work incorporates discussions of leadership, racism and oppression into a new understanding of how trauma and traumatic experience play out in leadership and organizational cultures. Chapters unpack ideas about the intersections of self, trauma and leadership, bridging the personal and professional, and illustrating the relationship between employees and leaders. Discussion questions and Reflections at the end of each chapter offer the opportunity for the reader to understand their own vulnerabilities as it relates to the subject matter. This book reconceptualizes cultural competency, trauma and leadership in the context of the 2020 COVID-19 pandemic and views theories and practices through a lens of diversity, equity and inclusivity.
Click here to watch the recording!
Less is More: Reincarceration in NYS
Hosted by: The Katal Center
New York reincarcerates more people on parole for technical violations -- like being late for curfew or testing positive for alcohol -- than any nearly every other state in the country. This means that over 5,000 people are currently incarcerated in New State jails and prisons for⁠ technical violations of parole, including hundreds on Rikers Island. Even more, new data from the Bureau of Justice Statistics found that in 2018, New York incarcerated nearly 6,000 people across the state for technical parole violations alone.⁠ ⁠ #LessIsMoreNY is designed to fix this problem. Join us on Monday at 5pm to hear from Katal members and staff about parole in New York state, the provisions of the #LessIsMoreNY bill, and ways the NASW-NYS can move to action to support the passage of #LessIsMoreNY. ⁠
Click here to watch the recording!
What is Library Social Work? 
In this Chapter Chat we will discuss the importance of social work and the collaboration of public libraries. The Family Place is the first program in the Nation to incorporate social work in public libraries. We will discuss the impact of this important collaboration and the importance of this partnership.
Click here to watch the recording!
What is the NASW Legal Defense Fund?
Hosted by: Mary McCarthy, PhD, LMSW, Ray Cardona, LCSW & Elizabeth Felton, Esq., LICSW
Do you know that NASW has a legal defense fund for social workers? The LDF provides financial assistance and legal advocacy for cases and issues concerning NASW members and the profession emphasizing legal and ethical principles important to social work. LDF also supports educational projects and programs that enhance social workers' understanding and knowledge of legal and ethical issues affecting the profession. Join us for a conversation that will provide an overview of the Legal Defense Fund and discuss some of the specific ways social workers are supported by the fund. Resources will be highlighted, including the array of resources available for tele-mental health services.
Click here to watch the recording!
Click here to download the handouts!
Positive Disruption as an Act of Social Justice
Hosted by: Laura Quiros, PhD, LMSW
Join us as we discuss the crafts of positive disruption and storytelling as acts of social justice. Now more than ever, social workers can be leaders in positively disrupting white and normative spaces through their use of self. We all have stories and for many of us, it is these stories that propelled us to enter the field of social work. How can these stories also be acts of social justice used to disrupt the status quo? All social workers are welcome to join us for this discussion on February 16 at 6pm EST.
Click here to watch the recording!
The Future of Social Work: An Essential Chat with the NASW President
Presented by: Milderd 'Mit' Joyner, DPS, LCSW
Social workers have continued to answer the call to service by contributing to the healing of our Nation during times of pandemic, racial unrest, economic uncertainty and political divisiveness in the past year. We know social workers have always been present in times of crisis, helping people overcome issues such as death and grief, helping communities recover from disaster, and many have worked to hold this Nation accountable to its proclaimed values by advocating for equal rights for all people. The 2021 Social Work Month Theme is 'Social Workers are Essential', but, what is essential for social workers, and our profession, in order to continue our work in overcoming present and future challenges? Join NASW President Mit Joyner and NASW-NYS as we discuss the future of social work, including how our Association and workforce must adapt and evolve for clients and clinicians in 2021, and what is essential to the personal and professional health of social workers as individuals. This Chapter Chat is interactive and is a platform for you to engage with NASW staff and leadership directly. We invite you to join us and as we map out the future of social work together.
Click here to watch the recording! 
Building Resiliency: Mind Body Practices as a Pathway. to Prevent Burnout
Presented by: Mary Beth DeSario, LCSW & Cat Capowski, MSW, M.Ed, LCSW-R
This live, knowledge-based virtual training is designed to provide an overview of research and science related to evidence based mind-body practices for social workers. Benefits of important self-care practices, such as breathing techniques will be discussed as well as an honest exploration of the barriers to self-care. We will review how self-care practices can build resiliency, prevent burnout, and manage stress which is crucial during COVID-19 pandemic. Experiential practice in gentle movement based in Qi Gong, breathing techniques, and meditation will allow participants to learn tools to incorporate into their own lives as well as to use with the clients they serve.
Outline:
- Overview of science and research behind why mind body practices are helpful for self-care
- Examine barriers to self-care for clinicians and strategies to overcome these barriers to prevent burnout
- Experiential exercises: Gentle Movement based in Qi Gong, breathing techniques, meditation
Click here to watch the recording!
Not Even Water: How to Observe Ramadan as a Non-Muslim
Presented by: Noshin Hoque, BSW & Afsha Malik, MSW
This session is to dispel myths, educate, and assist non-Muslim social workers on how to support their Muslim peers and colleagues during the workday. Grounded in dignity and inclusivity, this chapter chat will discuss how you can create an inclusive work environment for your fellow Muslim social workers while they participate in their religious obligations. Join us in recognizing our Muslim brothers and sisters this Thursday, April 7th at 12 PM EST with Noshin Hoque, BSW, and Afsha Malik, MSW, and learn how you can support the Muslim social worker community this Ramadan.
Click here to watch the recording!
Addressing Xenophobia and Violence Among the Asian American Community
Presented by: Kari Tabag, PhD(c) LCSW-R
Asians are the fastest-growing racial group in the United States (U.S.) and by 2065, are projected to represent 14% of the population (Pew Research Center, 2015). Additionally, Asian Americans constitute a small, hidden population within the social work profession. Between 2019 and 2020, hate crimes targeting Asian Americans increased by 150%, mostly in New York and Los Angeles, and continues to grow. This session addresses the stereotypes, myths, and facts in working with this invisible and marginalized population, why they are marginalized, what it means to be multiracial, and how diverse communities can join forces in striving for social justice. Social workers will greatly benefit from this informative and supportive session in working with Asian Americans across the lifespan, applicable to all systems of social work.
Click here to watch the recording!
Resources
1) StopAAPIHate: https://stopaapihate.org/
2) Asian Americans Advancing Justice(AAJC) https://advancingjustice-aajc.org
3) The New York Coalition for Asian American Mental Health (NYCAAMH) http://www.asianmentalhealth.org/
4) Bystander intervention training to stop anti-Asian/American and xenophobic harassment https://www.ihollaback.org/bystanderintervention/
5) Landmark documentary series "Asian Americans". Available to stream FREE via PBS' website: https://www.pbs.org/show/asian-americans/
Navigating Medicare: Resources to Help Your Clients through the Medicare Maze
Presented by: Sarah Murdoch, MSW, Director of Client Services at Medicare Rights Center
Learn how the Medicare Rights Center, a national, nonprofit consumer service organization, can assist you with helping your clients with Medicare access the affordable health care they need. The presentation will provide information on Medicare Rights' services for consumers and professionals, including individual counseling through the national helpline and enrollment assistance to help people with low incomes pay for Medicare cost-saving programs. An overview will be given on Medicare Rights' online educational materials, such as a reference tool which answers hundreds of Medicare questions; topical guides; advocacy tool kits; and webinars. Medicare Rights' self-study, online curriculum for social workers who want to learn Medicare with the option of earning continuing education credits – a special partnership with NASW-NYS –  will also be discussed.
Click here to watch the recording!
Cancel Culture: A Discussion on the Realities of Racism in Social Work Education and Practice
Presented by: Leaders of NABSW, Melissa Smith Haley, MSW, LMSW, NABSW President; Daryl Fraser, LCSW; Gloria Scott, LCSW; L. Zakiya Newland, PhD, LCSW-R; and Dalphine E. Meadows, LMSW, MBA, CASAC-T
Join us as a panel of leaders from the National Association of Black Social Workers, address the racial inequities in our profession. The National Association of Black Social Workers (NABSW) is a 53-year old organization with a commitment to Black liberation. Our 77 chapters across the country, including the 6 chapters in NYS have a strong history of African-centered leadership, advocacy and service. Historical actions were taken by Black Social Workers to hold the profession accountable for addressing racial disparities, led to the establishment of NABSW. Since that moment in social work history, the organization has withstood attempts to cancel Black Social Work culture. Guided by self-determination and African-centered values and philosophies, NABSW remains a constant force in the quest for liberation in the personal, political and professional arenas.
Click here to watch the recording!