Chapter Chats initially emerged out of a need to socially connect social workers while practicing physical distancing. They have grown into an accessible and easy way for social workers to share resources, network, and engage with one another across the State and Nation. These are conversations hosted by social workers, for social workers. Open to all who would like to attend, and any NASW member is invited to host a topic or conversation!
Want to host or suggest a topic for a Chapter Chat? Shoot us an email at info.naswnys@socialworkers.org!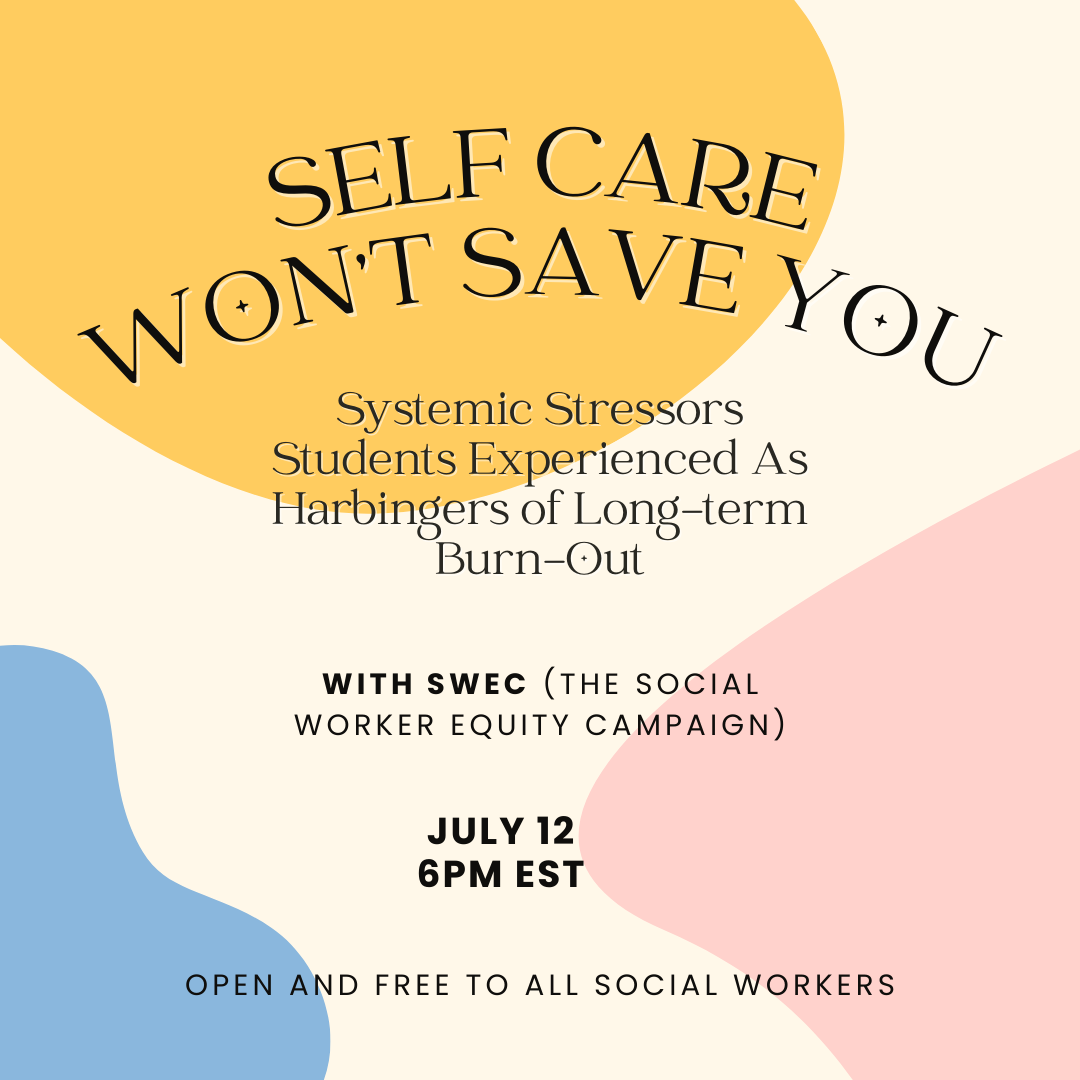 Self-Care Won't Save You: Systemic Stressors Students Experienced As Harbingers of Long-term Burn-Out

Presented by: Melanie Sonsteng-Person, MSW, Ph.D, and Steve Burghardt, M.S.W., Ph.D from the Social Work Equity Campaign (SWEC)
July 12 at 6:00pm EST
Join us for a Chapter Chat about toxic workplace and internship environments, and how they impact social workers as individuals and professionals. This conversation will be led by the Social Worker Equity Campaign (SWEC), an advocacy group with a mission to foster equity, unity, and action among the social work workforce. This presentation will focus on the firsthand trauma and secondary traumatic stress that can be experienced in field education, and will end with policy and programmatic recommendations from SWEC for social work education and the profession at large.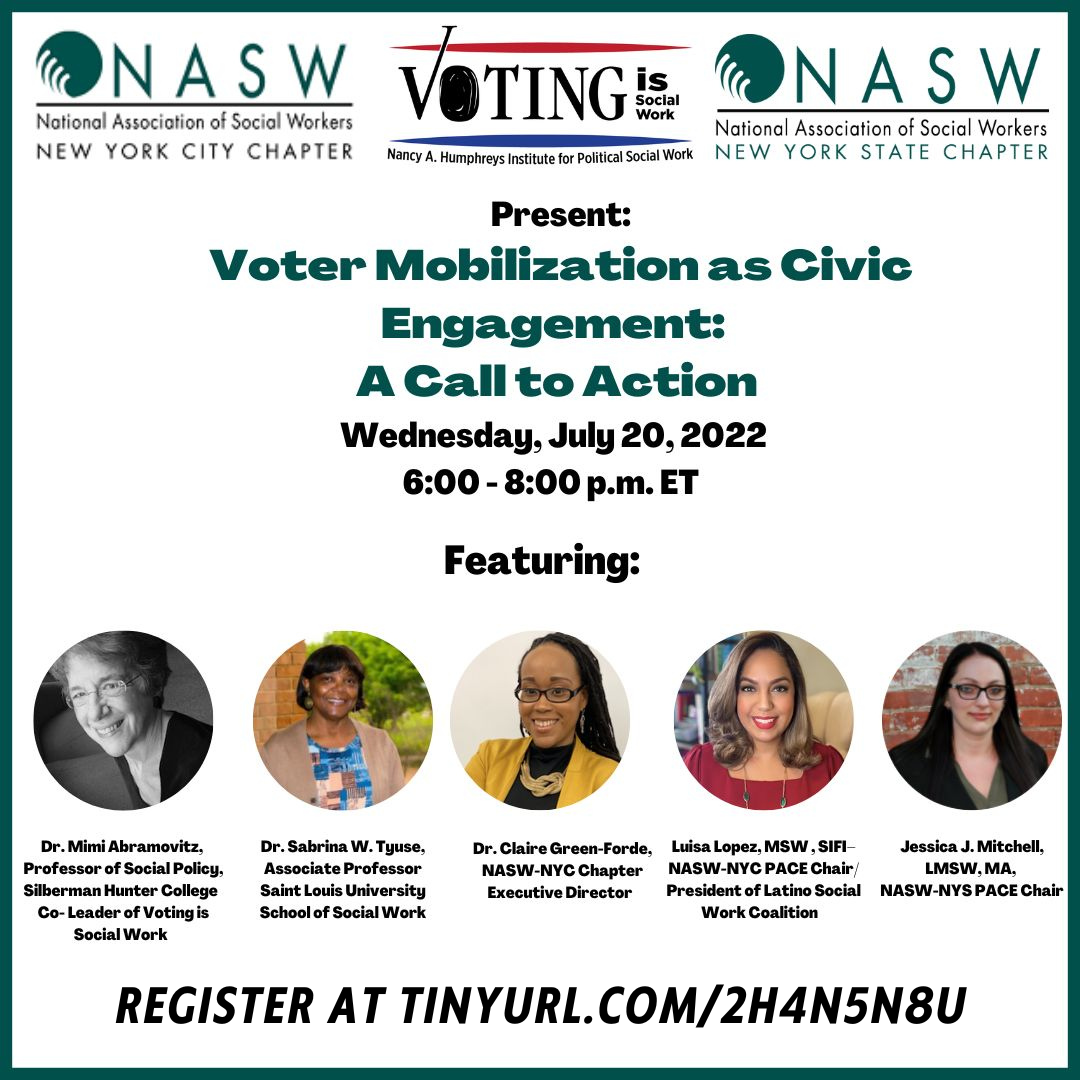 Voter Mobilization as Civic Engagement: A Call to Action

Presented by: NASW-NYS, NASW-NYS, and Voting is Social Work Campaign
Presenters: Dr. Mimi Abramovitz -- Professor of Social Policy Silberman School of Social Work, Hunter College, Co-Leader of Voting is Social Work
Dr. Sabrina W. Tyuse -- Associate Professor, Saint Louis University School of Social Work
Panelists:
Dr. Claire Green-Forde –- Executive Director of NASW-NYC
Luisa Lopez, MSW –- NASW-NYC PACE Chair/Latino Social Work Coalition
Jessica J. Mitchell, LMSW, MA -- NASW-NYS PACE Chair
A call to action, this event focuses on the need for voter mobilization efforts in the state of New York. Attendees will hear from Dr. Mimi Abramovitz as well as her colleague, Dr. Sabrina W. Tyuse as they discuss rising threats to democracy, the Voting Is Social Work voter registration campaign, and how social workers are uniquely positioned to help get out the vote in the coming elections.
Part informative session and part panel, attendees will also hear from NASW representatives and leaders from NYC and NYS as they discuss chapter efforts and create important dialogue around the importance and need for social workers to get involved in this increasingly important issue.
Attendees will gain tools, resources and important insight into how they can register more voters and how voter mobilization is key to preserving our democracy .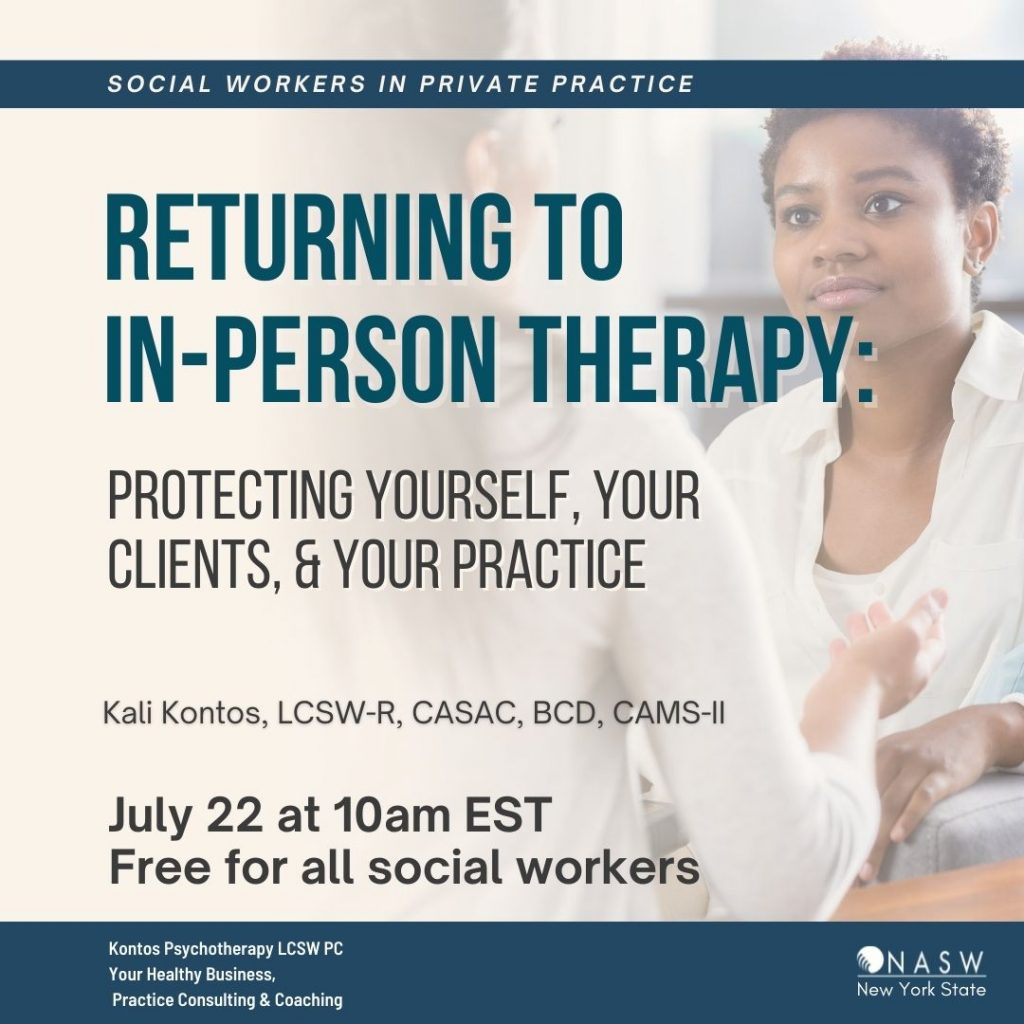 Returning to In-Person Therapy: Protecting yourself, your clients, and your practice

Presented by: Kali Kontos, LCSW-R, CASAC, BCD, CAMS-II
July 22 at 10:00am EST
The designation of COVID-19 as an airborne infectious disease that presents a serious risk of harm to the public health under the HERO Act ended. Social workers in private practice, business owners, and employers are no longer required to enforce their workplace exposure prevention plan. What does this really mean in a practice setting? Join us to talk about returning to the office while COVID-19 numbers remain high, the online vs. in-person dilemma, and balancing serving your clients and the obligation to protect yourself.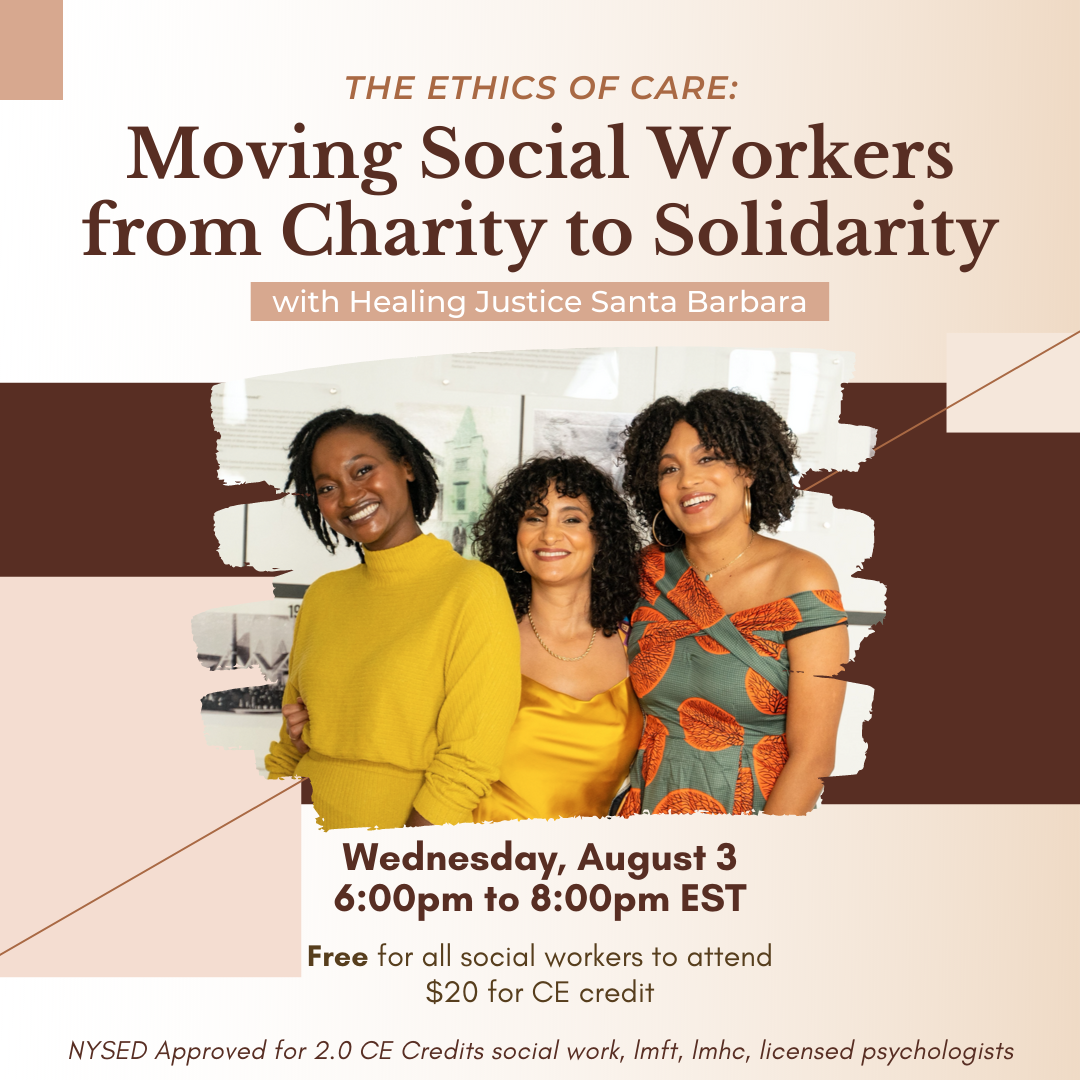 The Ethics of Care: Moving Social Workers from Charity to Solidarity
Presenters: Simone Akila Ruskamp, BA, Krystle Farmer Sieghart, BS, Leticia Forney Resch, BA
Participants will engage in a collaborative learning exchange, "The Ethics of Care: Moving Social Workers for Charity to Solidarity". Through lecture and group discussion led by experienced community organizers, social work practitioners will consider internalization of the social work code of ethics, by considering models of the National Association of Black Social Workers and applying anti-racist systems theory as expressed by Ibram Kendi (and expanded by Dr. Jessica Pryce). Using this framework, participants will begin to evaluate if their workplace is racist, assimilationist or anti-racist and envision the steps needed to move towards co-powerment.  
Learning Objectives
After the completion of this webinar, participants will be able to:
Evaluate the orientation of their agency as racist, assimilationist or anti-racist.
Describe strategies to move towards anti-racist social work and practice
Apply professional code of ethics outside of their paid responsibility
Click here to register for attendance only!
Click here to register for CEs!
[embedyt] https://www.youtube.com/embed?listType=playlist&list=PL9FT3kyuciQHEmd9oxTNso1kYbKWInTjz&layout=gallery[/embedyt]