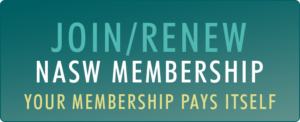 Latest News

2017 Veterans Mental Health Training Initiative 
The Veterans Mental Health Training Initiative is back for it's 5th year of programming!
Save the date for our upcoming FREE two-day regional conference on May 5 – 6 in Long Island, NY. Visit www.naswnys.org/vmhti for more information on our conferences and workshops, as well as opportunities to table/exhibit!
---

The NASW-NYS Chapter hosts the Private Practice Connect listserv for social workers who are in private practice to provide our members with a place to share information, exchange ideas and resources on maintaining a successful private practice. To Join: You must be a current member of the NASW New York State Chapter. Send us an email (info@naswnys.org) with "Private Practice Connect" in the subject line (from the email account that you would like to use for the listserv). Then please write your full name in the body of the email so that we can verify your membership.
---

NASW-NYS is now accepting nominations for the 2017 Social Work Awards! Don't miss out on this wonderful opportunity to honor and show your appreciation to a colleague who has done so much for the profession and their communities. Deadline for nomination is April 28, 2017. Visit: www.naswnys.org/2017awards
---
---