Our website will be down for scheduled maintenance 4/25/17: The NASW-NYS website will be down for scheduled maintenance on Tuesday, April 25, 2017 from 8:30 a.m. to 9:30 a.m. The site will not be accessible during this timeframe. Thank you.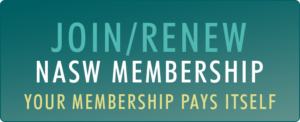 Latest News

2017 NASW-NYS Chapter Elections is Now Open! 
The 2017 NASW-NYS Chapter Elections are now underway! Exercise your voice as a member of NASW by voting on your elected leadership for the New York State Chapter of the National Association of Social Workers.
NASW-NYS Members can cast their votes starting April 14 – May 26. Click here to cast your votes!
---

LMSW & LCSW Test Prep Courses Are Now Available!
NASW-NYS will be offering two-day licensing preparation classes for both the New York State LMSW and LCSW exams. The best part? Our prep courses will be delivered as live webinars, allowing you to attend from the convenience of your own home! 
For workshop dates and registration, visit the NASW-NYS Licensing Prep Course page.
---

2017 Veterans Mental Health Training Initiative 
The Veterans Mental Health Training Initiative is back for it's 5th year of programming!
Save the date for our upcoming FREE two-day regional conference on May 5 – 6 in Long Island, NY. Visit www.naswnys.org/vmhti for more information on our conferences and workshops, as well as opportunities to table/exhibit!
---

The NASW-NYS Chapter hosts the Private Practice Connect listserv for social workers who are in private practice to provide our members with a place to share information, exchange ideas and resources on maintaining a successful private practice. To Join: You must be a current member of the NASW New York State Chapter. Send us an email (info@naswnys.org) with "Private Practice Connect" in the subject line (from the email account that you would like to use for the listserv). Then please write your full name in the body of the email so that we can verify your membership.
---

NASW-NYS is now accepting nominations for the 2017 Social Work Awards! Don't miss out on this wonderful opportunity to honor and show your appreciation to a colleague who has done so much for the profession and their communities. Deadline for nomination is April 28, 2017. Visit: www.naswnys.org/2017awards
---
IMPORTANT NOTICE ON NASW-NYS MEMBERS LOGIN: Our Members-Only login portal is currently down. Please note, this does not affect your ability to access our website and its subpages, as well as the links below. We are working on resolving this issue immediately and apologize for any inconvenience caused. Thank you for your patience and understanding.
---
Important Notice: Effective July 1, 2016, the NASW-NYS Career Center will no longer be in operation. In an effort to serve our members better, all job listings and career resources will function through National NASW's Social Work Career Center. Members and other social work professionals are encouraged to utilize NASW JobLink, the Social Work Career Center's job board. Visit http://careers.socialworkers.org/findajob/default.asp for more information.