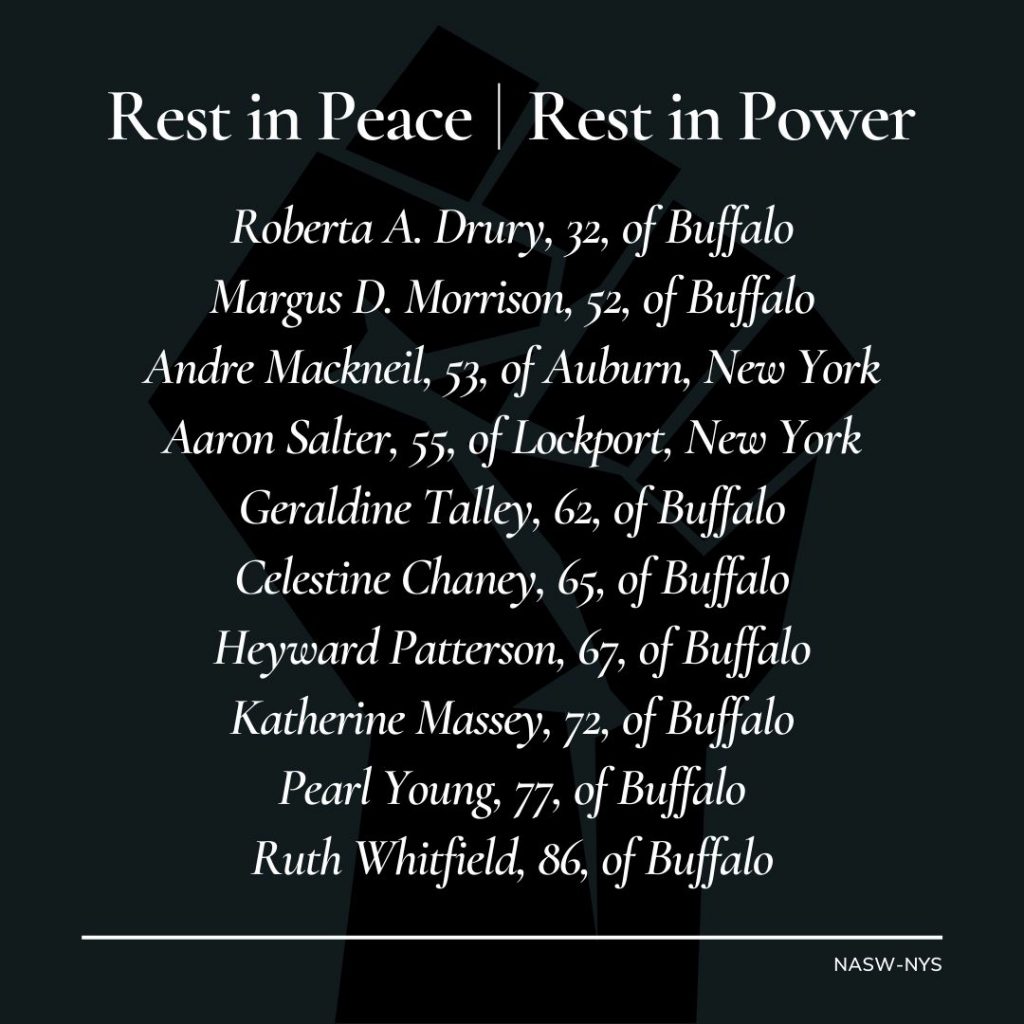 Thirteen people in Buffalo, NY woke up on Saturday morning. Some probably woke up thinking about the plans they made for the weekend. Others may have woken up thinking about the night before. Some connected with family and friends that morning. They did not wake up thinking that this would be their last day or that they would be shot. Thirteen people were shot. Ten died. Eleven of the thirteen people were Black. This community was targeted, and these people were shot because of hate. Racism is a deadly epidemic.
We mourn with the families of those who were taken from us.
Roberta A. Drury, 32, of Buffalo
Margus D. Morrison, 52, of Buffalo
Andre Mackneil, 53, of Auburn, New York
Aaron Salter, 55, of Lockport, New York
Geraldine Talley, 62, of Buffalo
Celestine Chaney, 65, of Buffalo
Heyward Patterson, 67, of Buffalo
Katherine Massey, 72, of Buffalo
Pearl Young, 77, of Buffalo
Ruth Whitfield, 86, of Buffalo
Every one of these people were loved and loved others. We mourn with the community of Buffalo as they process this tremendous loss. The brutal and deadly actions of white supremacy is nothing new to the Black community. As Black social workers, we process the consequences of white supremacy that is upheld by acts of terror. As racialized social workers, we stand with our Black loved ones in this time of grief. As allies, we offer our most heartfelt condolences to the families and communities affected by these attacks. Together, we mourn the 10 lives taken from us. Anti-Black racism and other forms of racism and discrimination threaten not only the individuals and communities that suffer from their effects, but also contribute to creating the toxic climate needed for extremism, terrorism, and violence to thrive.⁠
In order to combat white supremacy and the deadly epidemic of racism, we must all do our part to disrupt this ideology and the thousands of ways it manifests in our society. As social workers, we are called to dismantle racist systems and structures. We can and must work every day to end the terror of white supremacy by correcting false narratives, teaching accurate history, implementing racially just policies and ensuring equality of opportunity for all. We also need to create spaces of support for our Black colleagues and clients who are once again mourning and processing this horrific loss of life.
As we continue our work to dismantle racism in all its forms, we must never forget the lives of those who have been taken through senseless acts of racial terror. Today, we honor the lives of Roberta A. Drury, Margus D. Morrison, Andre Mackneil, Aaron Salter, 55, Geraldine Talley, Celestine Chaney, Heyward Patterson, Katherine Massey, Pearl Young, and Ruth Whitfield. Your lives mattered.