In honor of Veterans Day, the NASW-NYS Chapter would like to take a moment to give thanks to those who served, have served, and their families. Take some time today to celebrate those who fight for our freedom. The Chapter would also like to honor Veterans Day with resources to help social workers serve service members, veterans, and their families. 
---
In whatever capacity we work as social workers, we are bound to come across an Armed Forces veteran. In many cases, this includes not only our clients, but our colleagues and classmates as well. The National Association of Social Workers – New York State Chapter (NASW-NYS) knows that social workers across the state wish to gain (more) knowledge about working with veterans and military families, as well as enhancing their capacity to meet the veteran-specific health and mental health needs of veterans and their family members.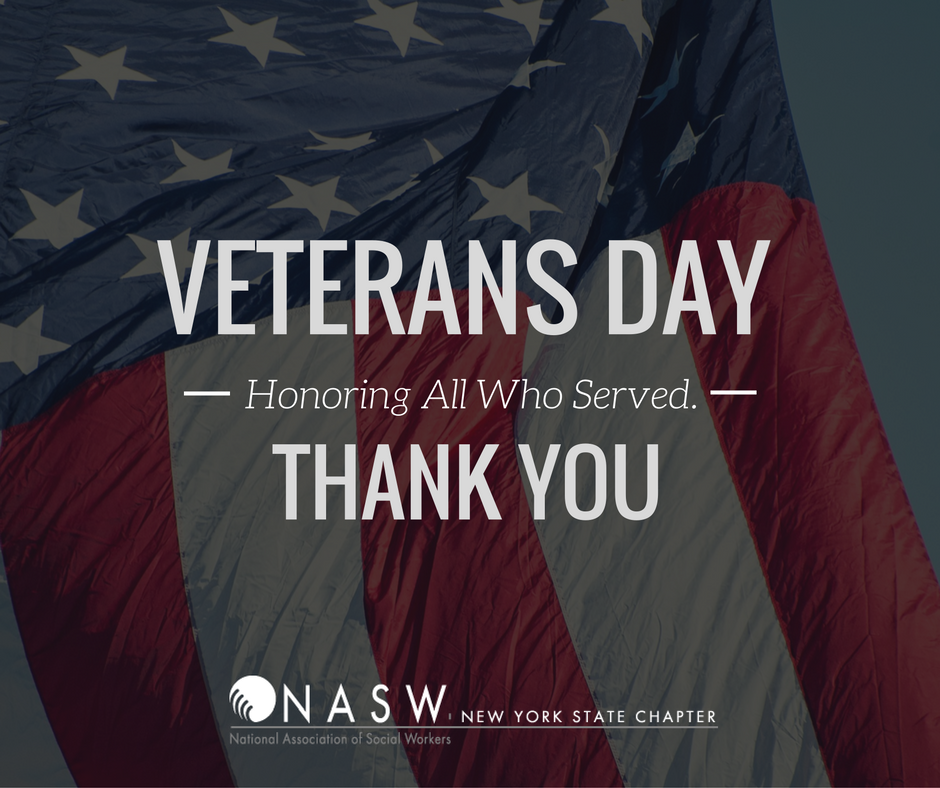 Continuing Education Opportunity (November 17)
On Friday, November 17, NASW-NYS Suffolk Division is offering a veteran's mental health training conference titled "Beyond PTSD: The Moral Causalities of War" at the Sustainability Institute at Molloy College. The all-day conference will include discussions about post-deployment reintegration, the moral casualties of war, the experience of a female combat veteran reintegrating home, and a veterans panel discussion. A limited number of scholarships are available for veterans and service members to attend this conference. For registration, please click here (Beyond PTSD: The Moral Casualties of War)
2017 Veterans Mental Health Training Initiative Conferences 
November is not the only time of year NASW-NYS supports social workers in meeting the needs of veterans and their families. This past year, more than 250 workers and other human service professionals participated in the 2017 Veterans Mental Health Training Initiative conferences in Long Island and in Niagara Falls. Workshop topics included:
Military cultural competence
Women and military culture
Substance use disorders in returning veterans
Suicide prevention
Working with LGBTQ veterans
Post-deployment impact on children and families in reintegration
And more
Learn more about the Veterans Mental Health Training Initiative, as well as information about the 2018 conferences by visiting the NASW-NYS VMHTI website.
Veterans Mental Health Forum and Film Screening in Rome, NY (September 21)
The VMHTI also had the opportunity to partner with the NASW-NYS Mohawk Valley Division to host a veterans mental health forum on the topic of 'moral injury' in Rome, N.Y. this past September. Titled, "A Closer Look at Moral Injury: Existential Challenges Faced by Returning Veterans", the event provided an overview of military culture and the challenges of transitioning to civilian life, with a particular concept of moral injury – and its lasting implications on one's spirituality, identity, and ethics. The forum included a documentary screening of ALMOST SUNRISE (2016), which follows two Iraq veterans, Tom Voss and Anthony Anderson, both tormented by depression for years and after they returned home and were pushed to the edge of suicide. (See: "Veterans Mental Health Training Initiative Holds Forum", published by The Rome Sentinel on September 21, 2017)
Building a strong network of social workers trained in military health and mental health issues 
As service members return to New York, they and their families are often in need of expert mental health care, yet there is a short supply of mental health professionals who are adequately trained in veterans-specific health and mental health issues. NASW-NYS has led the way toward building a strong network of social workers and other licensed mental health clinicians who are adequately trained in these issues, and is committed to growing that network of trained professionals through the Veterans Mental Health Training Initiative, regional workshops, and future events and programming.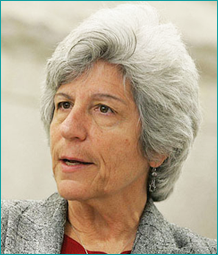 We also turn to you, our members, as we recognize that our membership is our most valuable resource. As your professional association, we know that social workers have valuable insights to share. This month, we talked to Dr. Joan Beder who shares her piece on the essential role that social workers play in providing the best care to families and service members, with a focus on the obligation that we have to learn and share knowledge to offer the most responsive care to our military.
"Our military is all volunteer; men and women make the decision to join the military for a variety of reasons but regardless of the reasons, the impact of that decision is felt throughout the family, community, and the broader society. Many who serve are sent into dangerous circumstances and will face physical and emotional challenges that can be life-altering. As a nation, we have an obligation to care for our military and that is where social workers become essential."
To read her full piece, read: A Minute With… Joan Beder, DSW.
For social workers who were not able to attend a Veterans Mental Health Training Initiative conference this year or will not be able to attend the upcoming Suffolk Division conference, the National NASW webpage on Military & Veterans provides information regarding practice tools, professional development, news and policies for working with service members, veterans and their families. We salute the army of social workers and their commitment to our military.