With your participation, we had one of the most successful Legislative Education and Advocacy Day events ever!
But there is still work to be done to get this bill to the finish line. Click to see the action alert. 
On Wednesday, April 25, NASW-NYS, along with social work students and professionals from across the state, held court at the NYS Capitol to advance legislation (A.3977/S.263) to prohibit licensed mental health professionals from practicing so-called "conversion therapy" with minors for the purpose of changing their sexual orientation or gender identity, and defining such activity as professional misconduct, subjecting the licensed professional to disciplinary action.
Photo courtesy of Pilar Arthur-Snead, Photographic Expressions Studio & Gallery, LLC
Whether or not you were able to attend 2018 LEAD, your input has already made a difference. Some accomplishments to celebrate include:
Our event received national coverage, including:
The bill gained four additional co-sponsors
View the full list of sponsors and co-sponsors in the Assembly (click here) and in the Senate (click here). (Be sure to thank your legislator!)
But our work is not over just yet.
One of the most important aspects of a legislative visit is the follow up. First, call or write (via letter or email) to your legislator and/or staff person and thank them for their time and reiterate your support for banning the practice of conversion therapy on minors by licensed mental health professionals. We only need four more Senate votes to pass this legislation in 2018!
Let's get this bill passed in NYS.
While the bill has passed in the Assembly for several years in a row, it continues to face hurdles in the Senate.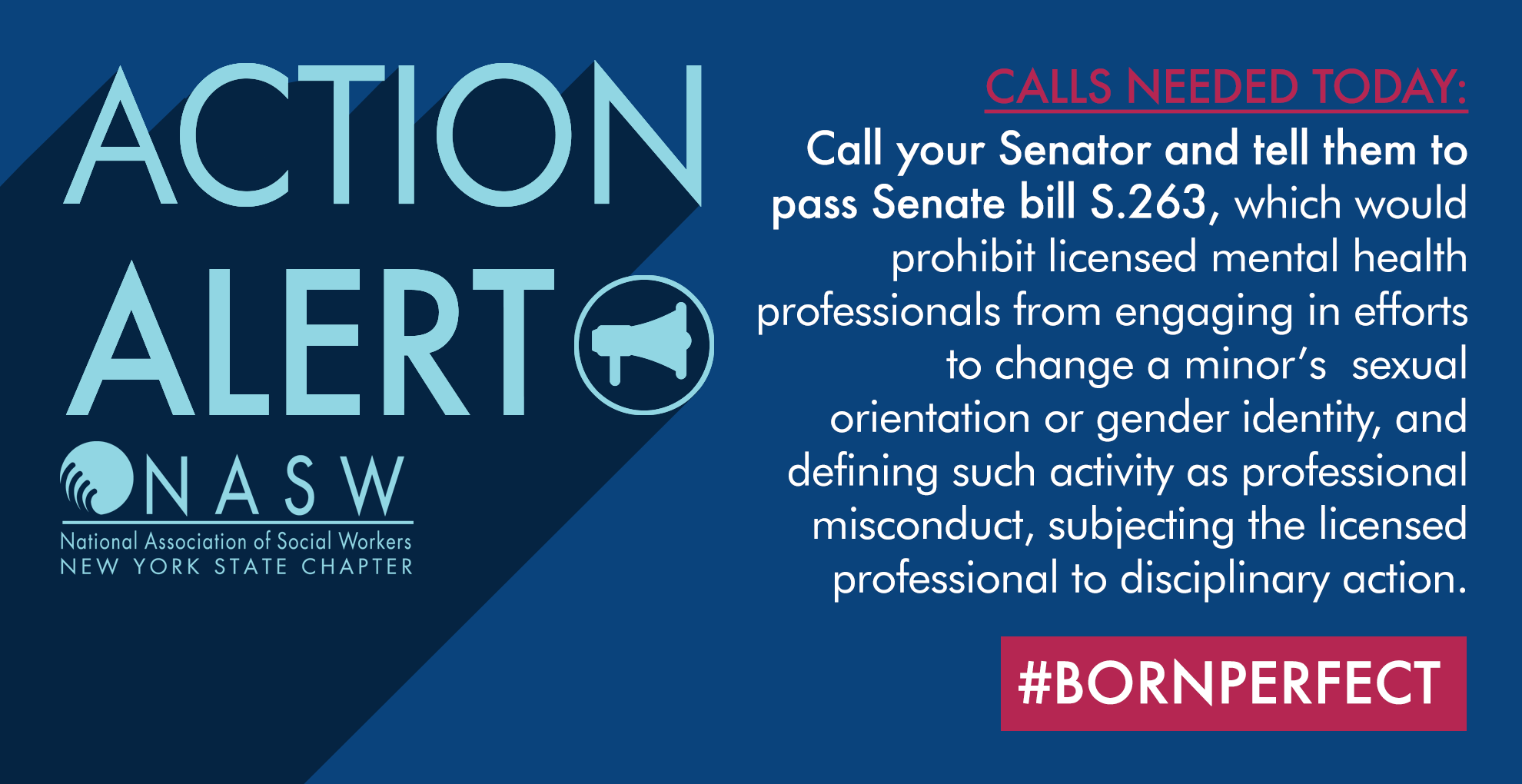 As it stands right now, the bill is currently making its way to the Senate, but traditionally gets stuck in committee. It is critical that you call and write to your Senator and ask them to pass bill S.263 before the end of session in late June. By following up, you are letting the NYS Legislature know that we are very serious about passing a ban on the practice of so-called conversion therapy in NYS!

Contact Your Legislator
Find your Senator (Click here)
NYS Senate Switchboard: 518-455-2800

Find your Assemblymember (Click here) 
NYS Assembly Switchboard: 518-455-2800

Check to see if your Assemblymember voted in favor of bill A.3977 and thank them for their support (Click here)
See: 04/30/2018 Assembly Vote 
Sample Script
Hello, my name is ____________, I am a constituent from (City), (Zip Code). I am in strong support of bill S.263, which would prohibit licensed mental health practitioners from practicing so-called conversion therapy on minors. Conversion therapy is a dangerous practice that has been widely discredited by many medical and mental health organizations due to its lifelong detrimental consequences. It is time for New York State to take action and protect the rights of LGBTQ children by passing bill S.263. Thank you for your time.
2018 LEAD RESOURCES AND MATERIALS
[accordian]
[toggle title="Agenda"]
Wednesday, April 25, 2018
Empire State Plaza Convention Center
Updated schedule coming soon
[/toggle]
[toggle title="Event Information"]
The Empire State Plaza Convention Center is located at the Underground Concourse, below the Egg Performing Arts Center.
Getting to the Plaza: Directions, Parking, Hours, and Access
Food and Services at the Empire State Plaza 
2018 LEAD Talking Points: Banning conversion therapy[/toggle]
[toggle title="Rally Information: Banning conversion therapy - NEW LOCATION"]This year, we will be rallying for banning conversion therapy. We will have speakers from social work organizations as well as the community. Signs are permitted, but no sticks or dowels allowed.
PLEASE NOTE: The rally will now take place at the Million Dollar Staircase at the NYS Capitol Building.  
[/toggle]
[toggle title="Banning conversion therapy"]
2018 LEAD Talking Points: Banning conversion therapy
Teens who hide sexual orientation have higher suicide risk, study finds.
NBC News, Reuters, 3.20.18
Opinion: I Was Tortured in Gay Conversion Therapy. And It's Still Legal in 41 States.
NYTimes, Sam Brinton, 1.24.18
Conversion Therapy and LGBT Youth
The Williams Institute, UCLA School of Law, Christy Mallory, Taylor N.T. Brown, and Kerith J. Conron, 1.18
Leading Social Work Organizations in New York State Applaud New York City Council's Vote to Ban Conversion Therapy
NASW-NYS, 12.4.17
[/toggle]
[toggle title="The ABCs of Lobbying"]
HOW A BILL BECOMES A LAW IN NEW YORK STATE
1. A bill is introduced by a Senator or Assemblymember.
2. It is given a number and sent to the appropriate standing committee.
3. The members of the committee evaluate bills and decide whether to "report" them (send them) to the floor for a final decision by the full membership of that legislative house. Other Committee actions that can be taken on bills are: public hearings, amendment, defeat, or hold for consideration.
4. If it is reported out of committee, it goes to the third reading calendar. The bill must then age for three legislative days before it is voted on. At this point the bill is subject to amendment (changes have been made to the original bill), star (all further action on such bill is suspended until further notice), lay aside (the bill is either taken off the calendar for that day or put aside to debate on the floor), recommittal (has been sent back to a committee).
5. If passed in one house, the bill is then sent to the other house where it is treated as a new bill and referred to a committee. Once that house passes the bill in the identical form it goes to the Governor for approval.
6. The Governor has 10 days (not including Sundays) to sign or veto bills passed by both houses. The Governor's failure to sign or veto a bill within the 10-day period means that it automatically becomes a law.
7. Vetoed bills are returned to the house that first passed them, together with a statement of the reason for their disapproval. A vetoed bill can become law if two-thirds of the members of each house vote to override the Governor's veto.
8. If a bill is sent to the Governor when the Legislature is out of session, the Governor has 30 days to make a decision, and failure to act (pocket veto) has the same effect as a veto.
[/toggle]
[toggle title="Lobbying Tips"]
Lobbying Tips
1. Be prepared. Many legislative visits are part of "lobby days" or other group efforts. Everyone in the group should know what role they are playing. Choose a team leader to address the issue or issues. Many times the legislator may not be able to meet with you, but a staff member is almost always available. Meet with the staff member, they will bring your concerns back to the Legislator. Bring materials for the legislator and/or staff member.
2. Identify yourself. Have group members introduce themselves, who they represent and whether or not they are a constituent.
3. Know your subject. You do not have to be an expert, but know what effect the pending legislation will have/or has had on the area you are representing. If available, convey data specific to the area you are representing. While area is often geographic, it can also be used to describe a field of practice such as child welfare services.
4. Be concise and stay focused. The time allotted for legislative visits is usually 15 to 20 minutes. Get your point across and let the legislator know what you expect from them.
5. Know the legislator. Know the legislator's position on the issue before you meet with them. Stress the importance of their continued support. If the legislator supports your position, tap into their inside knowledge for subsequent courses of action. Visit the legislator's Senate or Assembly webpages to learn about where their district is, the committees on which they serve, and bills they have sponsored. Assembly Members: assembly.state.ny.us/mem/ Senators: www.nysenate.gov/senators
6. Do not burn any bridges. If they do not support your position, be courteous about disagreements and leave the meeting on good terms with the legislator or staff member. The only way they will change their minds is if they are listening to what you have to say. Even if they don't change their mind on that particular issue, there may be a time in the future when they support another issue. You might ask what information they might need to allow them to change their minds on the issue. This gives you an opening to come back and to revisit the issue with them.
7. Remember you are the boss. Remember your tax dollars pay their salaries. They are responsible to you. You should feel comfortable in your right to be speaking with them. You shouldn't, however, make that point in an explicit statement to the legislator.
8. Follow-up. Thank the legislator or staff member at the conclusion of your visit and follow-up with a brief thank you letter. In your letter, outline any commitments the legislator offered and if you promised some additional information be sure to follow through.
Other Forms of Advocacy
§ Letter writing campaigns to legislators.
§ Grassroots activities such as rallies.
§ Building coalitions.
§ Local lobbying visits by constituents to their legislators.
§ Media activity including news conferences, editorial board visits, letters to the editor.
[/toggle]
[/accordian]
2018 LEAD is brought to you by