This month's I Am Social Work campaign features Catherine Ricchetti, LCSW-R, School Social Worker at Lynnwood Elementary School and her therapy dog, Copeland. 
---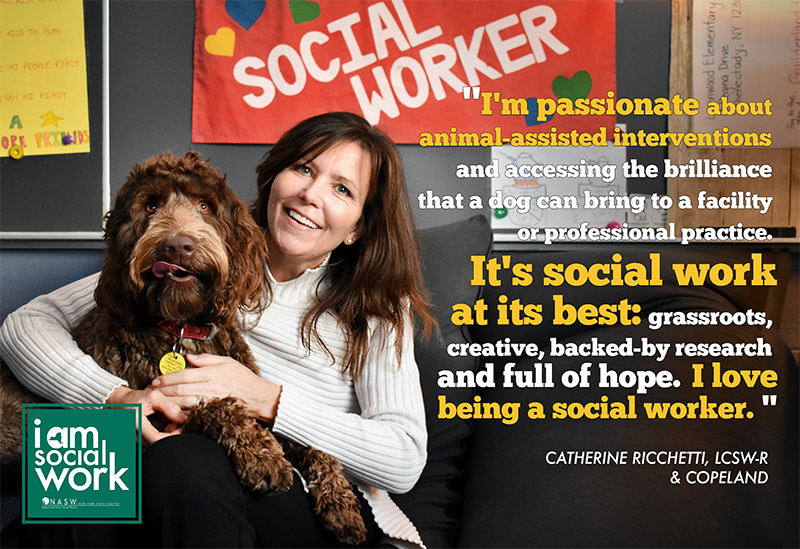 The profession of social work found me.
I had been studying to take my stockbroker test and I was infatuated with Wall Street. I was 21 at the time and needed an income while I worked toward my stockbroker license, so I reluctantly accepted a job working at a homeless shelter with runaway and throwaway youth. I fell in love with these young people and with social work almost instantly. Social work was no infatuation; it was a deep, gentle, steady love. This love has remained consistent; it's the calm content feeling of deep satisfaction. That's what being a social worker feels like to me.
Throughout my career, I have worked with homeless youth. I was a social worker for a police department with juvenile offenders; I have worked in the field of addiction; in a day treatment program for adults diagnosed with chronic mental health issues; I spent a few years as a hospice social worker; and then accepted a position as a school social worker.
I enjoy the creativity of grassroots social work; seeing a need and finding a way to fill that need. In 2003, I began a program for animal-assisted interventions (AAI). What began as a one-dog program has grown, and our school district currently has five full-time working dogs. To create and implement this program, I drew on a plethora of social work skills including grant writing, fundraising, program development, and implementation. I created a facility-wide program where each dog is trained to work with at least three staff members, so more clients can receive the service of the facility dogs.

Everyone wins in this program: clients, staff, and the dogs. I lecture on the subject of facility dogs in hopes of helping other social workers access the power of a well-trained, calm dog assisting our clients. I feel that we are underutilizing the brilliance of AAI. Social workers have an opportunity to be at the forefront of this effective, gentle, research-based strategy to support our clients. I've written two books on the subject: Service-Trained Facility Dogs (previously published as Dogs In School) and a children's book called Miss Siggy Speaks.
I am passionate about the multifaceted capabilities of AAI. Our dogs assist in teaching social skills, empathy, patience, regulating emotions, and managing authority without being authoritarian. They support clients processing trauma, grief, anxiety, and depression. They also limit trauma and assist with transition. Hospice taught me the healing power of silence, and our dogs help us access that power. Silent witnessing is a healing tool, and a dog will gently bring this quiet to our clients.

Working with a dog is also just plain fun. Everyone smiles more. I laugh every day at work. Our clients, who are often in need of hope and joy, can find it with our guidance and the support of our dogs. 
As my career moves forward, it is my dream to help other social workers develop facility-dog programs. It is social work at its best; grassroots, creative, fun, backed by research, and full of hope. Social workers are always looking for social programs where everyone wins, and I believe AAI accomplishes this goal. 
Catherine Ricchetti, LCSW-R
---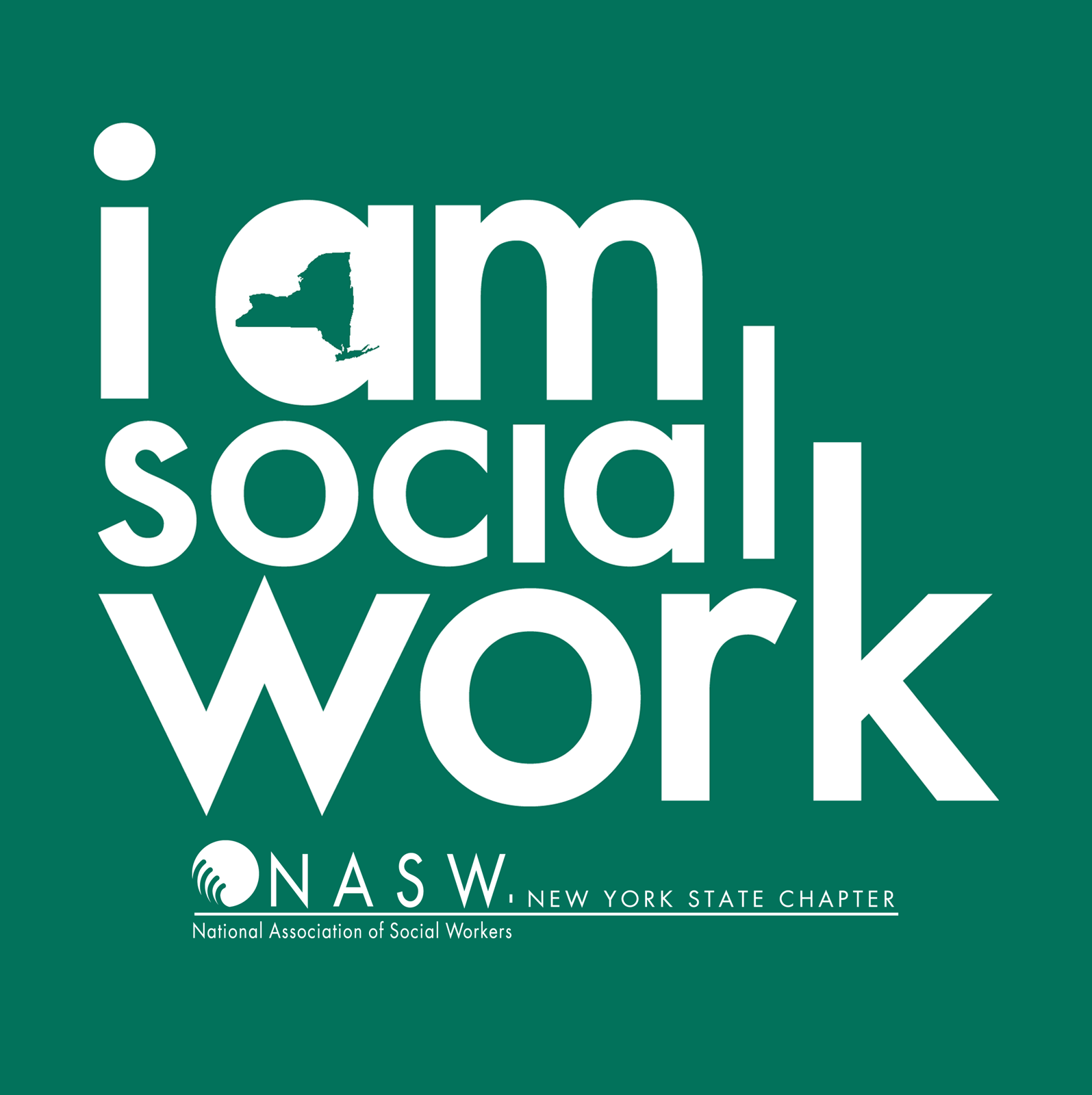 The I Am Social Work Campaign is a visual campaign to showcase the profession of social work and the people who dedicate their lives to it. By highlighting the innumerable ways social workers enhance their communities and workplaces, and by showing off the vibrant, dedicated personalities of social workers, we are hoping to foster a broader understanding of who social workers are and what they do.
To learn more about the I Am Social Work campaign and other featured social workers, visit https://naswnys.org/iamsocialwork