2019 NASW-NYS CONFERENCE
JUNE 5 - 7, 2019
(EM)POWERING YOU.
This 2019 NASW-NYS conference theme is (EM)POWER UP: Social Workers as the Vanguards of Change, and we believe it truly captures the essence of our profession.
2019 Statewide Conference Call for Proposals
NASW-NYS is currently accepting proposals for the 2019 NASW-NYS Conference. Interested individuals are asked to submit a proposal to provide a 90-minute Continuing Education workshop designed to introduce the audience to a particular skill, technique, or intervention.
Submission for the 2019 NASW-NYS Conference is now closed.
Sponsorship, Exhibiting, and Advertising Opportunities
Sponsorship deadline is April 17, 2019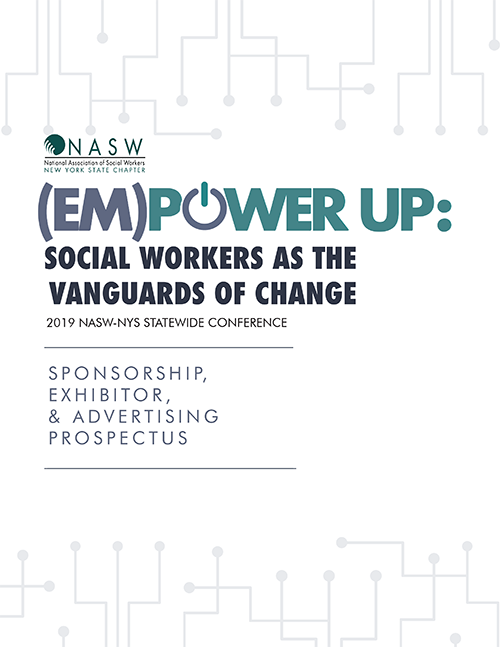 As a sponsor, exhibitor, and/or advertiser, you will reach hundreds of social work professionals and students eager to learn about products and services that will enhance their personal and professional lives, as well as seeking to connect with organizations and agencies for collaboration and job opportunities. With numerous scheduled receptions, general sessions, and breaks, you will have many opportunities to interact with conference attendees and promote your organization or service. 
All exhibitor and advertising are subject to review and approval by NASW-NYS. NASW-NYS reserves the right to refuse any exhibitor or advertisement it deems to be objectionable to its mission and/or policies. The Chapter cannot promote unaffiliated insurance products or vendors. 
DISCOVER SARATOGA
Known for the Saratoga Race Course, horses, mineral springs, and great restaurants and shopping, this exciting historical and cultural center is located minutes from Albany and is a short drive from most Northeast locations.
BE A VANGUARD OF CHANGE
JOIN THE 2019 NASW-NYS CONFERENCE
Registration Coming Soon
June 5 - 7, 2019
Saratoga Springs, NY
Please check back soon!
CONTACT US
NASW-NYS
188 Washington Avenue
Albany, NY 12305
info.naswnys@socialworkers.org
518-463-4741
SEE YOU IN JUNE 2019
at the SARATOGA HILTON & SARATOGA CITY CENTER