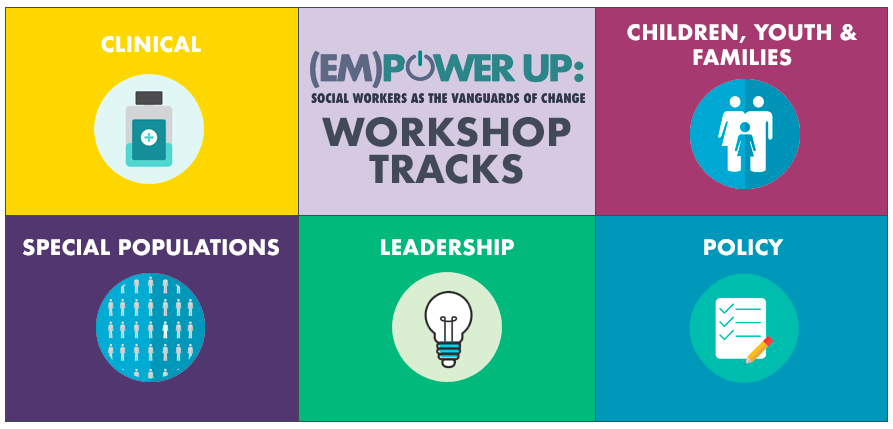 It's here! The 2019 (EM)POWER UP Conference schedule is now available. We are thrilled to offer five workshop tracks, as well as a variety of student-focused workshops at the conference. Keep reading to learn more! 
You will receive a separate reminder to log into the 2019 NASW-NYS Conference registration portal and make your workshop selections prior to the conference. Stay tuned!
---
Early bird deadline extended to April 19!
We have also extended our early bird deadline rates to Friday, April 19, 2019. 
*Schedule subject to change
Pre-Conference Workshop Sessions



---

Pre-Conference Workshop Sessions



---

10:00AM - 1:00PM
MORNING SESSION (3.0 CEs)

Technology in Social Work Practice: Standards of Practice
NASW Assurance Services, Inc.
2:30PM - 4:00PM
AFTEROON SESSION A (1.5 CEs)
Clinical
Social Work's Innovative Approach of Integrating Mental Health in a Primary Care Practice
Leora Botnick
This workshop will focus on the high need population of patients with mental health needs and/or uncontrolled chronic illnesses. It will discuss social work's role in the care coordination of these patients including engagement, intervention, and collaborative teamwork. One component that will be emphasized is identifying and addressing social determinants of health.
Children, Youth & Families
Treating Adolescent Non-Suicidal Self-Injury
Hanni Flaherty, PhD, LCSW

This workshop aims to educate positioners around non-suicidal self-injurious (NSSI) behaviors among adolescent. It aims to inform practitioners about the current evidence-based practices that are available to treat adolescents who struggle with NSSI in order to determine the best practice for this high-risk population.

Leadership
Grant Writing for Social Workers
Diane R. Bessel, Diane Bessel, PhD, LMSW, CNM

The ability to locate and secure funding for health and human service programming is an essential skill for social workers working in non-profit organizations today. This interactive program emphasizes strategies for identifying possible funding resources as well as tools for writing effective proposals. The workshop will cover the essential components of any grant application including problem statements, program design, budgets and budget narratives, evaluation, and sustainability plans.

Policy
Political Social Work
Jessica Mitchell, LMSW, MA

Social workers, and the people they work with, are fundamentally dependent on the decisions made by the people who are elected public office. In order to advance the values of the profession, social workers must participate and engage in the political process; beginning with field placements.

OR
LMSW/LCSW Test Prep Course



---

(6-Hour Course)
Dawn Hall Apgar, PhD, LSW, ACSW

Schedule coming soon
aaa
☆ SPECIAL PRESENTATION


Open to LMSW/LCSW Test Prep Course and Pre-Conference Workshop attendees at no additional cost!

4:15PM - 5:45PM
Animal Assisted Social Work (1.5 CEs)
Catherine Ricchetti, LCSW-R
Networking Event
Dine around Saratoga
Information Coming Soon
*Schedule subject to change
Thursday Conference



---

6:30 AM - 7:30 AM
Morning Yoga (Optional)
Kick off your conference morning with a nice hour-long morning yoga!
8:00AM - 9:00AM
Breakfast
Opening Plenary with Speaker: Victoria M. Rizzo, PhD, LCSW
9:15AM - 10:45AM
SESSION 1 (1.5 CEs)
Clinical
Innovative Treatment Approach CW Compromised by Trauma
Jennifer Genovese, PhD, ACSW, LCSW

Caseworkers are a high need population whose health and well-being is at risk of being comprised by their exposure to trauma. This workshop will introduce an innovative group treatment model that provides caseworkers with emotional support and offers an opportunity to develop positive coping strategies for dealing with trauma exposure.

Children, Youth & Families
Neurobiology of Childhood Sexual Abuse
Bernadette C. Marson, PhD, ACSW, LCSW-R

This workshop will explain the effects of exposure to traumatic life experiences subsequent to childhood sexual abuse. The workshop will review the neurobiological, psychological, mental health, substance abuse, and interpersonal problems associated with developmental trauma. Treatment approaches to developmental trauma would be reviewed.

Special Populations
Parents as Healers: Recovering from the Trauma of Domestic Violence
Anne Marie Ramos, LCSW, RPT-S

Involving caregivers in dynamic ways to help their children recover from the trauma of domestic violence enhances healing. Participants will be introduced to an approach called Parents as Healers which encourages parents to take an active role in treatment sessions using directive play therapy, creative arts, effective parenting and more.

Leadership
Connection, Collaboration and Cognitive Reframing: The Improviser's Tool Kit for Social Workers
Jude Treder-Wolff, LCSW, CGP, CPAI

Improvisation training is ideal for learning how to pilot through stress without being derailed by it. The improviser's toolkit strengthens the capacity for cognitive reframing, connection with others over social and psychological barriers, and collaborating to solve problems through a fascinating and fun learning process.

Policy
Developing an Issue Campaign Using a Strategy
Diane R. Bessel, PhD, LMSW, CNM

Workshop description coming soon.

10:45AM - 11:00AM
Break
11:00AM - 12:30PM
SESSION 2 (1.5 CEs)
Clinical
Surviving an Audit: Best Practices for Solo LCSWs, Group Practices & Licensed Clinics
Carmel Gold, LCSW
Solo and group LCSW Practices, as well as OMH and OASAS licensed clinics, must understand the nuances of best practices. Excellent documentation and accurate billing affect payment, clients' treatment options, and HIPAA compliance. This workshop demonstrates how billing and documentation best practices impact behavioral health private and clinic practices.
Children, Youth & Families
Adolescent Leadership for Organizational & Community Change
Catherine Kramer, LMSW, MPA, PhD Candidate and Darren Cosgrove, LMSW, PhD Candidate
Youth can be leaders and agents of social change, though often their power is untapped. In practice with adolescents, social workers can unleash youth-power to transform organizations and communities. Youth-led change movements also contribute to healthy adolescent development. Practice implications of Positive Youth Development and Youth Participatory Action Research discussed.
Special Populations
Military/Veteran Culture
Alyssa Gibbons, LCSW-R
This workshop will address the skills needed to work effectively with a military/veteran population and increase the cultural competency for civilian providers who encounter a service member and/or veteran in their practice.
Leadership
TBA
Mary Pender Greene, LCSW-R, CGP
Policy
10 Strategies to Change the World When Times are Hard
Karl Bertrand, LMSW
This workshop condenses 35 years of community organizing and program development experience addressing the homeless and other high-need populations in Westchester County, NY into 10 strategies social workers can use to mobilize coalitions of partners to support social change, even when resources are scarce and despair.
★ KEYNOTE PRESENTATION: JONATHAN MOONEY
SESSION 1 (9:15AM - 10:45AM)
12:30PM - 1:45PM
Lunch featuring Keynote Speaker Jonathan Mooney
2:00PM - 3:30PM
SESSION 3 (1.5 CEs)
Clinical
Hoarding Disorder: Evidence-Based Clinical & Harm Reduction Approaches
Anne Pagano, LCSW, ACSW, BCD, C-ASWCM
Learn about the DSM-V criteria for psychiatric diagnosis of Hoarding Disorder, along with related issues of self-neglect and elder abuse. Explore what and why people hoard; the distress caused by compulsive hoarding; how to identify effective clinical interventions, and develop a collaborative harm reduction plan of care.
Children, Youth & Families
Young Adults with Autism: A Challenge for Aging South Asian Parents
Veera Mookerjee, PhD, LMSW
Transition remains a major stress for parents of autistic children, especially when they age out of mandatory education system and move into larger community. Aging parents engage in intense planning for their child's future. Such arrangements are difficult as parents representing diverse ethnic groups are not able to access services.
Special Populations
Sex Offender: Let's Not Talk About Them!
Christopher Farrell, LCSW-R
Many social workers have a visceral response to the mere mention of sex offenders. This workshop will dispel myths, expand the understanding of sex offenders, and humanize a group of individuals who are often misperceived, misunderstood, and shunned by the therapeutic community.
Leadership
Breaking New Ground: Ramping Up Supervision in Peer-Delivered Services
Jonathan Edwards, LCSW, ACSW, M. Phil. and Michael Serrano, LMSW
Consistent with social work's values to advance empowerment and social justice, this workshop will introduce participants to a strengths-based and comprehensive approach to supervising peer support staff in health care settings. Participants will engage in interactive exercises to operationalize five critical functions of supervision: administrative, educative, supportive, advocacy, and evaluative.
Policy
TBA
3:30PM - 4:00PM
Break/Exhibitor Hall
4:00PM - 5:30PM
SESSION 4 (1.5 CEs)
Clinical
Contemporary Neuroscience and Attachment Theory: Implications for an Attachment-informed Approach to Grief Therapy
Phyllis Kosminsky, PhD, LCSW
In this presentation we will review recent developments in neuroscience and attachment theory that have direct implications for understanding the bereaved, particularly the phenomenon of "complicated grief." These findings serve as the foundation for what we have described as an attachment informed approach to grief therapy (Kosminsky and Jordan 2016).
Children, Youth & Families
How to Survive a NYS Justice Center Investigation
Dena DeFazio, J.D., NYS Admission pending; MSW and Robert Hussar, J.D., Admitted to practice in NYS and MA; M.S. in Health Systems Management; Certified in Healthcare Compliance
Social workers practicing in facilities and programs operated, certified, or licensed by OPWDD, OMH, OASAS, OCFS, and DOH need to be prepared to handle an investigation by the New York State Justice Center. This workshop provides an overview of the investigation process, including risks, challenges, and best practices.
Special Populations
Deaf 101: The Basics on Social Work with Deaf & Hard of Hearing Communities
David (DT) Bruno, MSW Student at Columbia University School of Social Work and David Barclay, MSW, LCSW-C (MD), PhD
Attendees will gain a basic understanding of knowledge, skills, and resources necessary to successfully engage with the deaf and hard of hearing client systems. Culturally and linguistically appropriate services for Deaf, Deaf/Blind, Deaf/Disabled, Hard of Hearing, Late Deafened, and other intersectional identity groups will be explained.
Leadership
A Leadership Paradigm Shift: The Centric Model
Margaret Coker, LCSW and Darin Samaha, LMSW
This workshop will present a concept of leadership that can lead an organization/agency to achieving sustainability and success. Social workers as leaders, or desire to be, will obtain skills in creating an organization/agency that is inclusive of all staff; managerial, supervisory, clinical, and all ancillary positions.
Policy
The Role of Social Work in Community Violence Prevention with a Focus on Credible Messengers and Hospital-Based Interventions
Erika Mendelsohn, LCSW
Participants will learn about preventing community violence using the evidence-based Credible Messenger model, which is being increasingly utilized throughout New York State and around the country. Focus will be primarily on the crucial role of social workers in establishing effective, sustainable Credible Messenger programs. The presentation will highlight a hospital-based Credible Messenger program aimed at reducing gun violence in high-risk communities.
★ KEYNOTE PRESENTATION: MARY PENDER GREENE, LCSW-R, CGP


6:00PM - 9:00PM
2019 NASW-NYS Social Work Awards Dinner featuring Keynote Speaker: Mary Pender Greene, LCSW-R, CGP





*Schedule subject to change
Friday Conference



---

6:30 AM - 7:30 AM
Morning Yoga (Optional)
Kick off your conference morning with a nice hour-long morning yoga!
8:30AM - 10:00AM
SESSION 5 (1.5 CEs)
Clinical
Impact of Ambulatory Integration of Medical & Social (AIMS) Model on Depression & Health Risks
Victoria Rizzo, PhD, LCSW-R
Although social workers have made significant progress identifying best practices for addressing social determinants of health (SDOHs), describing specific services provided that positively and significantly impact SDOHs has not progressed as rapidly. Presenters will highlight the steps of the AIMS model that positively impact SDOHs, specifically depression and health risk.
Children, Youth & Families
An Ecological Systems Understanding of Youth Who AWOL from Care
Stephen Oby, LCSW, PhD Candidate
Youth who run from residential care settings disrupt their own safety and development as well as the functioning of facilities responsible for their care. Conceptualizing this behavior within an Ecological Systems framework enables a meaningful assessment and response for practitioners encountering this very common and risky behavior.
Special Populations
Widening the Scope of Your Clinical Practice with Transgender Clients
Acey Mercer, LMSW
Providing culturally competent and affirming mental health and medical care for transgender people requires a specific knowledge base. This workshop will offer solid tools to provide best practices and cultivate transgender affirming care. Exploration of the components of gender identity will equip participants with language, knowledge, and assessment skills.
Leadership
Promoting Discussion in the Classroom: Setting the Stage is Critical
Margaret (Peggy) Lane, PhD, LCSW, LISW-S
Classroom Discussion is a method of teaching used in both classroom and online formats. Discussion pedagogy builds an environment for students to construct meanings for new knowledge (Ezzedeen, 2008). Participants will learn strategies to create and promote meaningful learning opportunities utilizing discussion. The goal of the workshop is to provide a toolbox of techniques for maximum student participation, teacher presence, and civil discourse.
Policy
TBA
10:45AM - 11:00AM
Brunch featuring Closing Plenary with Speaker Loretta Pyles, PhD
11:15AM - 12:45PM
SESSION 6 (1.5 CEs)
Clinical
Recovering from Addiction: A Journey in the "Art of Creating Meaning"
June Tyson, PhD, LCSW-R, ACSW and Debra Lavender-Bratcher, PhD, LCSW
This workshop will provide a comprehensive presentation on how the Art of Creating Meaning works with people in recovery. Substance Abuse and Mental Health Administration (SAMHSA) (2011) working definition of recovery is "A process of change whereby individuals work to improve their own health and wellness and to live a meaningful life in a community of their choice while striving to achieve their full potential". Participants will understand and explore how to create meaning in recovery.
Children, Youth & Families
Family Supported Recovery: Using Social Work Recovery Coaching Principles to Empower Family Members
Keith Greer, LCSW-R, P.C.C., P.R.C.
Combining Family Centered Social Work practice with the evidence-based practices of Recovery Coaching, Motivational Interviewing and The Stages of Change Model, this workshop demonstrates how to assist and support family members in becoming more effective and influential partners in their loved one's ongoing battle with addiction and early recovery.
Special Populations
New Approaches in Understanding the Intersectionality between Trafficking, FGM, and Forced Marriage
Bushra Husain, LCSW-R
Victims of trafficking, FGM, and forced marriage often fail to receive the services and protections they need to heal and remain safe because these forms of gender-based violence are frequently viewed as separate experiences. Presenters will discuss ways to support victims/survivors of these forms of abuses through coordinated responses.
Leadership
The Story Does the Work: Power Presentations and Maximize Your Message through the Art of Story
Jude Treder-Wolff, LCSW, CGP, CPAI
Professional presentations that use well-crafted stories to frame and explain important concepts are more effective at impacting attitudes and behavior change. This workshop will provide the structure for shaping a great story and evidence-based information about why stories matter in our engagement with clients, colleagues, and communities.
Policy
Using Data to Mobilize Communities & Secure Resources
Karl Bertrand, LMSW
This workshop condenses 35 years of community organizing experience that have resulted in hundreds of new programs and $467 million in grant awards. It focuses on 6 principles social workers can use to translate their knowledge into effective calls for action that mobilize communities and secure resources for vulnerable populations.
1:00PM - 2:00PM
Post-Conference Debrief