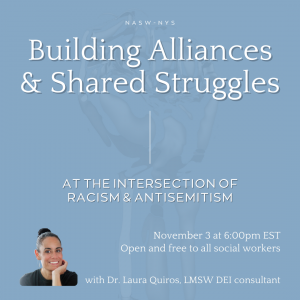 Building Alliances and Shared Struggles: At the Intersection of Racism and Anti-Semitism
How do we hold space for Racism and Anti-Semitism? How do we, as social workers, promote and embody the practice of solidarity? Join us as Laura Quiros shares her experiences with the intersecting identities as a Black Latina and Jewish woman and facilitates a discussion about building alliances and our shared struggles.
Please be informed that Chapter Chats do not offer continuing education credit, rather are an accessible and easy way for social workers to share resources, network, and engage with one another across the State and Nation. To view recordings of past Chapter Chats, please click here now.
These are conversations hosted by social workers, for social workers. Open to all who would like to attend, and any NASW member is invited to host a topic or conversation!