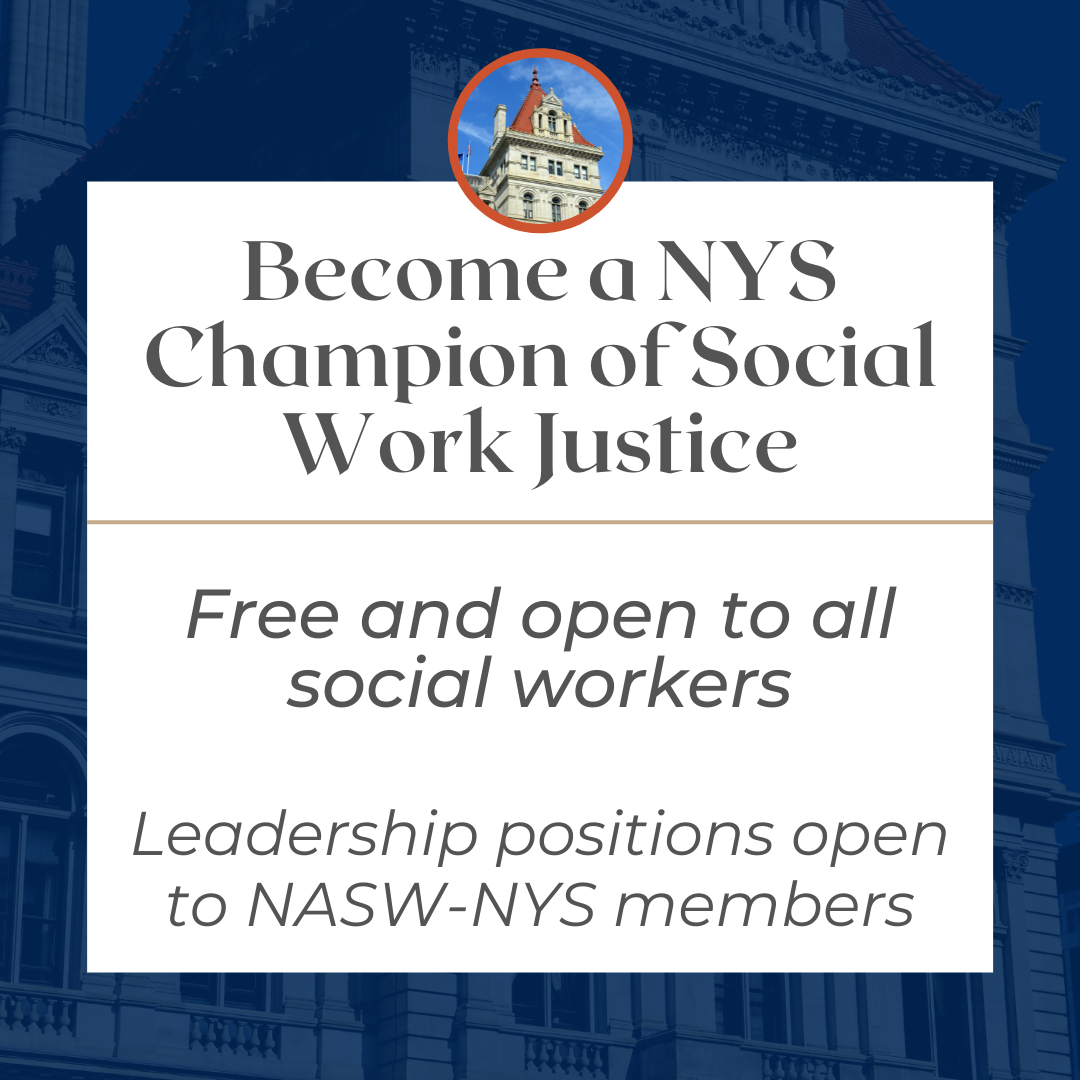 Become a New York State Champion of Social Justice!
The current social climate has placed extra emphasis on the impact that policy and government have on our everyday lives. As social workers, we harness the expertise to advocate on behalf of the communities we serve to speak truth to power. We accomplish this by going directly to the source, the New York State legislature.
NASW-NYS is the place to start! We are giving interested social workers a chance to receive direct preparation, coaching and an opportunity to advocate directly with legislators. We are calling on those who can offer their time and passion for political advocacy.
Do you want social workers and the issues we are passionate about to be front and center during legislative session?
Do you have an interest in learning how government and political social work operates?
Do you want hands on advocacy and policy training? Or, a chance to put community organizing on your resume?
As we enter our second annual Capitol Action Day, we have created a webinar series that will assist you in preparing for our in-person event.⁠
⁠
On February 15, 2022, we will have an opportunity to meet with the Chairs of legislative committees and their staff in the Assembly and Senate. In these meetings we will present and discuss our legislative priorities but also have an opportunity to hear what their initiatives are that our pertinent to our profession and how we can support their efforts to have a successful outcomes.⁠
⁠
To accomplish this more effectively, we will be offering a series of training leading up to Capitol Action Day.
Webinar II: December 2, 2021 at 6:00pm
-An overview of the enacted FY 2021 NYS Budget
-Identification of budget initiatives and associated funding applicable to the profession and service users, i.e. Social workers as first responders, 24 hour crisis centers, school funding
Webinar III: January 27, 2022 at 6:00pm
-Review of the State of the State message
-Overview of the proposed FY 2023 NYS Budget
-Initial perspectives of what initiatives may be "active" this legislative session
-What to pay attention to regarding budgetary proposals and possible inclusion in the final budget
-The Chapter's legislative priorities excluding those that may be determined following the governor's presentation of her budget proposals
Webinar IV: February 8, 2022 a 6:00pm
-Continued analysis of the proposed FY 2023 NYS Budget
-Identifying legislative priorities
-Review the Chapter's legislative priorities with updates
-Final preparation for Capitol Action Day