Solitary Confinement Panel at Mercy College
February 27, 2019 @ 12:00 PM

-

3:00 PM
Join NASW-NYS Executive Director Samantha Howell and NASW-NYS Westchester Division Chair Hawa Jalloh on Wednesday, February 27, 2019, as they participate on a panel presentation on solitary confinement. Click the RSVP button below to reserve your spot today!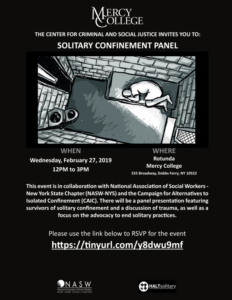 Agenda:
Introduction: 12:00pm – 12:15pm
Keynote Speaker: 12:15pm – 12:45pm
Panel Presentation: 1:00pm – 2:30pm
NASW-NYS Advocacy with Samantha Howell: 2:30pm – 3pm
Letter Writing Campaign: Mercy Social Work Club: 3pm
Keynote Speaker
Five Mualimm-ak
RSVP Now
---
Panelists
Jim Bogin
Prisoners' Legal Services of New York
Jim Bogin graduated from Beloit College, where he majored in Anthropology. After college, he worked as an archeologist in Illinois for several years. He then attended Cornell Law School. After law school, he was a staff attorney at North Country Legal Services in Canton, NY, for a little over two years. In 1987, he joined the Albany office of Prisoners' Legal Services of New York (PLS). He has been with PLS since then as a Staff Attorney, Managing Attorney, and in his current position as Senior Supervising Attorney. He has corresponded, advocated, and litigated over a wide range of prison conditions and issues. Much of his work at PLS has involved challenging prison disciplinary hearings which have imposed substantial periods of solitary confinement.
Tyrrell Muhammad
Tyrrell Muhammad is the Project Associate at the Correctional Association of New York (CANY) where he works on all aspects of the organization's prison monitoring. He is also a founding member of the New York chapter of the Campaign for Alternatives to Isolated Confinement or CAIC, a national effort to reduce the excessive use of isolated confinement in prisons, jails, and detention centers. His experience and expertise is featured in The Marshall Project's Emmy-nominated documentary WITNESS and Bill Moyers' RIKERS, AN AMERICAN JAIL. In addition to his work at CANY, he serves as Chief Consultant for Force One International Security, and he actively mentors formerly incarcerated men and women in his community with the community reintegration process. He earned his Bachelor of Arts from Syracuse University and Master's Degree from New York Theological Seminary in 2004 while serving a 26 year prison sentence.
Cynthia Williams
Cynthia Williams is a multi-discipline professional who has worked many years as a teacher, community banker, operations executive and a contract paralegal. She has her own experience with the criminal justice system is currently an advocate for social justice. She is a 2015 Beyond the Bars of Justice Fellow at the Center for Justice at Columbia University. Since that time, she has engaged in social justice reform and has been instrumental in galvanizing grass roots support through public education activities throughout New York State. Some of her areas of involvement include testifying before State and local regulatory bodies, engaging as a panelist at several events. She recently wrote an OpEd for the Rockland Journal News challenging New York State to end long term solitary confinement and implement more humane alternatives by passing HALT Bill A.2500/S.1623. Cynthia is a volunteer organizer with the NY CAIC, and operates in the Lower Hudson Valley.
Hawa Jalloh
National Association of Social Workers – New York State Chapter
Hawa Jalloh, MSW, CASAC is ACI's Director of Inpatient Admissions. Hawa is a graduate-level social worker from Fordham University and also holds a Credentialed Alcoholism and Substance Abuse Counselor (CASAC) certification from the New York State OASAS. Hawa was recognized as "Student Achiever" at Fordham University Graduate School of Social Work in 2014 and was also awarded the "Whitney M. Young, Jr. Award for Social Action and Change" in 2013 by the National Association of Social Work – New York State Chapter (NASW-NYS). In 2016, Hawa was elected as Division Chair for the NASW-NYS Westchester Division. Hawa's work experience extends beyond her present role. She has been in the field of human services for 21 years; her areas of experience include: incarceration, mental health, substance abuse, HIV/AIDS, homelessness, intellectual disabilities, staff development trainings, teaching at a college, and reviewing grants. Hawa has worked in hospital settings (inpatient and outpatient addiction treatment programs), jail-based treatment programs, non-profits, supported housing programs, family and children services, and recently for New York State OASAS Addiction Treatment Center.
Hawa currently serves as President of the board membership at the Rockland Psych. Community Mental Health Center in Yonkers, New York, and a board member for PAJACAM, Inc., an international Panamanian non-profit organization in Laurelton, New York.
Sean Pica
Sean Pica is one of Hudson Link's founding members and an alumnus of the Class of 2001. Facing a 24-year sentence at the age of 16, when most young people his age were about to graduate high school, he entered the New York State correctional system. He decided to make the most of his time behind bars by becoming the first person in his family to earn a college degree.
After serving a 16-year sentence, he was released from prison and joined the board of Hudson Link which he helped found while incarcerated. In 2007, Sean moved from a board position to Executive Director of the organization. During his tenure, he has grown the program from 60 students attending Nyack College at Sing Sing Correctional Facility to more than 510 students attending college preparatory and college programs annually in 6 New York State correctional facilities. He also expanded Hudson Link's services to include an Alumni Services Program which focuses on the very important work of providing re-entry support for its alumni to help them successfully transition back into their families and communities.
He received his MPS from the New York Theological Seminary and his MSW from Hunter College. He serves on the New York State Council on Community Re-Entry and Reintegration; is a founding member and serves on the Board of Directors for the National Alliance for Higher Education in Prison which focuses on public awareness, advocacy and policy reform, programmatic support, research and data and resources and information sharing; was a founding member of the New York State Consortium for Higher Education in Prison; and serves on the Board of Directors for Sing Sing Prison Museum and Career Gear.