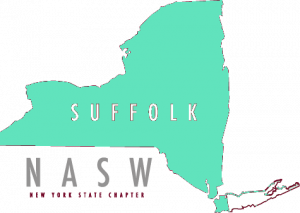 Welcome to the NASW-NYS Suffolk Division
Join us in enhancing the profession, building strength, and advocating for the needs of social workers within Suffolk county.
---
The NASW-NYS Suffolk Division meets bi-monthly to discuss issues impacting the profession and share ideas on programs and initiatives that would best serve our members and community. All members, new and current, are welcome to drop by at any upcoming meeting!

Suffolk Division Director
Aiden currently serves as the LGBTQ Services Manager at PFY, a Division of Long Island Crisis Center. Aiden manages PFY's Health & Human Services Initiative, the NYS HIV/STI/Hep C Hotline, and the agency's Community Education and Internship programs. Aiden has extensive experience developing social work staff, providing cultural relevancy trainings, and mobilizing the LGBTQ+ community. Aiden is also a trained counselor on Long Island Crisis Center's Crisis Intervention Hotline. Aiden is an active member of the World Professional Association for Transgender Health, the NASW-NYS Political Action for Candidate Election committee, Planned Parenthood's Educational Material Advisory Council, and the New York State TGNCNB Leadership Collective. As a social work student, Aiden was awarded the Stony Brook University LGBTQ Advocacy Award in 2018.