NASW-NYS Mohawk Valley Division
Welcome to the NASW-NYS Mohawk Valley Division — building strength through association in the Chenango, Herkimer, Lewis, Oneida, Otsego, St. Lawrence counties. If you have any questions, or would like to get involved with the Mohawk Valley Division, please don't hesitate to contact us!
Contact us at mohawk.naswnys@socialworkers.org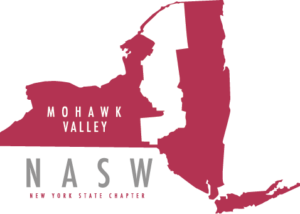 Upcoming Events
There are no upcoming events at this time.
Contact Us
NASW-NYS Mohawk Valley Division
Chair: Susan Everett, LCSW-R
Mohawk.naswnys@socialworkers.org
https://naswnys.org/mohawkvalley
MEET YOUR DIVISION
Mohawk Valley Division Steering Committee
Susan Everett, LCSW-R
Mohawk Valley Division Chair (2017-2019)
As an LCSW-R, Susan has provided services for children and families within the educational system for many years. Recently, she has become involved in training future social workers through Keuka College's BSW program where she serves as an adjunct professor and advisor. She is a consultant for both the Oneida County Department of Mental Health and Office of the Aging; providing evaluations and clinical support. In her private practice, she specializes in depression, anxiety and grief counseling. She has been committed to promoting the field of Social Work for many years and has been a long-standing member of NASW.
WE NEED YOU!
Are you interested in mobilizing social workers in the Mohawk Valley area? Come join the NASW-NYS Mohawk Valley Division Steering Committee! We are seeking a group of candidates who can represent the division and have a passion for supporting their region.If you are interested in joining the Mohawk Valley Division Steering Committee, please submit your information to Mohawk.naswnys@socialworkers.org