NASW-NYS Genesee Valley Division
Welcome to the NASW-NYS Genesee Valley Division — building strength through association in the Livingston, Monroe, Ontario, Seneca, Wayne, and Yates counties. If you have any questions, or would like to get involved with the Genesee Valley Division, please don't hesitate to contact us!
Contact us at genesee.naswnys@socialworkers.org
Genesee Valley Division NASW-NYS Steering Committee Meeting
Thursday, October 22nd
6:00pm -7:00pm
Join us for our next Steering Committee Meeting on Thursday, October 22nd from 6:00PM-7:00PM. We will be discussing the creation of a survey to send to the Genesee Valley Division to gain an understanding of membership interests and needs. Please come prepared with questions that you'd like to have asked or answered through the survey, we'd love to have your input!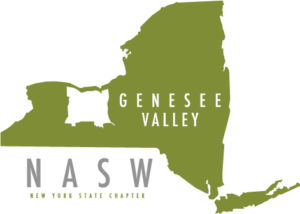 Upcoming Events
There are no upcoming events at this time.
Contact Us
NASW-NYS Genesee Valley Division
Director: Misty Boldt, LMSW
Genesee.naswnys@socialworkers.org
https://naswnys.org/geneseevalley
MEET YOUR DIVISION
Genesee Valley Division Steering Committee
Misty Boldt, LMSW
Genesee Valley Division Director
I am a Psychiatric Assignment Officer with Rochester Regional Health. Throughout my professional career I have specialized in Domestic Violence, Elder Abuse, Jail Diversion, Trauma, and PTSD. In 2016, I earned the Ursula Forum Domestic Violence Program Employee Fellowship through Office for the Prevention of Domestic Violence while working with Lifespan of Greater Rochester. Through this fellowship, I specialized in research, education and direct services in the field of trauma across the lifespan of older adults.
Prior to my current position, I held dual roles to bridge the gaps in service provision for older adults at risk of abuse, managed cases for older adults at risk, held positions in forensics, mental health crisis, substance abuse and eating disorders for ages 12 to older adult. I completed much of this work while volunteering for BIVONA Child Advocacy Center (CAC) gaining firsthand insight into the impact of childhood traumas traversing into adulthood if not addressed. I have provided training to professionals on the topic of Trauma Informed Care when working with older adults and have been a Keynote Speaker for the Monroe County Mental Health Association, as well as traveled nationally to speak on the topic.
I hold a Bachelor of Science from State University of New York College at Brockport for Psychology, and a Master of Social Work from the former Greater Rochester Collaborative of Nazareth and State University of New York at Brockport. While earning my graduate degree in social work, I was employed by the Catholic Family Center Adult Guardianship Program and completed her field placements with Monroe County Adult Protective Services and Lifespan Elder Abuse Prevention Program. I received a Clinical Certification as a Trauma Professional through PESI, a Certificate for Certified Case Management through Boston University, and completed an independent study of Bessel A Van Der Kolk's: The Body Keeps the Score through PESI. I was awarded a two-year Trauma Fellowship through Office of the Prevention of Domestic Violence in 2016. My Social Work practice is infused with a trauma informed care perspective.
WE NEED YOU!
Are you interested in mobilizing social workers in the Gensee Valley area? Come join the NASW-NYS Genesee Valley Division Steering Committee! We are seeking a group of candidates who can represent the division and have a passion for supporting their region. If you are interested in joining the Genesee Valley Division Steering Committee, please submit your information to genesee.naswnys@socialworkers.org