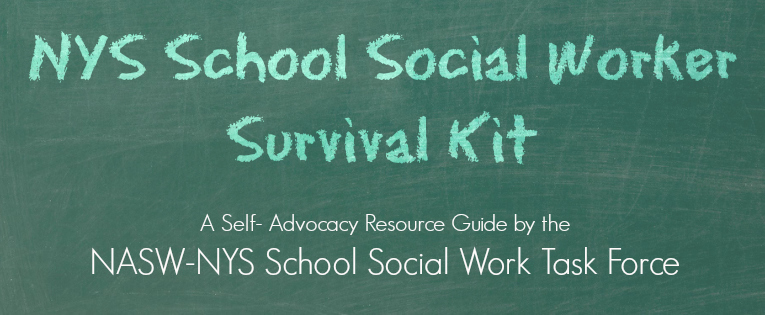 NYS School Social Worker Survival Kit
A Self-Advocacy Resource Guide
The NASW-NYS Chapter's School Social Work Task Force in collaboration with the NYS School Social Work Association has developed a self-advocacy toolkit for school social workers in New York State. This new resource is designed to provide school social workers with information and tools to better promote the value of school social workers within their school districts and communities thus raising the visibility of the profession and more importantly making the case for the preservation and where needed expansion of school social work services. School social workers support the academic mission of our schools by fostering educational environments that are safe; have supportive, fair, and responsive policies; mitigate barriers to learning; engage students and parents; and emphasize early intervention and positive behavioral interventions.
To develop this toolkit, NASW-NYS convened a task force of School Social Work experts and practitioners including leaders from the School Social Work Association of America, NASW National & NYS Chapter, and the New York State School Social Workers Association. It was the dedicated efforts and collaboration of this group that resulted in this advocacy toolkit, which we hope you will find useful. We encourage you to share it with your school social work colleagues as well as school administrators and board of education members and feel empowered to give voice to the importance of your work.
Tackling the School Social Work Crisis- Sept 2014
Additional Resources & Practice Standards on School Social Work Practice are Available on the NASW Website.