Members,
We did it!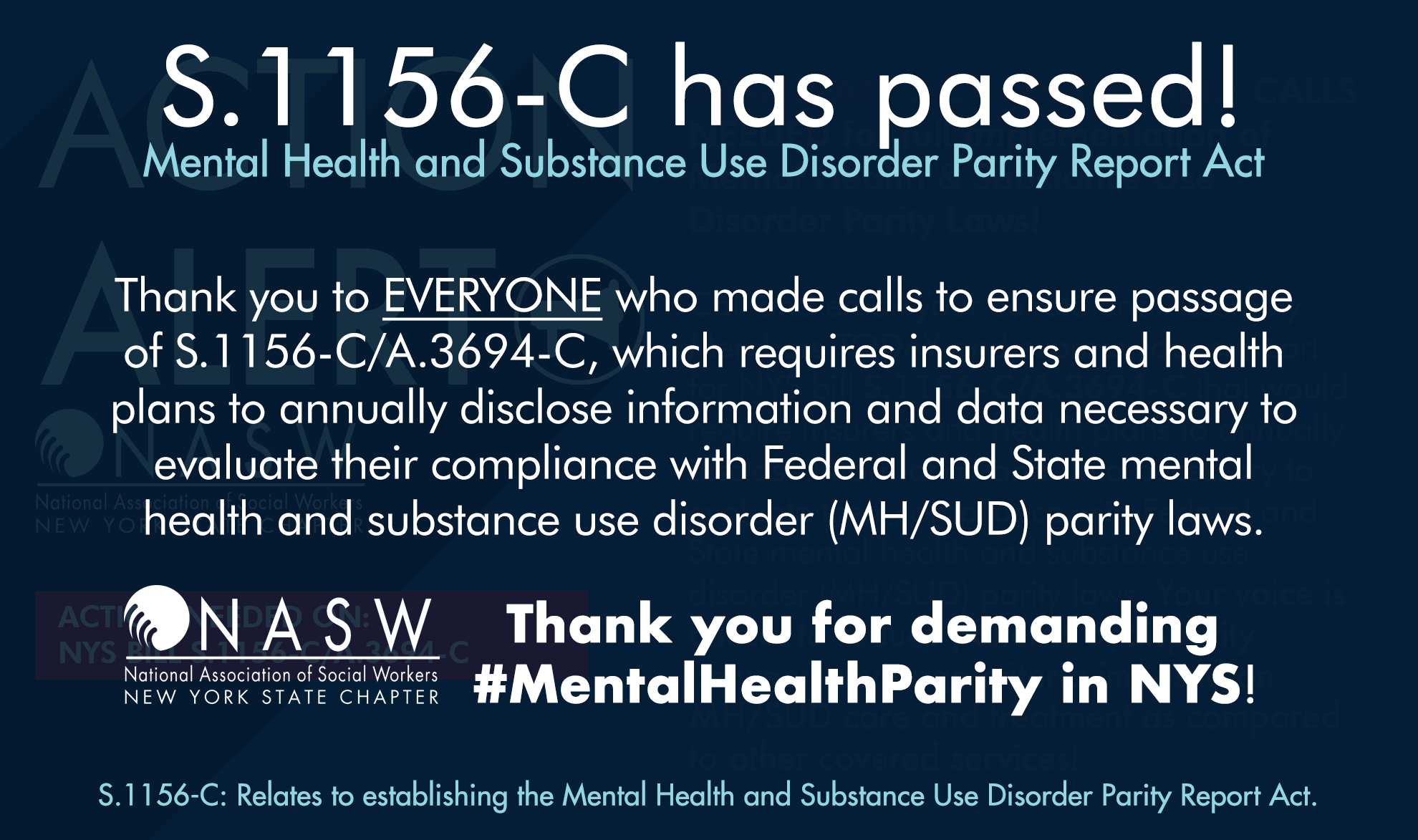 On Wednesday, June 20, 2018, at 11:38 p.m., the NYS Senate voted to pass S.1156-C which establishes the Mental Health and Substance Use Disorder Parity Report Act.
In the final hours of the legislative session, we received increased opposition from insurers and health plans who worked overtime to defeat this important accountability measure. But you did not let that happen.
Your demonstration of strong grassroots support and advocacy were crucial to advancing this bill. Thank you for taking the time to call and email your representatives and letting them know that New Yorkers deserve to know how insurers and health plans are complying with federal and state parity laws, which is critical in maintaining and enhancing access to care. Passage of this legislation will require insurers to submit certain key data to the Department of Financial Services in order to evaluate and report on their compliance with already mandated parity coverage for MH/SUD.
Please stay tuned for updates on implementation of this legislation. In the meantime, we encourage you call and thank your legislators who helped ensure passage of this very important piece of legislation.
Action Steps Needed
Call and write to thank:
Your Senator and Assemblymember – Call the main Senate and Assembly switchboards and asked to be connected to your local legislator:
NYS Legislature Switchboard:
Senate: 518-455-2800
Assembly: 518-455-4100
Find your NYS Senator: 
https://www.nysenate.gov/find-my-senator
Find your NYS Assemblymember: 
http://assembly.state.ny.us/mem/search/
Senator James L. Seward (R-C-I-Ref,-Oneonta), Chair of the Senate Committee on Insurance – (518) 455-3131; Email: seward@nysenate.gov
Senate Majority Leader John J. Flanagan (R-East Northport) – (518) 455-2071; Email: flanagan@nysenate.gov
Senator Robert G. Ortt (R,C,I-North Tonawanda), sponsor of bill S.1156-C – (518) 455-2020; Email: Ortt@nysenate.gov
Assemblymember Aileen Gunther (D,W,I-Forestburgh), sponsor of bill A.3694-C – (518) 455-5355; Email: GuntheA@nyassembly.gov
Sample Script
Hi, my name is ___________________. I am a constituent and/or treat constituents of [Legislator's Name]'s district. I am calling to thank [Legislator's Name] for supporting S.1156-C/A.3694-C, that requires insurers and health plans to annually disclose information and data necessary to evaluate their compliance with federal and state mental health and substance use disorder (MH/SUD) parity laws. This legislation is an important mechanism to reduce industry patterns of disparity between coverage criteria imposed on mental health and/or substance use disorder care as compared to other services, and I thank the [Senator/Assemblymember] for his/her support on this bill. Thank you for your time and attention.