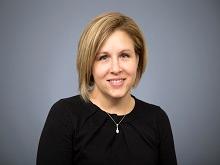 It is with great pleasure that the Board of Directors of NASW-NYS announces the hiring of our new Executive Director, Samantha Fletcher, PhD, MSW.
We are excited that such a perfect candidate emerged from our intensive search.
Samantha has all the attributes to be an inspiring and strong leader for the Chapter for a long time. You will be hearing more in the weeks to come about opportunities to meet our future new ED. Please join me in welcoming Samantha to what I believe is the beginning of a highly successful partnership.
Sincerely,
Marcia Schwartzman Levy, LCSW-R
President, NASW-NYS
Professional Bio
Samantha Fletcher earned a Bachelor's degree in Sociology from the University of Tulsa (2000), a Master's degree in Social Work (2014) and a Ph.D. (2018) from the University at Albany School of Social Welfare. Prior to her tenure at the University at Albany, she worked for over 15 years in human services including a family law firm, a crisis pregnancy center, an Islamic school, as well as a personal training business.
While pursuing her Ph.D., Samantha served as the project coordinator of a peer support program for veterans, funded by the Joseph P. Dwyer Statewide Veteran Peer Support Program (Dwyer Program). She supervised the program development, implementation, and evaluation of 16 non-profit county programs focused on peer-delivered services (e.g., individual mentoring, support groups, volunteerism, community education, and referral to veteran-focused services). As the senior research assistant, Samantha implemented a mixed methods study evaluating the Dwyer Program in 11 New York counties. She also organized a yearly conference for key stakeholders in each county and senate staff featuring nationally recognized veterans and, along with the Principal Investigator of the project, disseminated the findings of their evaluation to New York State Senate and at multiple national Social Work conferences.
After earning her Ph.D., Samantha served as the Assistant Dean of Academic Programs and the Director of Admissions in the School of Social Welfare at the University at Albany. She worked with a diverse team of administrators and faculty to implement quality educational programming for social work students at all levels (BA, MSW, and Ph.D.). In addition to enacting New York State and the Council on Social Work Education mandates for the School, a special emphasis of her work was to deepen and expand the School's focus on social justice.
Samantha partnered with the Assistant Dean of Diversity, Equity, and Inclusion to implement a social justice group for students, faculty, and staff called "The Gathering;" this endeavor increased awareness of social injustice for all members of the community and instantiated an on-going method for critically examining inequality at micro-, meso-, and macro-levels of analysis. The approach highlighted the inclusion of community activists and other experts who worked with participants to create a safe, active, and reflective environment. Group members explore personal assumptions/biases, values, and beliefs via exercises and activities that ultimately provide a sense of responsibility about becoming a change agent. This work has been particularly useful for helping aspiring social workers make inclusiveness a habit in their practice as well as in their everyday lives.
Samantha's career has highlighted social activism as a key area of research and practice. Her interest in injustice of all kinds led her to address the lived experiences of lifelong social activists as part of an independent investigation. Via multiple interviews with older adults who identify as liberal social activists, she analyzed their narratives, as well as historical documents including newspaper articles, flyers, diaries, meeting minutes, and the like to better understand how these seasoned activists remained motivated, for decades, to fight for policy and practical change at local, state, and national levels. The participants inspired Samantha to follow in their footsteps by remaining vigilant, determined, and thoughtful about the socio-political context in which social movements begin. In this new position, Samantha looks forward to supporting and learning from the diverse members of NASW NYS, promoting the profession and advocating for policy change to create a safe, inclusive, and just society.
Personal Bio
Samantha was born and lived in Oklahoma until she moved to the Capital District of New York in 2004. She is a member of the Cherokee Nation and strongly embraces native culture. Samantha has been married to her partner for over 20 years. During the first few years of marriage, they were therapeutic foster parents to five children between the ages of 7 and 14. Samantha and her husband chose to become parents through adoption. They have three children Halle, 16, Seth, 18, and Tyler, 19. In her spare time, Samantha enjoys spending time with her family and friends, reading, exercising, and experiencing diverse cultures.
You can reach NASW-NYS Executive Director Samantha Fletcher, Ph.D., MSW, at sfletcher.naswnys@socialworkers.org or by calling the NASW-NYS Chapter at 518-463-4741.