Happy Social Work Month!
It's our favorite time of the year: Happy Social Work Month!
Every day, the nation's 650,000 social workers act as advocates, champions, and leaders who make our society a better place to live.
For instance, in New York, we are taking the lead this year with the #InvestinSocialWork campaign, which seeks to end a 14-year tradition of inequality in New York's mental health system and request a substantial financial investment in the social work profession — one of the state's largest groups of mental health providers. (Follow our updates here)
The 2018 Social Work Month theme "Social Workers: Leaders. Advocates. Champions." will inform the public about the past and present role of social workers in helping the most vulnerable people in our society, as well as their role in improving the lives of all Americans.
The campaign will also improve the image and respect of the social work profession by educating the public, the media, and elected officials about the profession.
We hope you will take some time this month to celebrate yourself and all your tremendous efforts and accomplishments as social work leaders, advocates, and champions. Thank you, for being part of this wonderful profession! 
---
Get Involved this Month! 
MARCH 20 IS WORLD SOCIAL WORK DAY! 
The 2018 World Social Work Day highlights 'Promoting Community and Environmental Sustainability'. It is the key day in the year that social workers worldwide stand together to celebrate the achievements of the profession and take the theme message into their communities, workplaces, and to their governments to raise awareness of the social work contributions and need for further action.
RECRUIT A MEMBER!
The achievements we accomplish as a Chapter would not be possible without the support and involvement of our members. Help our Chapter grow and advance the profession of social work further by encouraging other social workers to join as an NASW member!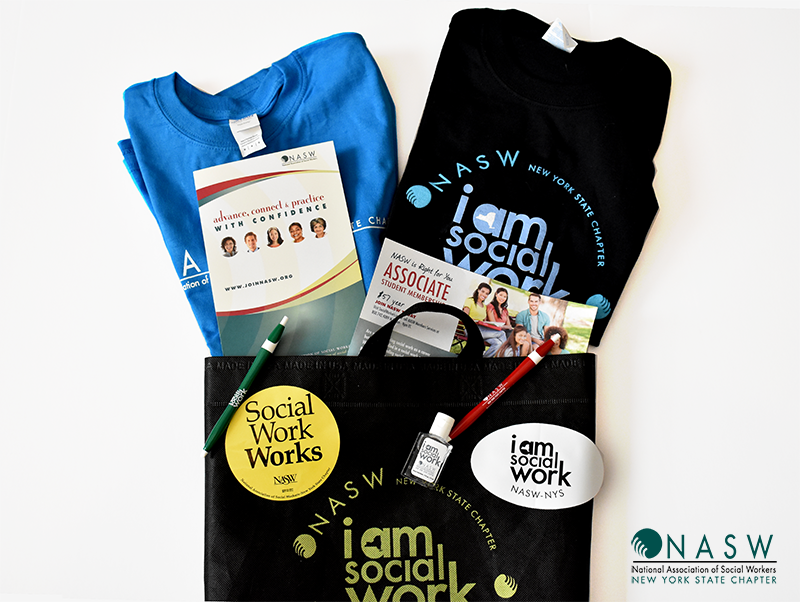 Actual contents may vary. Full merchandise for display purpose only. 
Anyone who joins, renews, or transitions from a student to a regular membership from now until March 31st, will receive a special welcome gift from NASW-NYS!
GET INVOLVED
Social Work Month is a great opportunity for members to get more involved with the Chapter.
HONOR OUR SOCIAL WORKERS
NASW-NYS and its 10 Divisions host award programs and scholarships to recognize exemplary members, future leaders, outstanding agencies, and inspiring public citizens. If you are an NASW member, please take time this year to nominate social workers and other community champions you admire. Currently, you can submit nominations or submissions for the following events/programs:
We also encourage you to attend upcoming social work award programs to honor this year's award recipients. Registration for the following award programs are now open:
ATTEND A WORKSHOP/EVENT NEAR YOU
MEETINGS/NETWORKING
March 6 – Central Division Steering Committee Meeting
March 6 – Northeast Division Steering Committee Meeting
March 8 – CNLI Committee Call
March 13 – Annual Social Work Month Long Island Fellowship Event (Farmingdale, NY)
March 14 – AGR/PACE Committee Call
March 17 – NASW-NYS Board Meeting (Albany, NY)
March 20 – CNLI Committee Call
March 22 – VOLUNTEERS NEEDED! NASW-NYS Central Division Soup Day at Syracuse University (Syracuse, NY)
March 29 – NASW-NYS Western Division Social Work Awards (Buffalo, NY)
March 29 – NASW-NYS Westchester Division Social Work Awards (White Plains, NY)
CONTINUING EDUCATION
March 5 – DBT: Not Just for Our Clients (Loudonville, NY)
March 6, 13, & 20 – VIRTUAL SERIES: Overlooked and Underserved: Clinical and Educational Perspectives in the Treatment and Support of Twice Exceptional Children, Adolescents, and Their Families (Live Webinar)
March 13 – Political Social Work: The Role of Social Workers in Politics @ the Annual Social Work Month Long Island Fellowship Event (Farmingdale, NY)
March 14 – LEARNING WEDNESDAY: Depression: Etiology, Assessment, and Diagnosis (Live Webinar)
March 28 – LEARNING WEDNESDAY: Depression: Promising and Evidence Based Treatments (Live Webinar)
LEGISLATIVE/ADVOCACY
March 6 – Social Work Investment Initiative Call-In Day 
March 21 – 2018 Legislative Education and Advocacy Day
OTHER
March 16 – Deadline to submit nominations for the 2018 Suffolk Division Social Work Awards
March 16 – Deadline to submit submission for the 2018 Suffolk Division Student Scholarships
March 29 – NASW Virtual Career Fair