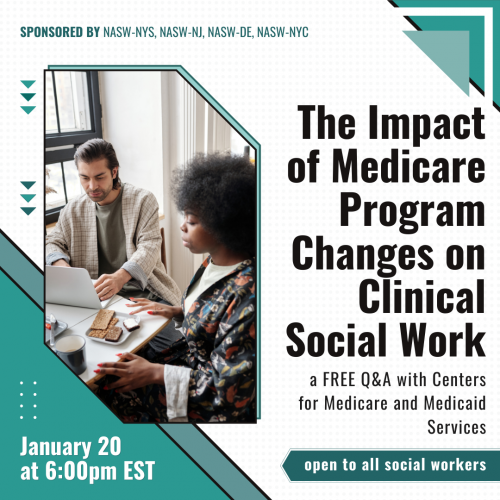 The Impact of Medicare Program Changes on Clinical Social Work: A FREE Q&A with Centers for Medicare Services
You asked and we listened! Please join the NYS, NYC, NJ, and DE chapters of NASW in a conversation about Medicare changes in 2022.
Two recent changes to the Medicare Program affect the practice of clinical social work: 1)The Consolidated Appropriations Act of 2021 expanded coverage of telehealth services for the diagnosis, evaluation and treatment of mental health disorders, 2) Clinical social workers are included in the Merit-based Incentive Payment System (MIPS) for the 2022 performance period.
Staff from the Centers for Medicare and Medicaid Services (CMS) New York office will present on these changes, answer participants' questions and discuss participants' concerns.
These are conversations hosted by social workers, for social workers. Open to all who would like to attend, and any NASW member is invited to host a topic or conversation!
Please be informed that Chapter Chats do not offer continuing education credit, rather are an accessible and easy way for social workers to share resources, network, and engage with one another across the State and Nation. To explore continuing education opportunities with the New York State Chapter, please click here now!