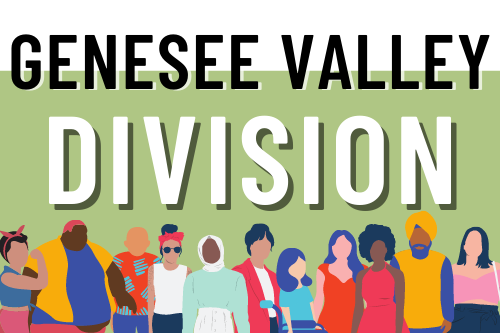 Genesee Valley Division First Annual Pre-Inaugural Social Hour
Save the date for the Genesee Valley Division First Annual Pre-Inaugural Social Hour! Prepare to join us for some comedic relief and music therapy on January 19th, 2021 at 7pm.
Meet Our Guests!
Kevin Markman, LCSW-R, ATR-BC, CASAC, CAS
Kevin Markman LCSW-R, ATR-BC, CASAC, CAS is a standup comedian from Rochester, NY who has been making audiences laugh for five years with his unique perspectives on relationships, daddying, and pickles. His clever wordplay and raw truths take his audience on a roller coaster of comedy. Kevin's passion for helping others drew him to the healing power of laughter, which makes him an entertaining and endearing comedian, host, actor, and producer, but sadly, a poor dancer. Kevin is a Social Worker, Art Therapist, Substance Abuse Counselor and Educational Administrator when he is not being funny.
Kevin's "Stand Up for Drag" show is a yearly hit at the Rochester Fringe Festival, and he's consistently a top five nominee for the ROC award for Rochester's best comedian. Kevin was also a finalist to represent Rochester on the Comedy Central show "Kevin Hart's 'Hart of the City.'"
Jennifer Phillips
Jennifer Phillips is a board-certified music therapist and Expressive Arts Department Chair at The Hochstein School. Her clinical work specializes primarily in the areas of early intervention, elder care, and neurorehabilitation. She holds degrees in music therapy and voice from Fredonia State University and an additional certification in Neurologic Music Therapy from the International Academy of Neurologic Music Therapy. In addition to her work as a music therapist, Ms. Phillips is also a certified early childhood music educator.
Ms. Phillips recently relocated back to the Rochester area after spending six years in private practice in Williamsburg, Virginia. Since her return to Rochester, she has co-founded the Greater Rochester Area Music Therapy Peer Supervision Group and is currently a charter member of the up-and-coming New York Music Therapy Association. Ms. Phillips is also a member of many task forces, committees, and organizations that promote healthy aging and overall wellness. Ms. Phillips sings professionally and is a current member of Concentus Women's Chorus.