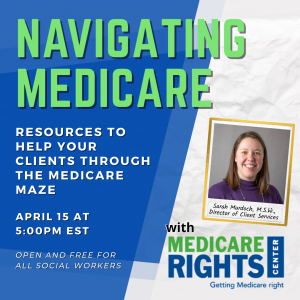 Chapter Chat: Navigating Medicare: Resources to Help Your Clients through the Medicare Maze
Learn how the Medicare Rights Center, a national, nonprofit consumer service organization, can assist you with helping your clients with Medicare access the affordable health care they need. The presentation will provide information on Medicare Rights' services for consumers and professionals, including individual counseling through the national helpline and enrollment assistance to help people with low incomes pay for Medicare cost-saving programs. An overview will be given on Medicare Rights' online educational materials, such as a reference tool which answers hundreds of Medicare questions; topical guides; advocacy tool kits; and webinars. Medicare Rights' self-study, online curriculum for social workers who want to learn Medicare with the option of earning continuing education credits – a special partnership with NASW-NYS – will also be discussed.
Presented by: Sarah Murdoch, M.S.W., Director of Client Services, Medicare Rights Center
Presenter Bio: As Director of Client Services, Sarah oversees programmatic operations of the Client Services Department. This includes the national helpline; Medicare Rights Center's participation in state ombudsman and technical assistance programs such as New York's Health Insurance Information Counseling and Assistance Program (HIICAP), Community Health Access to Addiction and Mental Healthcare Project (CHAMP), the Independent Consumer Advocacy Network (ICAN), and Community Health Advocates (CHA); and Medicare Rights Center's volunteer and intern program. Previously, Sarah served as the Helpline & Volunteer Coordinator, managing helpline counselors who work directly with beneficiaries to advocate for access to care, services, and benefits available through Medicare and Medicaid. Sarah has a B.S. from The University of Chicago and an M.S.W. from Washington University in St. Louis. Prior to joining the Medicare Rights Center, Sarah worked at Catholic Charities Senior Services in Chicago, coordinating community-based services and home care for older adults. In her spare time, Sarah enjoys baking, hiking, and sharing time with family and friends.
REGISTER NOW!