ADVOCACY
At the NYS Chapter, we know that the best advocacy and our greatest potential to make change lies in the mobilization of our members and social workers across the State. While NYS Chapter staff and volunteer leadership meet with, have calls with, and engage with legislators and their staff daily, it is our collective representation of NYS social workers that empowers, supports, and amplifies our work. Each topic, bill, and initiative the NYS Chapter engages with legislators on, we also encourage social workers to advocate with us with the goal of creating a loud thunder of social work voices that cannot be ignored.
COVID-19 ADVOCACY AT THE STATE LEVEL
Your Executive Director, Samantha Fletcher, has kept in close contact with the Staff of NYSED, OMH, and the Governor's Office giving us the ability to provide immediate updates on mandates related to continuing education, licensure, and telehealth.
Social workers who are up for licensure renewal between March 1- January 1, 2021 will be permitted to complete 100% of their continuing education as self-study (For NYS Approved Self Study Programs, click here).
NYSED affirmed that supervision hours accrued through approved telehealth platforms will be attributed to your total needed for licensure. We would like to thank NYSED, David Hamilton, and his staff for responding quickly to the requests and needs of NYS social workers and applaud their rapid response. NASW-NYS recognizes NYSED as an advocate for NYS social workers during this time and are encouraged by their continual expeditious responses to our, and NYS social workers, needs.
ACT NOW! ADVOCACY
ACT NOW is an advocacy tool developed by NASW-NYS that connects NYS members directly with their representatives on issues that our members have identified. After you create your member profile, you are immediately connected to your representatives ranging from Federal, to State, local, & even school boards. NASW-NYS pre-populates letters & tweets for you to send in a click of a button, or you can write your own! Would you prefer to call your representative, and explain to them directly what this means for you and your clients? We provide their phone number, and a script to start you off! YOU are the voice of social work, and no one is a better advocate for your needs, your clients, and your communities, than you. When we all advocate with one united, powerful voice, we will be heard around the world! See below for the ACT NOW alerts that have been activated during this crises, resulting in over a thousand individual actions from social workers to their representatives:
ACT NOW: Advocate to Governor Cuomo today to advocate for all state-run health plans to cover telehealth services for licensed social workers. There is a solution to continue this care through an emergency executive order.
ACT NOW: Increase Social Worker Reimbursement
ACT NOW: Urge NYS Representatives to Support Audio Only Medicare Telehealth Coverage
ACT NOW: Urge Congress to Ensure that Medicare Reimburse for Mental and Behavioral Health Services Provided by Audio-Only Telehealth
ACT NOW: Ask U.S. Congress to Include Mental and Behavioral Health, Sufficient Paid Leave and Access to Personal Protective Equipment in COVID-19 Economic Stimulus Legislation!
ACT NOW: Tell Your Representative to Support Child Welfare COVID-19 Priorities
ACT NOW: Join our national partners & other advocates for a Day of Action Twitterstorm urging Congress and the Administration to boost SNAP benefits and help families put food on the table during COVID-19.
ACT NOW: Join NASW  in urging Congress to include social workers in COVID-19 hazard pay as essential workers.
ACT NOW: Join

NASW

& ask Congress to pass the

COVID-19

Every Worker Protection Act. It would require The Occupational Safety and Health Administration to establish an Emergency Temporary Standard to protect all workers including

social workers

from the spread of

COVID-19

in the workplace.
There are 59,178 licensed social workers alone in NYS, this doesn't include all MSW and BSW social workers! We are a HUGE voting block, and with our ACT NOW platform and your support we have the potential to create radical social change for the profession of social work and those we serve.
Want to join our advocacy efforts, and stand behind other social workers and social justice warriors? Email us at info.naswnys@socialworkers.org, or join the NYS Chapter now at www.naswnys.org/join
NASW-NYS is working around the clock to keep social workers updated on continual updates related to COVID-19, advocate for social work protections, reimbursements, and raise public awareness about how vital social workers are in crisis response to this global pandemic. This page will act as your best resource for all updates regarding COVID-19, and will be continually updated as developments occur. We also encourage you to follow our social media platforms for real time updates:
STATEMENT ON XENOPHOBIA
"The NASW-NYS firmly rejects any form of racial superiority, racism, or xenophobia against the Asian and broader international community in the United States. As COVID-19 continues to spread across the country, there have been increases in racial attacks and blatant prejudices against the Asian community.
Every human has the fundamental right to dignity and equality. Any and all acts of racism through propaganda, physical attacks, or racial slurs are condemned by the NASW-NYS. We have seen a rise in online posts of demeaning pictures about the Asian community for the sake of "comedy" as well as people intentionally avoiding businesses run by Asian owners. These actions are inherently racist and have done nothing but spread misinformation about the virus and hatred towards the Asian community.
This virus is non-discriminatory and can infect any individual. Attempts to justify racial superiority with the virus are a violation of dignity, safety, and equality.
As we enter unprecedented times, we must come together and grapple with the difficulties ahead by showing our solidarity and support."
STATE OF THE CHAPTER ADDRESS
Samantha Fletcher, NASW-NYS Executive Director, addressed our membership after outreach from the NYS social work community looking for a voice of guidance and assurance in response to COVID-19. We changed our previously scheduled State of the Chapter address to give updates about what the Chapter has done, and will continue to do, for social workers during this time. Use the link below to listen to the address and stay tuned for future membership meetings with your Executive Director, Samantha Fletcher.
Chapter Chat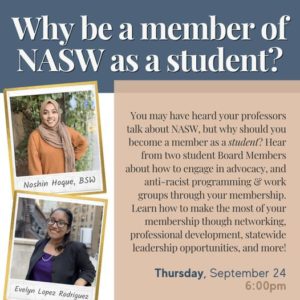 You may have heard your professors talk about NASW, but why should you become a member as a student? Hear from two student Board Members, Evelyn Rodriguez Lopez (BSW Student Representative) and Noshin Hoque (MSW Student Representative) about why they became members, how students have a voice at the NYS Chapter, and what the student body of 2020-2021 can accomplish together this year. Join us Thursday, September 24 at 6:00pm!
Learn how you can engage in local and statewide advocacy, how you can help create the NYS Chapter legislative Agenda, and how to contribute to the development and implementation of anti-racist programming & work groups through your membership. Noshin and Evelyn will also talk about how you can get more out of your membership through networking, professional development, statewide leadership opportunities, and more! All students are welcome to join!
Noshin Hoque recently graduated from Stony Brook University with my BSW, and about to complete her MSW at Columbia University. During her time at Stony Brook University, she was an active member of several clubs, including the Muslim Student's Association and Alternative Spring Break Outreach (ASBO). She became the chair of the community service committee for MSA and a member of Stony Brook School of Social Welfare's Equity, Diversity, and Inclusion committee. In the past year, Noshin has also interned at Suffolk County Legislator Hahn's office where she did a lot of community outreach. She carried out these responsibilities whilst being a BSW representative and the chair of the Communications committee. She is an experienced leader and team member and hopes to apply those skills and experience in this role as the MSW representative.
Evelyn Lopez is a BSW junior at Stony Brook University School of Social Welfare. She was the president of LIISA (Long Island Immigrant Student Advocates) at Stony Brook University for two years and currently Co-Director of a grassroots group called WP Still Dreaming, dedicated to helping the undocumented community in White Plains. She is also a member of the USWA, the Undergrad Social Work Alliance at Stony Brook University. Evelyn previously interned at Make the Road Westchester as a community organizer intern. She is passionate about immigrant justice and started being an activist in high school. Evelyn has over six years of experience working with grassroots organizations and activist work.
CHAPTER CHATS DO NOT HOLD CE CREDIT. This is an opportunity to engage and network while observing social distancing.
Get Involved
NASW-NYS knows YOU are the power of social work, and there would be no NASW without our members. Contribute to our efforts below:
- Know a resource or organization we should share that isn't included here? Let us know at naswnys@socialworkers.org or click here for our submission form!
- Want to get involved with NASW-NYS leadership, volunteer during this time, or help amplify our efforts in your community? Email us at naswnys@socialworkers.org!
- Click here to let us know what CE topics and Presenters you want NASW-NYS to deliver.