Veterans Health Care Training Program 2017 
Interactive Seminars and Panel Discussions on the Current and Evolving Healthcare Needs of Veterans
⬥ ⬥ ⬥
Thank you for joining us in the 2017 VMHTI Training Cycle
Please stay tuned for future updates on the Veterans Mental Health Training Initiative,  as well as future programming dates.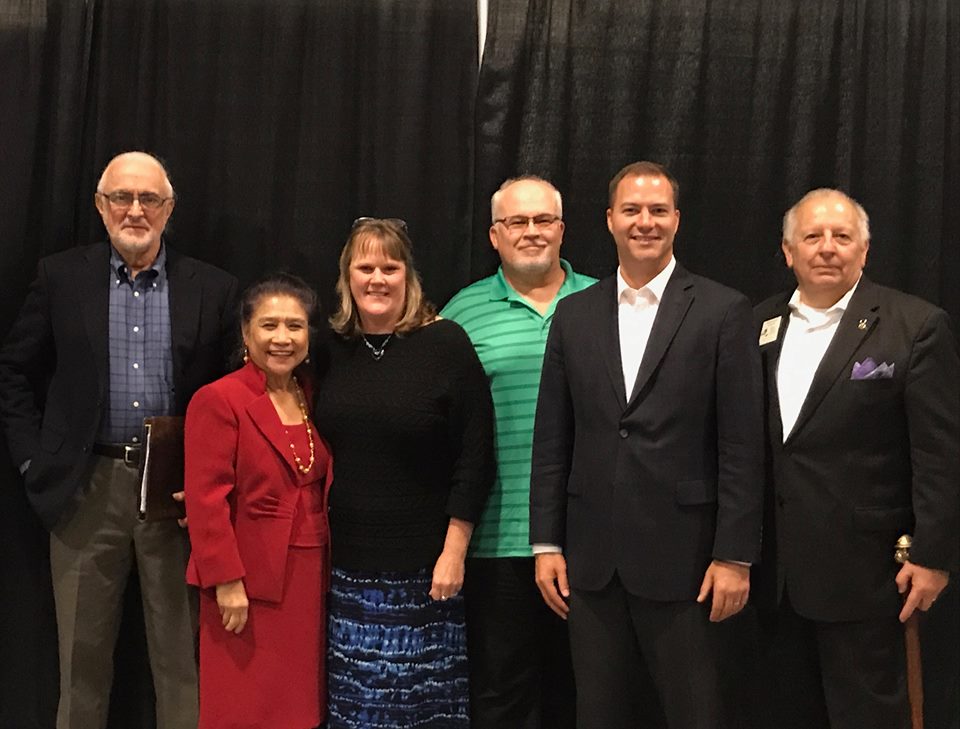 Thank you Senator Robert Ortt, Chair of Senate Mental Health & Developmental Disabilities Committee, for joining us at "The Veteran Experience Panel" as a panelist in Niagara Falls on October 13 & 14
The Veterans Mental Health Training Initiative is a collaborative endeavor of the Medical Society of the State of New York, New York State Psychiatric Association, and New York Chapter of the National Association of Social Workers to educate and train community mental health and primary care providers on veterans-specific mental health issues, including among others post-traumatic stress disorder, traumatic brain injury, suicide, suicide prevention and substance use disorders. The initiative is made possible by a grant from the New York Legislature and is administered by the NYS Office of Mental Health.
Topic areas of note for the 2017 year included military cultural competency, women and military culture, EMDR as treatment for PTSD, suicide prevention, post deployment impact on children and families and reintegration.
Continuing Medical Education (CME's) for physicians and Continuing Education Credits Available for NYS licensed social workers, mental health counselors, and marriage and family therapists are available at the 2017 VMHTI Conferences.
⬥ ⬥ ⬥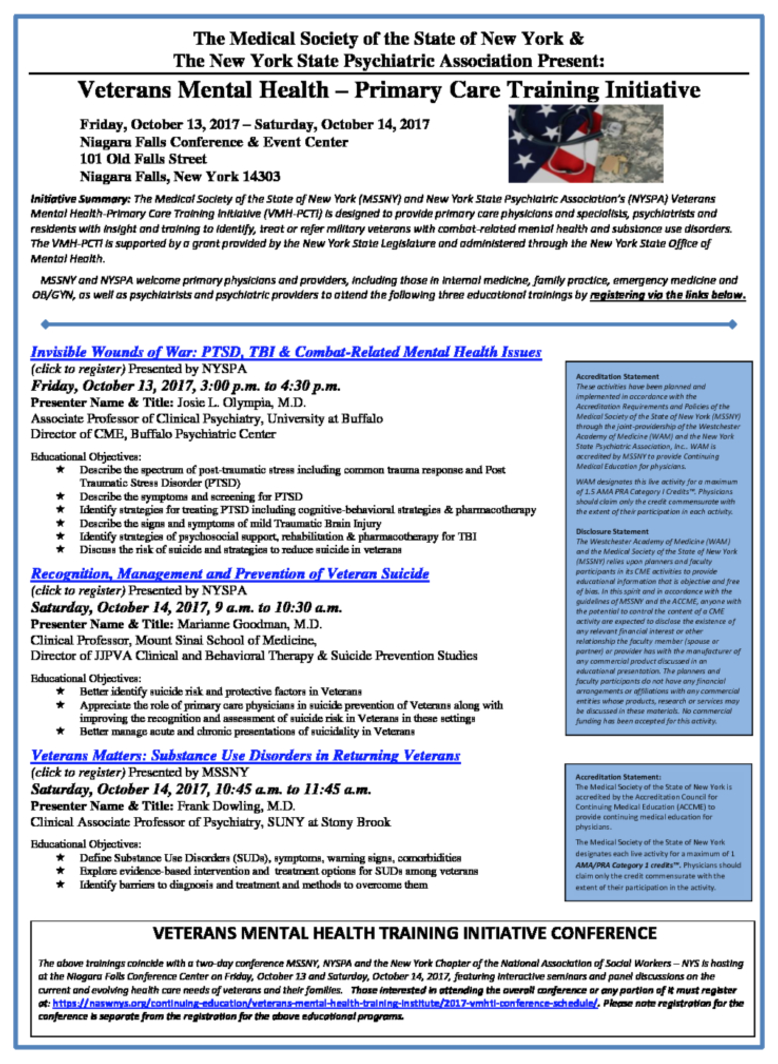 Continuing Medical Education (CME's)* for physicians & up to 8.0 Continuing Education Credits available for NYS licensed social workers, mental health counselors, and marriage and family therapists
Click the flyer to view the available Continuing Medical Education credits (CME's) courses or see below. CME credits are only available for workshops indicated in the blue box ■. For CME credits, you must register by clicking on the workshop's name. All workshops are available for Continuing Education Credits
CONFERENCE AGENDA
FRIDAY, OCTOBER 13, 2017 (12:30PM – 5:00PM)
12:30 PM
Arrive, Sign In (Please stop by Exhibitor tables) 
1:00 PM

Introductory Speech and Welcome

1:15 PM – 2:45 PM

"The Veteran Experience"

Panel

, moderated by Anthony Rabasca, LMFT
Panelists: Senator Ortt, Delcey Pulvino, Dr. Patrick Welch, Dan Ratka
2:45 PM – 3:00 PM

Break

3:00 PM – 4:30 PM

Breakout Educational Session I
| | |
| --- | --- |
| 4:30 PM – 5:00 PM | Exhibitor Tables and Networking |
---
SATURDAY, OCTOBER 14, 2017 (8:00AM – 3:00PM)
| | |
| --- | --- |
| 8:00 AM | Arrive, Sign In |
| 8:00 AM – 9:00 AM | Breakfast and Networking at Exhibitor Tables |
| 9:00 AM – 10:30 AM | Breakout Educational Session II |
| | |
| --- | --- |
| 10:30 AM – 10:45 AM | Break |
| 10:45 AM – 12:15 PM | Breakout Educational Session III |
| | |
| --- | --- |
| 12:15 PM – 1:15 PM | Lunch on your own. Please stop by at the Exhibitor tables.  |
| 1:15 PM – 2:45 PM | Breakout Educational Session IV |
| | | |
| --- | --- | --- |
| Julie Borgen, LCSW | Katharine Bloeser, MSW, PhD | Brent Russell, LMSW |
| Recovery is Possible – VA Behavioral Health Services | Working with LGBTQ Veterans | Military Culture: Community Reintegration |
| | |
| --- | --- |
| 2:45 PM – 3:00 PM | Sign Out/Exhibitor Tables |