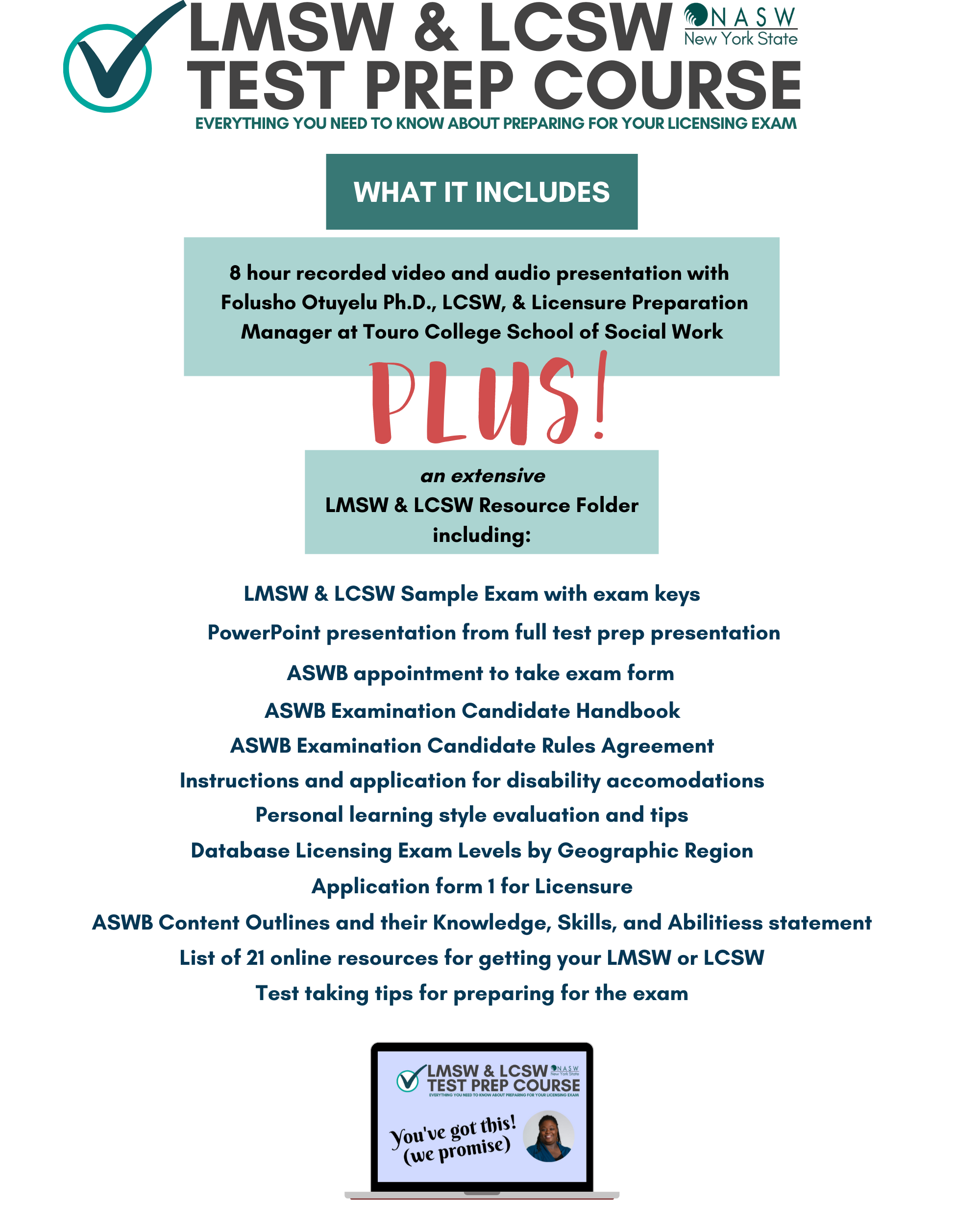 LMSW/LCSW Test Prep Course
Self-Study Download - Watch as many times as needed!
Presenter: Folusho Otuyelu, PH.D, LCSW, & Licensure Preperation Manager at Touro College
NASW-NYS Members: $100 | Non-Members: $200
NASW Members (Non-NYS, including NYC Members): $150
ABOUT THE NASW-NYS TEST PREP COURSE
NASW-NYS is offering an eight hour licensing preparation class for the New York State LMSW/LCSW exam. This test prep course is a recorded 8 hour presentation you recieve to your email upon payment, allowing you to attend from the convenience of you own home, and at your own time! Take the program as many times as you need! In addition the the presentation, you will recieve an extensive resource folder with 15 supporting forms & documents and a list of 21 other online test prep resources. Everything you need to prepare for your licensing exam!
This eight-hour course was designed for social workers preparing to take the Masters Level ASWB exam or the Clinical Level ASWB exam. This course focuses on the following key areas:
developing necessary skills for taking a standardized test, 
reviewing concepts from the four content areas of the master level exam (Human Diversity and the Social Environment; Assessment and Intervention Planning; Interventions with Clients/Client Systems; and Professional Relationships, Values and Ethics), 
reviewing concepts for the clinical exam (Assessment and Diagnosis; Clinical Treatments and Modalities; Psychotropic Medications; and DSM5), and
addressing anxiety and other barriers to success.  (including dealing with test anxieties).
Social Work Students! If you become a member today, you can register at the member rate. $160 Will Get You a NASW Membership AND a Licensing Prep Course!
Join today as a NASW Member and receive HALF OFF the licensing test prep course price for non-members. BSW and MSW Membership Dues are $60/annually and are open to anyone currently enrolled in a CSWE-accredited social work degree program or a program eligible for candidacy. Eligibility for the BSW and/or MSW student membership category is limited to four years for each degree over the lifetime of membership (does not need to be continuous).
After you complete your registration and payment, your confirmation email will include the recording, and link to access all additional documents. If you have ever opted out of our emails, you may not recieve the email. Please email us at info.naswnys@socialworkers.org and we will send you the Test Prep package directly. Please note that all sales are final.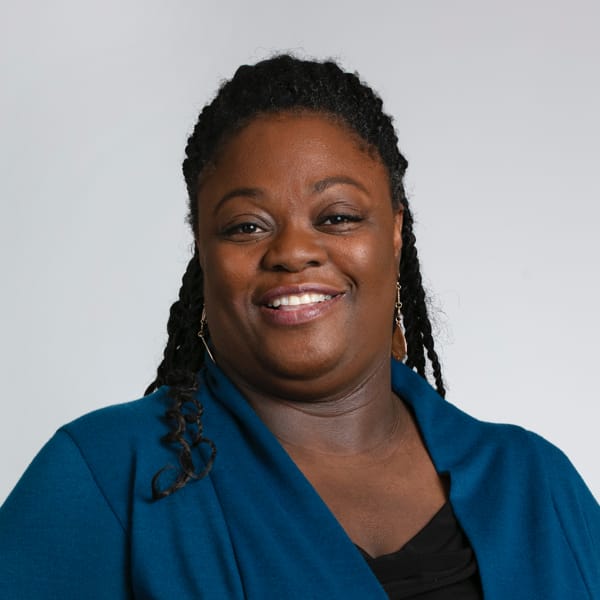 Dr. Folusho Otuyelu is Associate Professor of Clinical Social Work-Children and Adolescents and MSW Liaison-Child Welfare. She is the Licensure Preparation Manager for Touro's Graduate School of Social Work and has completed several NASW-NYS approved online webinar trainings since 2017. Dr. Otuyelu is a Licensed Clinical Social Worker with over 22 years of experience working as an Administrator and Clinical Supervisor in prominent not-for-profit agencies in New York City such as the Children's Aid Society and Visiting Nurse Service of NY. She has spent a significant number of years working with children, adolescents and their families in the mental health and child welfare areas of practice. In addition, she is well versed in evidenced based practice models such as Functional Family Therapy and Cognitive Behavioral Therapy. She is a Certified Clinical Trauma Professional- Level II. Dr. Otuyelu has a private practice focused on working with Children and families. Dr. Folusho Otuyelu holds a PhD in Social Work from Fordham University, a Master of Science degree in Social Work from Columbia University School of Social Work and a Bachelor of Science degree in Psychology from Pennsylvania State University. She is the recipient of the NASW-NYC 2014 Image Award in Direct Practice.
---
When
April 29th, 2020 4:00 PM through February 12th, 2031 3:00 PM
Event Fee(s)
| | |
| --- | --- |
| NASW-NYS Member | $100.00 |
| Non-Member | $200.00 |
| NASW Member (Non-NYS) | $150.00 |
Information for Certificates
| | |
| --- | --- |
| Total Contact Hours/CEUs Awarded | |