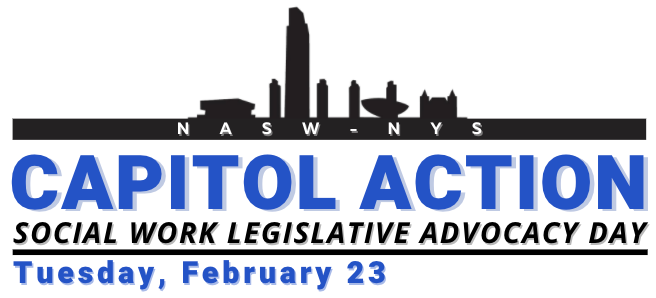 The very first Capitol Action Social Work Legislative Advocacy Day is this upcoming Tuesday, February 23! Only NASW-NYS members are able to join for this all-day virtual event to connect directly with legislators and advocate for the Chapter's Legislative Agenda. Our Policy Team will take you step by step through the advocacy process and provide all the information you need to be confident and informed when speaking with your representative.


Step 1: Take the training, and submit your survey.
Step 2: Click here to register for Capitol Action Day
Step 3: Set up a meeting with your state Assemblyperson and Senator for February 23rd.
All those registered for Capitol Action Day will receive advocacy packet prior to the event day with all the information you'll need for your appointment. These position papers and concise talking points will give you a solid foundation for

9:00am - 10:00am Introduction and Briefing
Michael Cappiello, LCSW, President NASW-NYS
Mark Buttiglieri, LCSW-R, Past NASW-NYS President
Samantha Fletcher, PhD, MSW, Executive Director
Evelyn G. Williams, MSW, Policy Coordinator
10:00am - 11:00am NASW Federal Legislative Landscape and Blueprint
Mildred "Mit" C. Joyner, DPS, MSW, LCSW, NASW President
Sarah Christa Butts, MSW Director of Public Policy National Association of Social Workers
11:00am - 11:30am A Personal Journey of Social Work Advocacy with NASW-NYS
Mark Buttiglieri, LCSW-R, Past NASW-NYS President, Chair AGR Committee
12:00pm – 1:00pm A 2021 Legislative Overview
Veronica Cruz, PhD, MSW, Mark Mezner, Esq.
New York State Senator Julia Salazar, Brooklyn, District 18
1:00pm – 1:30pm Political Social Workers in New York State
Assemblymember Mathylde Frontus, MSW, Assembly District 46
1:30pm – 3:00pm A conversation: Let's Talk About Advocacy
3:00pm – 3:30pm Political Action for Candidate Election for NYS
Jessica J. Mitchell, LMSW, MA, PACE Chair
3:30pm - 4:00pm Assemblywoman Aileen Gunther, RN, District 100
How Do I Advocate?
Questions and Answers Link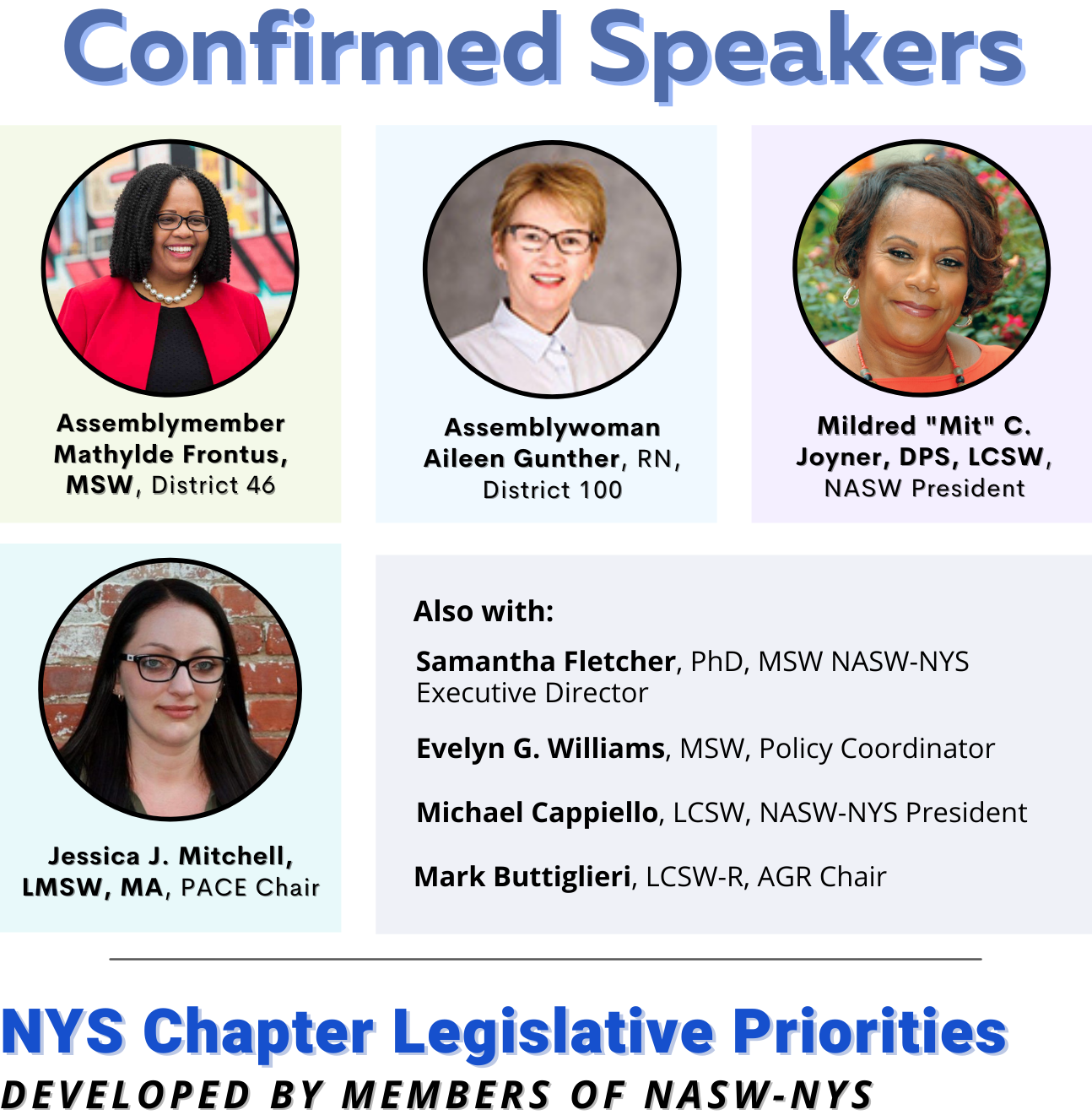 Presented below are the Chapter's legislative priorities for 2021. We advocate for the passage of the bills' provisions as articulated under "what does the bill propose."
(A01248/S854) Marijuana Regulation and Taxation Act
What does the bill propose:
The bill establishes a new Office for the Regulation of Cannabis, creating a regulated and taxed cannabis industry in New York.
A percentage of the tax revenue will be allocated to a community reinvestment grant program to help communities most impacted by the War on Drugs.
Reduces the criminalization of cannabis use for those who possess small amounts of unlicensed marijuana.
Promotes and supports sustainability of small businesses through a multi-tier licensing structure.
The bill states the Governor will appoint members to the newly formed Office of Cannabis Management to oversee the new industry.
Thus, we request:
The passage of both A01248/S854 in the Assembly and Senate for this legislative session.
One-third of the membership on the Office of Cannabis to be social workers.
An amendment to expunge the criminal records for those charged with intent to distribute only marijuana.
The Climate and Community Investment Act (A new Senate and Assembly bill number has not yet been assigned)
What does the bill propose:
The bill places a tax on New York's largest corporate polluters.
An estimated $15 billion per year in revenue will be generated and used to transition to a green economy.
30% of funds will go to communities most impacted by pollution/climate change.
Thus, we request:
More sponsors to be added for both the Assembly and Senate bills.
The passage of the bill in both the Senate and Assembly for this legislative session.
(S1931 & A4987) Voting Rights
What does the bill propose:
Mandates the Department of Corrections must inform convicted felons of the restoration of their voting rights upon their release.
The Department of Corrections will assist with the application process and send the individual's application directly to the state board or local board where the person lives, unless the individual declines.
The Department of Corrections will provide information from the Board of Elections on the importance and mechanics of voting to the individual.
Thus, we request:
The passage of S1931/A4987 in both the Senate and Assembly for this legislative session.
Less is More: Community Supervision Revocation Reform Act (S1144/Assembly bill number not yet assigned)
What does the bill propose:
The bill limits the use of incarceration as a repercussion for technical parole violations.
Individuals under community supervision will be entitled to a recognizance hearing in a local criminal court before being detained.
The individual will also be given a speedy hearing after their recognizance hearing.
The bill would allow those under community supervision to earn "time credits" for individuals to reduce their community supervision period.
Thus, we request:
The passage of Less is More in both the Senate and Assembly for this legislative session