NASW-NYS 2022 Chapter Election Nomination Deadline: February 10, 2023
The nomination period for the 2023 NASW-NYS Chapter Election is now open for submissions through February 10, 2023! NYS Leadership oversees Chapter programming, develops local and state-wide initiatives, and informs the overall direction of the Chapter and in turn the broader future of social work in New York State.
Our Chapter is filled with social workers from various parts of the state, who work in a variety of capacities and bring with them different talents, interests, values and cultural backgrounds. What unites us is being a member of the social work profession, and our common foundation of our social work values. As the professional association for such a diverse profession and professionals, our leadership must be as robust and diverse as possible to represent the issues and engage in the activities that are important to each of you.

Open Positions
President (Elect)
Secretary
MSW Representative
BSW Representative
Division Directors: Western, Central, Mohawk Valley, Nassau, Suffolk
Are you ready to take your career, and commitment to the profession of social work, to the next level? Do you know someone who you would like to see leading social work in New York State? We can't wait to hear from you! Upon verifying membership, nominees will then be asked to supply their resume and complete Leadership Biographical Form to provide the CNLI Committee with additional information about their education, demographics, and experience.
Requirements for NYS Chapter Election Nomination to be submitted by February 10, 2023:
Nomination submission (Click here)
Submit resume to info.naswnys@socialworkers.org
Complete Leadership Biographical Fact Sheet (Click here)

Board members are expected to attend all Board of Directors meetings, fulfill their job description, conduct the business of the Chapter in accordance with Chapter By-Laws, participate in decision-making processes to fulfill the mission of the Chapter, serve on other committees as requested by the President, and interpret Board policies and decisions to Chapter membership.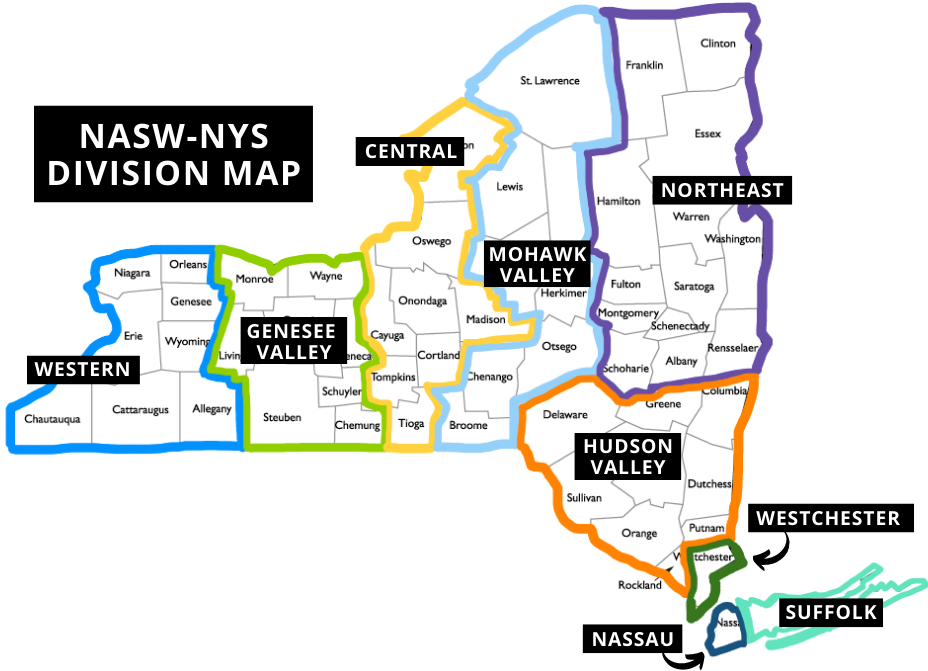 Chapter Nominations & Leadership Identification (CNLI) Committee
CNLI Central Division Representative
Najah Zaaeed
CNLI Mohawk Valley Division Representative
Vacant
CNLI Northeast Division Representative
Barry Davis, Martha Schultz
CNLI Hudson Valley Division Representative
Jackie Muller, Mark Goodwin
CNLI Westchester Division Representative
Veera Mookerjee (Chair)
CNLI Nassau Division Representative
Victoria Avia Edwards
CNLI Suffolk Division Representative
Vacant
Submit inquiries to NASW-NYS Amelia Lochner Malavé at ALochner.naswnys@socialworkers.org