NASW-NYS 2022 Chapter Election
Vote in the 2022 NASW-NYS Election!!
The New York State Chapter of the National Association of Social Workers is pleased to announce the opening of our 2022 Leadership Election. The Chapter Committee on Nominations and Leadership Identification (CNLI) has certified that the slate meets all the requirements of the bylaws. We invite you to take time to learn about the candidates before casting your vote.
Step 1) Click here to go to https://vote.associationvoting.com/nasw-nys/
Step 2) Log-in with your last name and the email associated with your NASW-NYS membership (the email you are currently using).
Step 3) Read the platform statements and bios of the candidates up for election.
Step 4) Vote on your preferred NASW-NYS leadership, and enjoy knowing that you contributed to the election of social work representatives of NYS!
Deadline: May 11, 2022 at 11:59PM EST!
Candidates
Vice-President (2-YEAR TERM, 2022-2024)
Silas Kelly, LMSW
Gerald Myers, LCSW-R
Silas Kelly, LMSW
Platform Statement: It would be a tremendous honor to be elected as Vice President of the NASW-NYS Chapter Board. It would give me an opportunity to help to continue the fine work the chapter has been doing. This would allow me to continue working on uplifting and highlighting our profession to the general public. I would work really hard to make sure that information is disseminated to all divisions about creative ways to promote our profession. I will share techniques that we have used successfully in the Suffolk Division and previously in Region 5 (Nassau & Suffolk) to consistently celebrate our beloved and dynamic profession. I will work with the Chapter to come up with strategies to connect with key individuals in local media outlets. What I will really be interested in as well is having us connecting with elected officials, especially those who are trained Social Workers. The other thing that I will work really hard to do is to continue the chapters tradition of lifting up and supporting students, the life-blood of our profession. I will also be fully committed to supporting the Board President and the Chapter ED and Chapter Staff. Lastly, I will continue to "Recruit, Recruit, Recruit!!
Bio: Mr. Kelly is a Licensed Master Social Worker (LMSW). He graduated from Adelphi with honors in 2014. He was selected as NASW Suffolk Division "Student of the Year" in 2012. He served as an NASW Student Liaison while attending Adelphi. He has served as Suffolk Division Recruitment & Retention Director, Suffolk Division Director, and Region 5 Representative on the Board of Trustees. He hosts and produces the award-winning "Kelsunn-on-the-Air" Social Work Podcast, listed as one of the "Best 40 Social Work Podcasts" you must hear in 2022, currently ranked #6. He is the 2021 National Association of Social Workers Long Island, NY "Social Worker of the Year". On May 19, 2021 Mr. Kelly's Biographical Record was published in the 2021 edition of Marquis "Who's Who in America", "Celebrated for Dedication to the Social Work Profession. He currently works as a HUD-VASH Social Worker serving the homeless veteran population.
Gerald Myers, LCSW-R
Platform Statement: Social workers are essential. We have always shown this to be true and even more so during recent and ongoing societal upheaval. The pandemic, political unrest, armed conflicts; those that have our current attention and those we have been distracted from, continue to drain our resources, emotional and otherwise, as we carry out our work. Social workers need support now more than ever, and as Vice President, I commit to the work of the NASW NYS Chapter, as we support our members in fulfilling their obligations to themselves and those we serve.
Bio: I am currently working as an inpatient social worker at an Office of Mental Health psychiatric facility. I earned my MSW degree from Syracuse University and am currently pursuing the DSW degree at Simmons University. I have previously served as an executive committee member, member of the program committee, board member at large, and Central Division Director. Those roles have taught me collaborative skills, which have resulted in my growth as a leader.  I am currently most drawn to the empathetic leadership style and am able to adapt as situations require. My current research interests include the social determinates of mental health and the liberation health model.
Genesee Valley Division Director (2-YEAR TERM, 2022-2024)
Misty Boldt, LMSW
Hudson Valley Division Director (2-YEAR TERM, 2022-2024)
Jackie Mueller, LCSW-R
Chelsea Villalba, BSW
Northeast Division Director (2-YEAR TERM, 2022-2024)
Martha K. Schultz, LCSW
Danyale Sturdivant, LCSW
Westchester Division Director (2-YEAR TERM, 2022-2024)
Veera Mookerjee, PhD, LMSW
MSW Representative (1-YEAR TERM, 2022-2023)
Parvin Purawal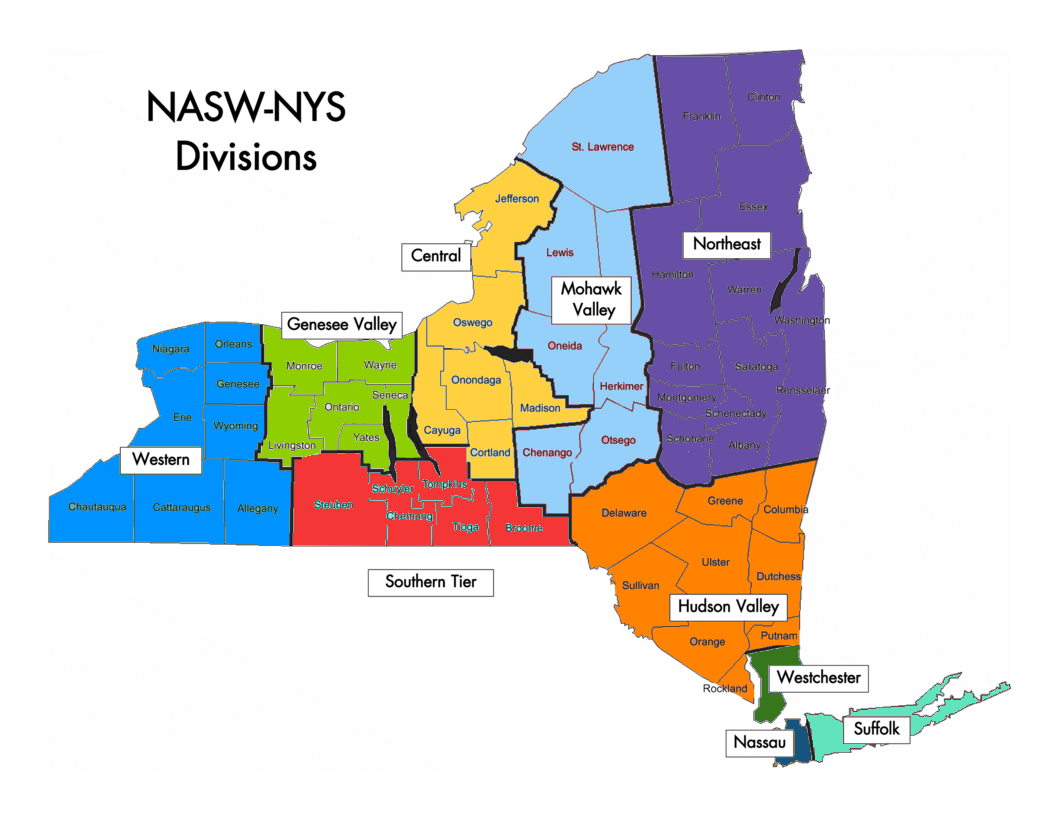 Chapter Nominations & Leadership Identification (CNLI) Committee
CNLI Central Division Representative
Najah Zaaeed
CNLI Mohawk Valley Division Representative
Malikah Shaheed
CNLI Northeast Division Representative
Barry Davis
CNLI Hudson Valley Division Representative
Laura Eastman-Follis, Mark Goodwin
CNLI Westchester Division Representative
Billye Jones (Chair)
CNLI Nassau Division Representative
Afsha Malik, Victoria Avia Edwards
CNLI Suffolk Division Representative
Aiden Jay Kaplan
Vacant: Western, Genesee Valley, Southern Tier
Submit inquiries to NASW-NYS Amelia Lochner Malavé at ALochner.naswnys@socialworkers.org