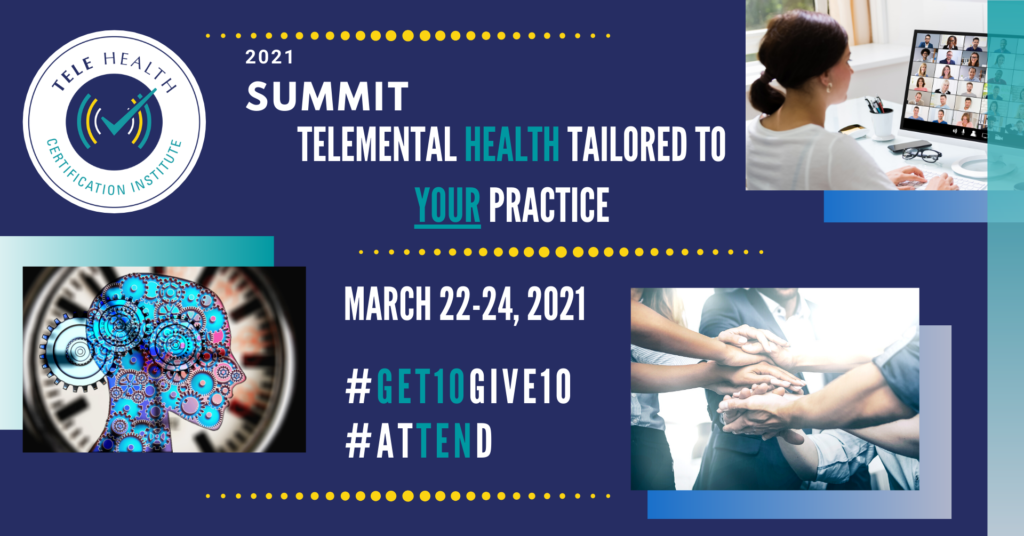 As clinicians nationwide have adapted to the challenges of 2020, telehealth is thriving across disciplines. In 2021, the Telehealth Certification Institute LLC is gathering experts from the USA to present courses on how to provide behavioral healthcare to specific age groups, for specific presenting concerns, and therapy styles.  During these uncertain times, it is critical for all behavioral health professionals to step away from their day-to-day challenges to recharge, connect, and gather applicable tools. The Telehealth Certification Institute's 2021 Virtual Summit will take place LIVE March 22-24, 2021. Up to 15 hours of continuing education (CE) credit is available for behavioral health clinicians.
This unique, nationwide gathering of behavioral health professionals will offer:
A FREE Pre-conference (*6 CE hours) – The summit pre-conference features nationally recognized specialists addressing the timely topics of anxiety and depression. (*Registration for the main conference is not required to attend the free pre-conference!)
Expert Speakers Across Disciplines: Summit speakers are practiced experts representing multiple disciplines including social work, psychiatry, counseling, healthcare law, play therapy, and more.
Summit Courses Cover Applicable Clinical Skills: the 2021 Summit will offer practical solutions and clinical treatment methods applicable to telehealth.
Accessibility: What better way to become competent and confident in telemental health than through video conferencing with other professionals? The conference will provide opportunities to interact with peers via video, audio, and text.
Applied Learning & Integration: You will be equipped with discussion topics designed to integrate the sessions' learning objectives; each speaker offers LIVE Q & A following their session.
Networking Opportunities: Network with other behavioral health professionals who understand your unique challenges. During the summit you will have access to state and profession-specific meetups.
CE Credits: The free pre-conference offers up to 6 CE hours, and the summit offers an additional 9 CE hours.
To view the speaker line-up, session topics, and more, visit the Telemental Health Tailored to Your Practice Summit webpage.
Pre-Conference:  March 22, 10:30 AM-7 PM EST, FREE*
(*registration for the main conference is not required to attend.)
Full Summit:  March 23 -24, 10:30 AM-6:15 PM EST, $225
For questions please contact the Telehealth Certification Institute LLC, 585-687-8837, Support@TelehealthCertificationInstitute.com